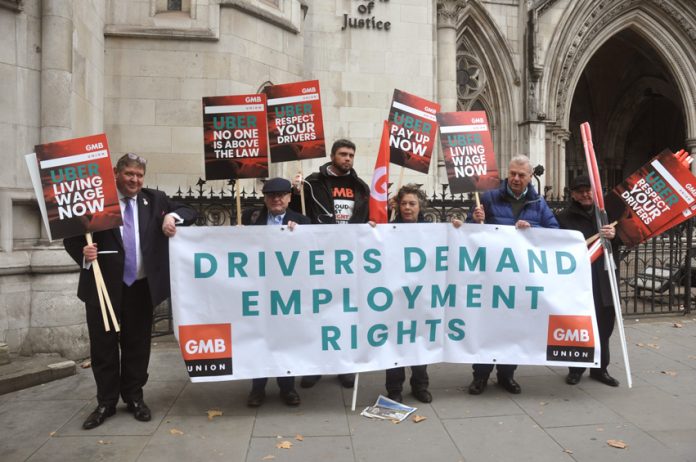 TRADE unions the GMB and the IWGB last Wednesday won crucial Court of Appeal decisions, agreed by both the Employment Tribunal and the Employment Appeal Tribunal, that Uber drivers are workers.
It means that the drivers cannot legally be defined just as 'contractors' in order to be denied basic workers' rights. The ruling will also put pressure on bosses, at Uber and elsewhere, to respect workers' rights and on the government to start enforcing employment law. In the wake of the ruling, the two unions issued the following joint statement:
'The Independent Workers Union of Great Britain (IWGB) this week defeated Uber at the Court of Appeal, in a landmark decision over employment rights for its drivers.
'Last Wednesday, the Court of Appeal fully upheld the previous decisions – by both the Employment Tribunal and Employment Appeal Tribunal – which ruled that Uber had unlawfully classified Uber drivers as independent contractors rather than workers, denying them basic rights such as a guaranteed minimum wage and holiday pay.
'The IWGB is backing the two lead claimants, Yaseen Aslam and James Farrar, on the case. They are being represented by solicitors Paul Jennings and Rachel Mathieson from Bates Wells Braithwaite, and barristers Jason Galbraith-Marten QC and Sheryn Omeri.
'The GMB is backing additional claimants, represented by solicitors from Leigh Day and barrister Tom Linden QC. 'The decision will put further pressure on Uber to abide by UK employment law and start classifying its drivers as workers. It will also add pressure on the government to start to properly regulate employment law, something both have so-far failed to do.
'Co-lead claimant and secretary of the IWGB's United Private Hire Drivers branch Yaseen Aslam said: "I'm delighted with today's ruling, but frustrated that the process has dragged on for over three years. It cannot be left to precarious workers like us to bring companies like Uber to account.
'"And despite the personal price we have had to pay, we are the lucky ones. We know of many that are under such hardship that it would be unimaginable for them to take a multi-billion pound company to court. '"It is now time for the government and the Mayor of London to act and stop letting companies like Uber take them for a ride."
'Co-lead claimant and chair of the IWGB's United Private Hire Drivers branch James Farrar said: "I am delighted today's ruling brings us closer to the ending of Uber's abuse of precarious workers, made possible by tactics of contract trickery, psychological manipulation and old-fashioned bullying.
'"However, I am dismayed that implementation of worker status for drivers is further delayed while Uber seeks yet another appeal. This is nothing more than a cynical ploy to delay inevitable changes to its business model while it pursues a record-breaking $120 billion stock market flotation. '"It's time for Uber to come clean with all its stakeholders and abide by the decision of the courts."
'IWGB General Secretary Jason Moyer-Lee said: "It is becoming increasingly ridiculous for so-called 'gig economy' companies to argue that the law is unclear when they lose virtually every tribunal and court case. '"Companies like Uber continue to get away with depriving their workers of basic rights because the government does virtually nothing to enforce employment law – and the Tories' so-called reforms announced this week will do nothing to change that."'
The IWGB is the leading union for so-called 'gig economy' workers. In November it organised the first UK nationwide strike of Uber drivers, when drivers in London, Birmingham and Nottingham turned off their app in protest to unfair deactivations and low pay.
In July, the union launched a campaign demanding the Mayor of London take action over the wholesale exploitation of minicab drivers by operators such as Uber and Addison Lee. The IWGB has also taken legal action against other gig economy companies such as Deliveroo, CitySprint and Green Tomato Cars.
GMB union for its part in the victory over Uber is celebrating an 'early Christmas present' as the Court of Appeal upholds the ruling that Uber drivers are entitled to employment rights.
Their statement follows: 'GMB, the union for professional drivers, hailed a ''hat trick" of legal wins for Uber drivers after the Court of Appeal upheld a ruling that they should be classified as workers.
'In October 2016, the Central London Employment Tribunal ruled in GMB's favour – determining that Uber drivers are not self-employed, but ARE workers entitled to workers' rights including holiday pay, a guaranteed minimum wage and an entitlement to breaks.
'Instead of accepting the judgement of the courts, Uber took their case to the Employment Appeal Tribunal (EAT) last year, which ruled against the ride-sharing company. 'The Court of Appeal judgement is Uber's third legal defeat on this issue in as many years.'
Tim Roache, GMB General Secretary, said: 'We're now at a hat trick of judgements against Uber – they keep appealing and keep losing. 'Uber should just accept the verdict and stop trying to find loopholes that deprive people of their hard won rights and hard earned pay.
'This is the perfect early Christmas present for GMB's Uber members, but this case is about the wider "gig economy" too. 'Employers are on notice that they can't just run rough-shod over working people to put more on the bottom line for shareholders.'
Nigel Mackay, partner in Leigh Day's employment team, said: 'We are very pleased that the Court of Appeal has again upheld the Employment Tribunal's findings that Uber drivers are workers of Uber.
'This is the third time that the drivers have been victorious in their fight for workers' rights, but Uber has yet to give their drivers what three legal decisions have ruled they are entitled to – holiday pay and to be paid at least the National Minimum Wage. 'We hope that Uber now faces up to its responsibilities instead of spending time and money in the courts attempting to deny its drivers these rights.'