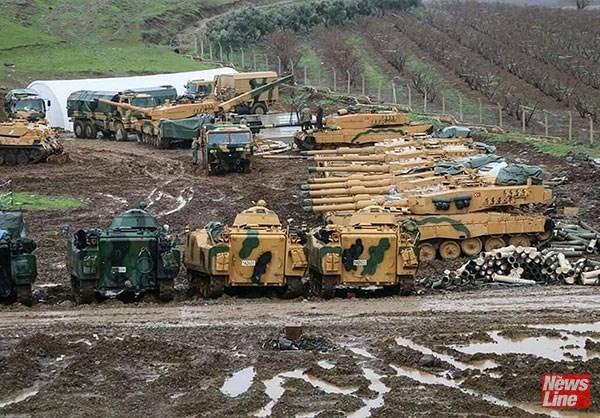 AT LEAST two US servicemen and 14 other people have lost their lives when a massive bomb explosion struck near a patrol of the US-led coalition purportedly fighting the Daesh Takfiri terrorist group in Syria's flashpoint northern city of Manbij.
The Syrian Observatory for Human Rights (SOHR) identified nine of the fatalities as civilians, adding that the rest were members of the US-backed Syrian Democratic Forces (SDF), which has Kurdish People's Protection Units (YPG). The Britain-based monitor added that the blast targeted the al-Ummara restaurant in the centre of Manbij on Wednesday afternoon.
The Observatory noted that the death toll is expected to rise as some of the wounded victims are in a critical condition. Daesh later claimed responsibility for the bomb attack, saying the attacker detonated his explosive-laden vest as US-led coalition forces were passing by.
Manbij has been a major bone of contention between Turkey and the United States.
Ankara has complained over the slow implementation of a deal reached with Washington in June 2018, which would see the YPG ousted from the town and moved back to the eastern bank of the river.
Turkey considers the YPG a terrorist organisation and an extension of the outlawed Kurdistan Workers' Party (PKK), which has been fighting for an autonomous region inside Turkey since 1984. Over the past few weeks, the Turkish military has been sending reinforcements to frontline areas with YPG militants in northern Syria.
New Turkish military reinforcements have arrived in the southern province of Hatay on the border with Syria's northern province of Idlib. US President Donald Trump said last month that he was bringing home the American troops deployed in Syria – some 2,000 – alleging they had succeeded in their mission to defeat the Daesh Takfiri terrorist group. His abrupt move sparked concern among officials in Washington, prompting Defence Secretary Jim Mattis to step down in protest.
Syrian Foreign Minister Walid al-Muallem says the Damascus government is prepared to cooperate with the United Nations' new envoy to Syria, Geir Pedersen, to facilitate inter-Syrian peace talks aimed at finding a political settlement to the ongoing foreign-sponsored crisis in the country. During a meeting in the Syrian capital Damascus on Tuesday, Muallem welcomed Pedersen's appointment as the UN chief's new top envoy for Syria, emphasising that the Syrian government is willing to help the veteran Norwegian diplomat succeed in his mission.
Muallem went on to say that UN-brokered Syria peace talks will benefit the war-battered nation as it will put an end to terrorism as well as the illegal presence of foreign forces on Syrian soil, and will effectively preserve Syria's unity, sovereignty and independence.
Pederson, for his part, expressed his pleasure to visit Damascus since being appointed last October, pointing out that he plans to listen carefully to the views of the Syrian government for the success of his mission and move towards a political solution to the Syrian conflict. He then briefed the Syrian foreign minister on the meetings and activities that he aims to undertake during his tenure in a bid to activate Syria's political process, underscoring that the process should be led by the Syrian government otherwise it will bear no fruit.
The new UN envoy for Syria also highlighted that he would make all efforts to ensure a political solution, and that he will take into account the principles enshrined in the Charter of the United Nations and relevant Security Council resolutions.
The United Nations remains firmly committed to the sovereignty, independence and territorial integrity of Syria, Pederson said. The United Nations' new special envoy for Syria took over from Staffan de Mistura, who stepped down for family reasons after four years and four months of peace efforts that led nowhere.
Syria has been gripped by foreign-backed militancy since March 2011. The Syrian government says the Israeli regime and its Western and regional allies have been aiding Takfiri terrorist groups wreaking havoc in the country.
The whole world is in the know how the Israeli army has been, from day one, and still is, providing large amounts of cash, weapons and ammunition to foreign-sponsored Salafi-Takfiri terrorists operating in Syria. Even the Israeli army chief admits this. Chief of Staff Gadi Eisenkot has just confirmed that the Israeli military indeed has provided and continues to provide weapons to various terrorist groups operating in Syria.
This is not the first official confirmation from the army chief. Back in September Israeli media also reported that Israel has armed as many as 12 terror factions. Those reports were quickly censored by the Israeli military, however. But there have long been reports of Israel's backing for the terrorists in Syria.
This includes supplying arms, training, medical treatment, intelligence sharing and aerial back-up. Photos of Israeli premier Binyamin Netanyahu visiting Al-Nusra terrorists under treatment in Israeli field hospitals surfaced the media some 4 years ago. Mind you, the terror outfits have been confirming such support for a while as well, saying they are given large amounts of money and aid as well.
Even Syria has confirmed capturing arms and munitions with Hebrew writing on them held by the terrorists and Qaeda-allied rebels. By late 2018, however, Syria made major gains in this part of the country, ultimately forcing the Israeli-backed terrorists to surrender, with some negotiating relocation to Idlib.
Then again, that does in no way mean that this not-so-secret Israeli programme to aid and abet terrorist groups inside Syria is now behind us. Quite the opposite, the Zionist regime continues to arm its terror proxies on the pretext of 'self-defence'.
This is likely an attempt to justify the legality of this criminal partnership in the failed regime-change war, in which Israel has long claimed neutrality. In reality, Israel's claims of neutrality are only superficial, with the regime officials having repeatedly expressed a preference that ISIL and other Qaeda-allied terror groups impose regime change rather than the Syrian government surviving.
For that to happen, Israel has also opened its borders with Syria in order to provide medical treatment to the Nusra Front and Al-Qaeda militants wounded in the ongoing war. These terror groups are still receiving medical treatment and still fighting the Syrian government, and have never bothered Israel since the collective regime-change campaign began several years ago with a helping hand from the United States and its regional allies.
After all, Israel never views Al-Qaeda and its allies as enemies – just like the US and Saudi Arabia. Mind you, this policy hasn't caused any tension with the United States or its regional allies either, because they also refuse to fight Al-Qaeda and Nusra Front fighters in Syria. They are also there to affect regime change.
This should surprise no one. Despite Trump's rhetoric of troop withdrawal, White House officials say American occupying forces will stay in Syria. And Amos Yadlin, the former military intelligence chief, once said Hezbollah and Iran 'are the major threat to Israel, and that those terrorist elements who control some of the border on the Golan aren't attacking Israel. This gives you some basis to think that they understand who is their real enemy – it isn't Israel'.
It all says why the Israel-Syria border area along the occupied Golan Heights has remained largely quiet, why Israel still pounds Syrian Army positions in the seven-year conflict, and why it is safe to conclude that ISIL and Qaeda-allied terrorist groups are indeed backed by Israel AND the United States, which is Israel's main ally in the region.
Sadly, the United Nations is yet to take any legal measures to stop this never-ending madness. The failure of the UN system and, separately, of the International Criminal Court to hold to account Israel, the United States, and their regional allies and terror proxies or to prosecute their war crimes and crimes against humanity has also done lasting harm.
This is all about the inaction of the Security Council amid all the reports published and official acknowledgements by the American and Israeli officials. The human cost aside, the military intervention in Syria by Iran and Russia at the Syrian government's request has been a strategic success for the people of Syria and a defeat for all terrorist groups and their American-Israeli-Saudi sponsors.
This has ultimately assured a long-term regional peace and security, a lasting victory over various terror groups, and has re-established Syria as an influential Middle East player despite the reconstruction challenges ahead.