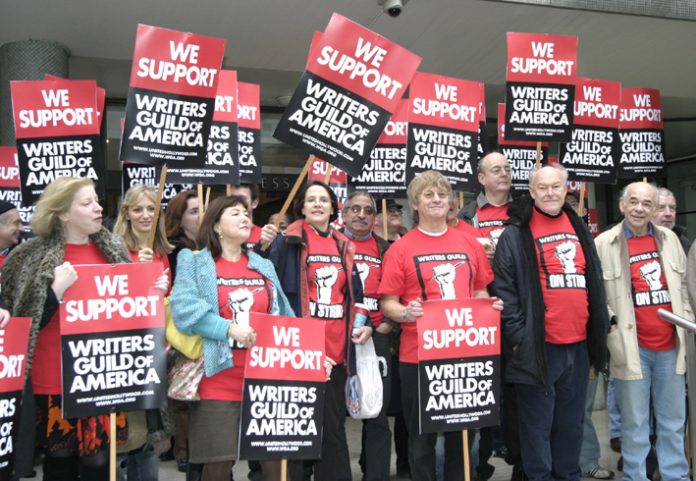 British trade unionists on Wednesday demonstrated their support for America's striking screenwriters as part of an international day of solidarity called by the Writers Guild of America (WGA).
The demonstration of solidarity came as the WGA dispute with the multinational media conglomerates has started to hit the US film and TV industry.
TUC General Secretary Brendan Barber and Deputy General Secretary Frances O'Grady joined members of the Writers Guild of Great Britain (WGGB) in a demonstration on the steps of Congress House at 12noon on Wednesday.
Carrying placards and wearing T-shirts supporting the Hollywood strikers, the TUC leaders were joined by playwright and WGGB President David Edgar, playwright and television writer, Alan Plater, as well as actors Harriet Walter and Timothy West.
Demonstrations with placards as seen on picket lines in Hollywood took place in London, and in Australia, Ireland, New Zealand, France and Canada.
The international solidarity day was called as talks aimed at settling the dispute in the States entered a crucial phase.
Before the UK demonstration, WGGB General Secretary Bernie Corbett, who recently met the leaders of the American union, briefed leaders of the UK's professional and executive unions group on the significance of the dispute over rights to the use of work in new media.
TUC General Secretary Brendan Barber said: 'Writers and actors across the world are showing their support for their fellow writers in the States who are fighting for a better deal.
'Many writers struggle to make a living, yet the film studios and TV networks stand to make billions of dollars when writers' successful scripts are published on DVD or are downloaded from the internet.
'All the writers are asking for is a fairer share of the huge profits to be made.'
WGGB General Secretary Bernie Corbett said: 'Writers and other creative workers all over the world have a vital interest in the US screenwriters' strike, because it is imperative that creators share in the huge rewards that will flow from use of their work on the internet and other digital media.'
Last week it was reported that the dispute could cost the UK's Pinewood studios up to three million pounds.
The TUC on Wednesday also warned that long hours working is on the increase in the UK.
This reverses the slow but steady ten-year decline in people working more than 48 hours a week.
According to a new TUC analysis published on Wednesday, more than one in eight of the workforce now work more than 48 hours each week, with as many as one in six in London putting in 48 hours plus a week.
While the law protects people against an average working week of more than 48 hours unless they opt out of working time rules, the TUC says that a lack of enforcement means that bad employers know that this is one employment right that they can breach with little or no risk of any consequences.
It added: 'Good employers have responded to concerns about the need for a greater work-life balance, but these figures show that a hard core of bad employers are taking no notice of either the law or calls from government, progressive employers and unions.'
The latest Labour Force Survey shows that 93,000 more people now work more than 48 hours a week, taking the total to almost three and a quarter million (3,242,000).
This is a rise to 13.1 per cent of the workforce (up from 12.8 per cent last year).
The biggest increases in the numbers of people working in excess of 48 hours are in the South East (an increase of 28,000 to 525,000), and London (an increase of 25,000 to 481,000).
These two regions have the highest proportion of the workforce working long hours (16.1 per cent in London and 14.8 per cent in the South East).
The biggest increase in the share of the workforce putting in more than 48 hours took place in Wales where it went up 1.3 per cent to 12.2 per cent.
Only the South West and the East Midlands buck the trend with a small fall in long hours workers.
TUC General Secretary Brendan Barber said: 'These are very disturbing numbers.
'They suggest that the slow, but at least steady, decline in those working more than 48 hours a week has come to an end.
'Many employers recognise that overworked staff are unproductive by introducing more flexibility and better work-life balance, often under union pressure.
'But it now looks as if their efforts are being undone by those who don't care about long hours.
'No-one should forget that 48 hours is six eight-hour days – more than enough for anyone every week.
'There is undoubted abuse of the law, but employers know they can get away with it because it is rarely enforced.
'Neither the Health and Safety Executive nor local authorities who share responsibility for enforcement have the resources to implement the law.
'And the government knows that employers can abuse the opt-out as ministers consulted on ways to close loopholes in 2004, but have yet to bring forward any concrete proposals for change.
'The current discussions on how best to protect vulnerable workers and enforce existing rights, must include working time rights and closing the loopholes that make a voluntary opt-out a joke.'
The TUC says that these official figures underestimate long hours working as the sample on which the survey is based is unlikely to include a proper share of migrant workers and excludes those who live at their place of work, such as some hotel and care staff who work long hours.
It stresses: 'Under Europe's working time regulations workers are protected from working more than an average 48-hour week.
'But in the UK, unlike other EU countries, all workers can opt out of this protection.
'Previous TUC research shows that this is widely abused – two-thirds are not asked to opt out before they are expected to work in excess of 48 hours and a quarter of those who signed were given no real choice about opting out.'