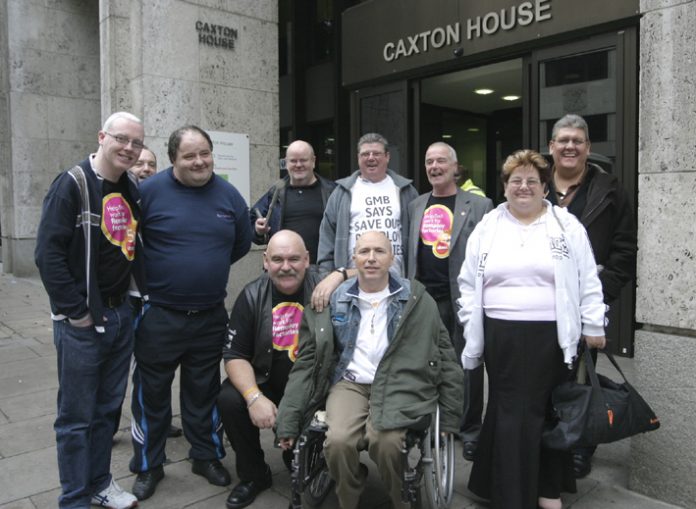 Trade unions yesterday reacted angrily to the announcement by work and pensions secretary Peter Hain that he will proceed with the closure of 28 Remploy factories, with the loss of 2,000 supported jobs.
Paul Kenny, GMB General Secretary said: 'This announcement by Peter Hain has angered Remploy workers and their supporters.
'This government controlled operation has failed its people, its principles and its purpose.
'The run down of Remploy in recent years, by the failed management of the business has been the main reason for our predicament.
'The Remploy unions will continue to campaign for the existing factory network and for the management changes required to deliver for Remploy's disabled employees.
'These closures are completely unnecessary. If Remploy was called Northern Rock I am certain that we would not be seeing a single redundancy.'
Phil Davies, GMB National Secretary and Secretary of Remploy Consortium of Unions added: 'The government's change of policy on procurement and on the performance monitoring of the Board are welcome signs that the trade unions have won the financial, moral and policy arguments.
'On this bleak day for supported employment, disabled workers in Remploy will not forget that it was the leaders of Radar, Mind, Mencap, RNID, Scope and Leonard Cheshire that led the shameful calls for this to happen.'
Jennie Formby, Unite National Secretary and Chair of Remploy Consortium of Unions said: 'Only dogma and poor management stand in the way of keeping open the sites threatened for closure.
'Not enough time has been allowed to consider the alternative plan, put forward by the Unions last week, which would keep all 83 Remploy factories open.
'The Secretary of State has belatedly accepted the trade unions' proposals for regular monitoring of the management, for proper accountability in the whole organisation and for a proper strategy for public procurement. This is to be welcomed.'
The original plan was to close 43 of Remploy's 83 sites. But after talks with unions, the Remploy Board submitted 'final proposals' to the government, which included the closure of 28 sites.
Hain told the House of Commons that the closure of some Remploy premises will cause 'disappointment' but he said changes had to be made to secure the organisation's future.
He also added: 'The Remploy board will also look at any third-party interest in running these factories.'