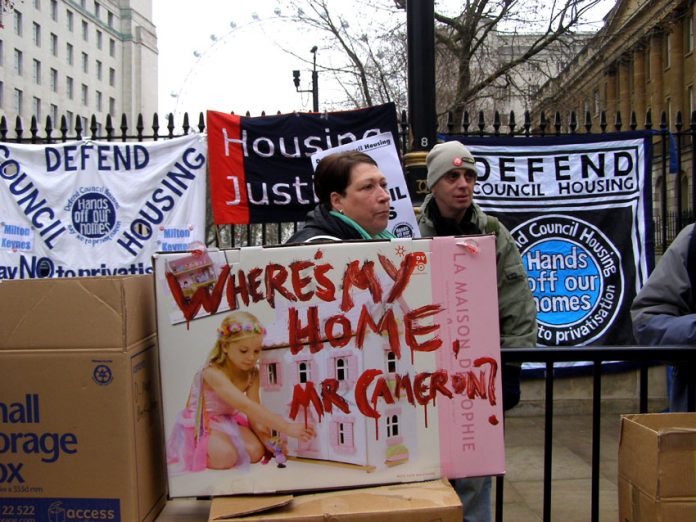 A joint survey by public sector unions PCS and Unison of more than 10,000 public sector workers, reveals the shocking impact of the government's cuts and pay freeze on family life across the UK.
With budget day looming on Wednesday (23 March), the unions say that the results of the survey provide concrete evidence of the damaging direction that the government's policies are taking the country in.
Unison and PCS, who together represent 1.7m public service workers, are calling for a halt to hard and fast cuts to the public sector and for a budget to stimulate growth and recovery.
If the government ignores the evidence, the unions are warning that the country will slide further downward into a spiral of economic depression.
The interim report shows a third of respondents have personal debts of £10,000 or more.
As money coming in has grown tighter and the cost of living has risen, 71 per cent cut down spending on food, 33 per cent on vital healthcare such as dentists and prescriptions, 22 per cent on children's footwear and clothes, 47 per cent cut down spending on keeping fit, while 89 per cent reduced spending on going out.
The survey also reveals that the long-term viability of public sector pension schemes is under threat.
The government is forcing up pension contributions in the public sector, adding to the poisonous mix of pay freezes and rising inflation.
The result is that almost a quarter of respondents said they would definitely, or probably, leave the scheme.
This would push more public sector workers onto state benefits when they retire and put the schemes in jeopardy.
The unions are warning that reducing the spending power of public service workers has a damaging knock-on effect on local economies, undermining the chance of economic recovery in the private sector.
Dave Prentis general secretary of Unison, said: 'Workers across the public sector are under siege from all sides, from job and service cuts, to pension increases, pay freezes and rising inflation.
'This survey shows the coping strategies that members have been forced to take to make ends meet and they make grim reading.
'The level of personal debt is frightening.
'And you know that when a family is forced to cut down spending on their children, they have tried everything else first and are pretty desperate.
'I fear that Osborne's budget will be like moving the deckchairs on the Titanic – a useless exercise.
'The government must take the pressure off public services and work towards creating jobs and stimulating recovery.'
Mark Serwotka, PCS general secretary, said: 'With bankers' bonuses and executive pay hitting the headlines, the picture our members have painted of their personal finances is a truly shocking one and, more so, because the responses show that families and individuals have already seen their incomes fall before Osborne's pay freeze kicks in.
'The results also reveal the dangerous levels of debt our members already face and how they are considering getting into more debt just to make ends meet, as they are being punished for a recession caused by bankers' greed.
'These findings ought to make Cameron and his cabinet of millionaires hang their heads in shame.
'They also should recognise there is an alternative to wrecking people's lives because of an ideological obsession, and start seriously tackling the tax dodgers who deprive our public finances of tens of billions of pounds a year and investing in our economy to help us get back on our feet.'
The survey shows the cuts are hitting people across the generations.
Nearly 20 per cent of those surveyed said that they had grown up children, over the age of 20, still living at home.
At the other end of the generations nine per cent have an elderly parent or grandparent living with them.
The survey interim results found: 'Keeping up with payments on personal debts are also an expense many households are faced with managing.
'Overall, 66 per cent of respondents have personal debts, other than a mortgage.
'Looking more specifically at levels of personal debts, some members have significant levels of personal debt.
'For example, 33 per cent of respondents with personal debts owe £10,000 or more, with 12 per cent owing £20,000 or more.'
The results of the survey suggest that debts are being used by members as a way of making ends meet.
One respondent said: 'I am constantly overdrawn and paying overdraft fees to pay debts and survive.'
Some members said that they are already struggling to cope with personal debts: 'We have fallen deeper and deeper into debt and it is highly likely that I will never be able to pay the full amount in six years time and will have to sell the house with not enough money left over to purchase another property.'
Another member said he 'cannot pay off debts at all'.
Some members have sought help through debt management plans and Individual Voluntary Agreements with debtors.
As one member reported: 'I've had to enter a Debt Management Plan to cope with debts as I was putting household expenses on credit e.g. food shopping/fuel to get by.'
The survey aimed to find out whether an increase in pension contributions would have an impact on membership levels and members were asked whether they would consider opting out of the pension scheme if they had to pay an extra three per cent of their salary into the scheme.
Overall 23 per cent said they would consider opting out, made up of six per cent who responded 'yes, definitely' and 17 per cent who said 'yes, probably'.
Some 55 per cent said they would not consider opting out if contribution levels were increased by three per cent and 22 per cent were not sure.
The survey contained a range of questions aimed at gauging members' perceptions of changes in their financial situation over the last year and the responses show that household finances are already a major worry for many members.
When asked about changes in income and expenditure over the last year, some 93 per cent of respondents said that household expenditure had increased, compared with just 18 per cent reporting that household income had increased.
Some 81 per cent said concerns about their financial situation had increased.
Concerns about personal debt levels have risen for 48 per cent of respondents, stayed the same for 17 per cent and decreased for just two per cent.
Overall 86 per cent of respondents report that worries about job cuts and redundancies have increased over the last year.
The survey asked members whether they regularly provide financial support to relatives, covering any financial assistance given to relatives.
This may include, for example, maintenance payments to children that live with an ex-partner, helping to support an elderly parent or older children that no longer live at home who may be studying or who have a family of their own.
The results show that a significant minority of respondents regularly provide financial help to relatives not living with them, and some members provide help to more than one of these groups.
Most commonly members report helping to support parents (15 per cent) and older children (13 per cent).
The survey also set out to establish how many union members have other dependents reliant on them for financial support.
While the majority do not have any dependent adults living with them, a significant proportion (17 per cent) reported that they do.