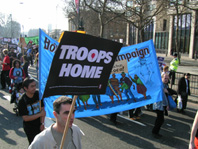 On Sunday RAF G4 Tornado warplanes attacked the Iraqi town of Karabilah, near the Syrian border.
The British were called to assist US Air Force F-16 jets and Super Cobra helicopter gunships.
The deadly raids continued under the title Operation Spear in al-Anbar, which began last Friday.
Houses and vehicles were destroyed by laser guided bombs and missiles, while at least ten civilians were killed by a force of 1,000 US Marines and Iraqi puppet soldiers on the ground.
Sunni religious authority, the Association of Muslim Scholars (AMS) in Iraq has warned of the dire consequences of continuing the US military campaign against Karabilah and the nearby city of Al-Qaim in western Iraq.
In a statement on the ongoing military operations in Al-Qaim city, the AMS said that although they announced the success and completion of their military operation codenamed 'Operation Matador' in Al-Qaim city and its peripheries last week, the occupation forces 'have proven to the world their failure to eliminate what they call the insurgency.
'Nowadays, and under the same pretext, they are coming back to go to excess in killing innocent civilian children and women in the Al-Karabilah area and demolishing houses over the heads of peaceful people through a hateful bombardment by aircraft and (military) vehicles.'
The statement indicated that the US bombardment of Al-Qaim city and its peripheries claimed the lives of scores of Iraqi civilians in 'Operation Spear', which the statement said will inevitably 'break, with God's grace and support, against the rock of the steadfastness of the zealous Iraqi sons'.
The AMS voiced its condemnation of these actions, which it described as 'terrorist and criminal', warning the occupation forces and the puppet 'transitional Iraqi government' of the 'dire consequences of carrying on with these actions, which provoke the contempt and rage of the sons of the Iraqi people'.
According to US officials, the operation aims to uncover arms stockpiles and caches and end the presence of the insurgents who use this area as a hideout.
The US Army's statement made no mention of civilian losses, while cameras relayed footage of a difficult humanitarian situation for some inhabitants of the area.
Many have taken shelter in the desert after their houses were destroyed. Others ran away for fear of being targeted by the bombing.
One Iraqi woman, speaking from her tent in the desert, told Iraqi TV: 'Bush came to liberate us and make us our own masters.
'Now, we moved to live in sand and desert. What kind of living is this? Everyday, we move from one place to another.'
The AMS statement followed similar comments from an Iraqi official last Saturday who accused the US forces of 'indiscriminate killing' and destruction in Al-Qaim.
Abd-al-Khaliq al-Rawi, director of telecommunications in Al-Qaim, said last Saturday that the town's residents had begun acts of 'civil disobedience' in protest at the killings, that have been part of Operation Spear.
Al-Rawi told Al Jazeera that US snipers were killing people every day in the town's market.
'These actions have increased in the past week. There are innocent victims on a daily basis,' he said.
Commenting further on the strike by the residents, Al-Rawi said that 'all government departments and commercial shops' were closed Saturday in protest against the 'US occupation troops' occupation and destruction of ten government departments and blowing up of houses and shops'.
Al-Rawi said that 'almost half' of Al-Qaim's residents had left the city a week ago as a result of the US snipers' 'indiscriminate killing'.
Responding to US statements that 50 militants have been killed in its current operations in western Iraq, Al-Rawi said that the injured who had arrived at the hospital in Al-Karabila, where 'Operation Spear' is currently taking place, were mostly civilians.
'Fifteen people, mostly civilians, were wounded and taken to hospital in Al-Karabila yesterday,' Al-Rawi said. He added that he had seen no resistance fighters or militants in the streets.
US Marines in Iraq claimed that around 50 fighters have been killed so far in Operation Spear in the border area with Syria.
The US Army said that nine heavy bombs were dropped as part of the operation, targeting two houses they claimed were used as a shelter for fighters and weapons caches.
Operation Spear and Operation Dagger are the American response to a daily insurgence that is dealing deadly blows to the occupying forces and their Iraqi puppets.
In Ramadi, western Iraq, two US Marines were killed in an explosion, Saturday according to a US statement.
In Baquba, four police officers were wounded in an attack on their patrol in the centre of the city.
In Baghdad, medical sources said that an Iraqi girl was killed and two Iraqis were wounded when an explosive charge went off in a US patrol in Al-Jihad District, west of the city.
Two Iraqis were also wounded when an explosive charge went off, targeting a US patrol in Al-Radwaniyah area.
Iraqi television announced Saturday that a mosque in the Al-Habbaniyah Sub-District in Al-Anbar Governorate was the target of a booby-trapped car, which claimed the lives of five civilians.
A US Army statement said that the car blew up Saturday afternoon, and that 15 civilians were also wounded in the explosion.
The statement added that an Iraqi Army patrol was the target of a suicide attack involving a booby-trapped car at the centre of Fallujah in western Iraq Saturday, which killed three patrolmen and wounded six others.
The statement reports that two civilians were killed and four bystanders were wounded by the explosion.
Last Saturday afternoon it was reported that joint US-Iraqi forces arrested two individuals during an operation launched to track down resistance fighters in Buhruz.
A US Army statement said that clashes broke out Saturday between fighters and a group of soldiers who were transporting one of the detainees, leading to the death of two members of US Task Force Liberty, an Iraqi civilian, and the detainee.
The statement added that five Iraqi puppet policemen and a US soldier were wounded, but it provided no information on casualties in the ranks of the resistance fighters.
Elsewhere, in Saddam Hussein's home town of Tikrit, unidentified gunmen killed two Iraqis who provide the US forces with construction materials.
Tikrit Police Department said that the bodies of the two victims, who owned an asphalt factory, were found on a road in Dujayl, south of Tikrit.
Officials added that the victims' hands had been tied behind their backs before they were shot dead.
Fighters also opened fire on a joint US-Iraqi patrol south of Baquba, north of Baghdad, wounding four Iraqi policemen.
Baquba Police Department said that 'unidentified gunmen' targeted the joint patrol which was travelling on the main road south of the city at dawn Saturday.
In another development, Iraqi puppet forces carried out raid-and-search campaigns in the environs of Buhriz, south of Baquba.
Military officials said that 15 people had been arrested in the operation which started early Saturday morning and would continue until they had achieved their set goals.
The statement added that five Iraqi policemen and a US soldier were wounded, but provides no information on casualties in the ranks of the fighters.
In the Iraqi capital Saturday, a booby-trapped car targeting a joint US-Iraqi patrol exploded in the Al-Bayya area in southwestern Baghdad, wounding four Iraqi soldiers.
The car exploded as the joint patrol was travelling on the main road in Al-Bayya area, but it was not clear whether it was carried out by a suicide bomber or not.
Two Iraqi policemen were shot dead in an attack in western Baghdad, last Saturday.
Fighters attacked an Iraqi police patrol in the Al-Ghazaliyah area in western Baghdad. Police said that two policemen were killed and a third was wounded in the attack.
However, a medical source in the Al-Nur Hospital, northern Baghdad, said that two dead policemen and three wounded others were brought to the hospital.