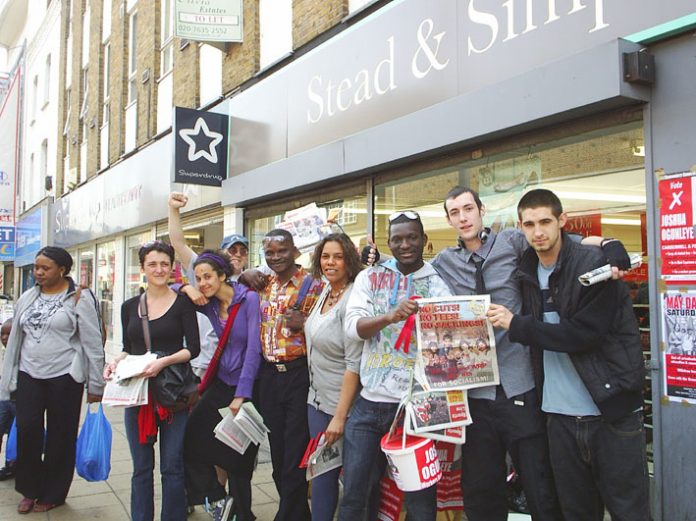 SUPPORT is growing for the Workers Revolutionary Party candidates standing in the general election.
In south London on Saturday, many new recruits were made, especially amongst young people who signed up to join the WRP and the Young Socialists.
Joshua Ogunleye, Young Socialists National Committee member and WRP candidate for Camberwell and Peckham, told News Line: 'The response was very good.
'It showed the community is tired of the constant promises of the capitalist system, which can't provide a future.
'People showed their support by joining and saying they will vote WRP for a better future for their families.
'A lot of young people supported us.'
Francis Montjen said he would vote for the WRP's young candidate.
He told News Line: 'I have been struggling all my life.
'I left my country 17 years ago.
'I worked hard, living in the street in America while studying, and I spent the first two years at university there.
'I went to France but France didn't recognise my degree and I had the opportunity to study at the University of Southampton.
'When I arrived in this country I only had £17 in my pocket.
'But after the university wasn't able to help me pay for my studies, I had to pay for my fees and accommodation.
'I had to postpone my first year of study and work as a security guard to raise some money before completing my degree in electrical engineering.
'Because I put so much work into my education, I got accepted to one of the most prestigious colleges in London, Imperial College.
'But I have to work in order to support myself while I study.
'I will vote for you guys because I believe education is the key to the development of the life of the country.'
Eighteen-year-old George Noah said: 'I think it's a good thing trying to get people to get more jobs.
'I think if you put your mind to it, you can get it. It's about inspiring teenagers. I support you.'
In Brixton, Young Socialists and WRP members were also out on the high street winning support and got lots of recruits.
Streatham WRP candidate Paul Lepper was invited to take part in an election event, where candidates from across the south London borough of Lambeth could 'meet the public', opposite Brixton Town Hall.
Not many people were willing to come and talk to the established candidates, but Paul spoke to several young people who wanted to know what the WRP stood for and some of them decided to join.
Ayokor Okpoti spoke to the WRP's young candidate on the high street and said: 'He represents something quite unique.
'Very few parties are actually out here, but he's out every day which shows how determined he is.
'Some people say they want to make a change, but really they don't.'
She added: 'Tuition fees is a big thing for a lot of my friends.
'They have finished university and have tons of debt. I think it should be free.
'Nowadays we don't know who's getting the money and who is not.'
Paul Lepper said: 'People are angry and people are fed up.
'They recognise that this system has nothing for them anymore and they recognise in particular that all the three main parties say the same thing, and when they talk about cuts that's a direct attack on their lives, on the Welfare State.
'The 99 per cent of people who aren't the super-rich, who aren't the bankers and the bosses, can't do without the Welfare State.
'People want a party that stands for their interests, the things that they need, and that's what the WRP is.'
He added: 'Labour was built by the working class and has now betrayed the working class and we need a party that fights for the working class, for their jobs, their education and their future.
'There was a good response on the high street on Saturday.
'People were very excited about it, they were saying we need this kind of force, we need this kind of party, because the other parties don't speak for our interests.'
In Luton, WRP candidate Frank Sweeney won big support for nationalising the banks and industries to defend jobs.
Food factory worker Hazhar Ashar, 24, said: 'Jobs need to be in place.
'The government needs to create more jobs.
'All the money the banks are getting in bonuses would keep firms going.
'We who work in the factories, work hard to keep the businesses running, get no help from the government.
I'm going to vote WRP, I agree with nationalisation.'
Luton Council support worker Mrs Esmine Burton added: 'I agree with nationalisation.
'The situation facing council workers is dreadful.
'We need to defend all jobs.'
Student Yawar Butt, 24, said: 'I have joined the WRP because I understand that only socialism is the solution to all our problems.
'I read about the socialist revolutions of Russia and China.
'Here in Britain, the capitalist economy has failed.
'They are just living off the backs of workers.
'Workers are suffering and we need a socialist revolution to make change.
'Only through socialism can we create jobs, provide education and free health facilities to all the people.
'If workers want a solution to their problems they need to vote WRP.'
Hotel worker Mustafa Khashru added: 'I like Frank Sweeney and the WRP who are talking about working people, putting an end to the war and defending the welfare state.
'The three main parties are all the same coin, they are getting ready to make cuts – take and take.
'There should be a revolution.'
Enfield WRP candidate Anna Athow and her team won big support, especially for defending the local Chase Farm Hospital.
School receptionist Emel Kamil, 27, said: 'I'm proud to see people are voicing their opinions and taking action about making changes for a better future for our children.
'We are defending our rights and not to live in a corrupt society.
'We don't want to pay the debt the government have forced on us by bailing out the banks.
'I'm opposed to closing hospitals. They are a fundamental resource of life.
'We need hospitals, that's what we pay our taxes for.
'I'm very much thinking of voting WRP for socialism.
'A workers government is a good idea. We do all the work and the bosses take the luxuries under the present system.'
Local housewife Gulizar Ozturk declared: 'I will vote for the WRP.
'I agree with the policies to defend the NHS and keep Chase Farm Hospital open.
'We want free education and the troops out of Afghanistan.
'Having a workers' government would be good.
'We should end the rule of bosses and bankers.
'We need to renew the council housing as well.'
Campaigning in Hounslow centre on Saturday, Feltham and Heston candidate, Matt Linley said: 'People are fed up with this system and want to see an end to it.
'We have had a great response, especially on our policy of building millions of council homes – people are desperate for decent housing.'
Student Mustafa ur-Rahim said: 'I will be voting for Matt because this economy is going down and the government is encouraging racism.
'International students have to pay £10,000 a year to do courses that UK students need only pay £10,000 for three years.'
Saher Loali said: 'I'm going to vote for Matt because he is opposed to the war on Afghanistan and said that all British troops must be withdrawn.'