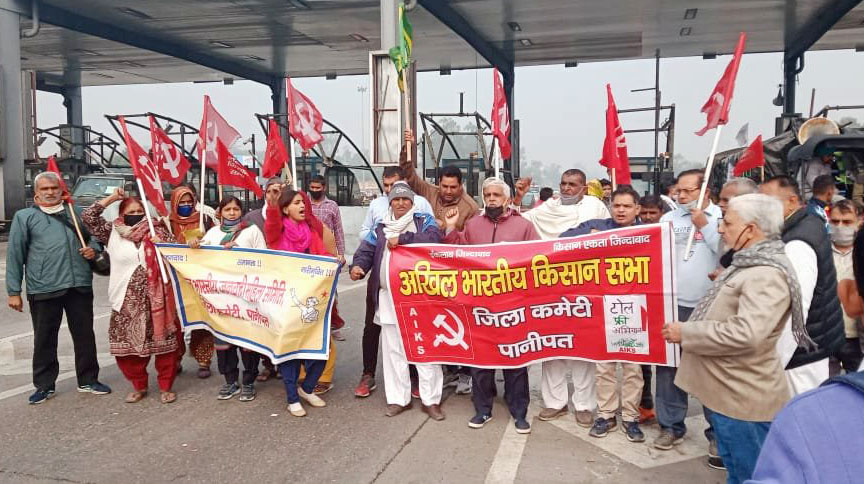 SUPPORT has been pouring in for protesting farmers, who are camping on the Indian national capital's borders demanding repeal of three new farm laws.
On Monday, trade unions and civil society groups held a solidarity march in Delhi's ITO area, pledging solidarity with the agitating farmers.
The march was attended by members of key central unions, including the Indian National Trade Union Congress (INTUC), All India Trade Union Congress (AITUC), Hind Mazdoor Sabha (HMS), Centre of Indian Trade Unions (CITU), All India United Trade Union Centre (AITUC) among others.
Speaking to journalists, Amarjeet Kaur, General Secretary of AITUC said: 'The Bills were rammed through Parliament, without any discussion with the stakeholders, despite pending issues.
'This was a complete humiliation of Parliament. Today, we are here to show our solidarity to this historic movement where we are fighting against our oppressors.'
Kaur added: 'We are all the spokespersons of the movement, all central trade unions are standing firm with the movement and the protests of the farmers, we are here to say that all of their attempts at discrediting the movement will fail.'
As well as trade union union members and workers, the protest saw a significant participation from working women.
Annie Raja, General Secretary of the National Federation of Indian Women (NFIW) said: 'We need to understand that the laws are a grave danger to our food security, and will add to malnutrition in our country, as these will hand over our stocks of grains to bigger corporate firms.
'The government has worked in connivance with the big corporates which will force the farmers to go into absolute starvation, pushing our peasantry into unprecedented crisis.'
Maimoona Mollah from the All India Democratic Women's Association said: 'Workers and women, teachers are all with the farmers as these laws will not only impact the rural economy but all of us.'
Student and teachers' organisations also took part in the solidarity march, represented by groups including the Student's Federation of India (SFI), All India Students Association (AISA), Krantikari Yuva Sangathan among others.
Slamming privatisation of the country's natural resources, Nandita Narain, former president of the Delhi University Teachers Association and a professor Delhi University, said: 'The government's intent is to take away the wealth of the country, to impoverish it and to hand it over to some individuals and their families.
'This is exactly like selling yourself out to the East India Company all over again.'
Farmer leaders, who staged a day-long hunger strike on Monday, said they were firm on their demand for repeal of the three agri laws.
Purushottam Sharma, national president of Akhil Bhariya Kisan Mahasabha (AIKM) declared: 'This movement will not digress, neither will it break.'
He emphasised: 'We have pledged to not go back without the promise to ensure roll-back of the three farm laws,' adding that the movement was getting countrywide support.
He said the 'attack by the government is unprecedented and the farmers have made this a fight not just about the laws but resistance against corporatisation.'
Sharma affirmed: 'The farmers will not go back, the number of farmers and their agitation will only increase and intensify.'
Last Sunday, farmers blocked a significant part of the Delhi-Jaipur highway, on the 18th day of agitation with the central government remaining hopeful that the next round of talks could end the deadlock.
Thousands of farmers, are currently staying put at Delhi's borders with Haryana and Uttar Pradesh in protest against the three 'corporate-friendly' laws – Farmers' Produce Trade and Commerce (Promotion and Facilitation) Act, 2020, the Farmers (Empowerment and Protection) Agreement on Price Assurance and Farm Services Act, 2020 and the Essential Commodities (Amendment) Act, 2020.
The International Federation of Journalists (IFJ) has condemned attacks and the detention of journalists in Kashmir.
The IFJ said in a statement: 'Police manhandled three Kashmiri journalists as they covered election polling in South Kashmir on December 10. The International Federation of Journalists (IFJ) and its Indian affiliates the Indian Journalists Union (IJU) and the National Union of Journalists India (NUJ-I) condemn the journalists' arbitrary attack and the ongoing persecution of media workers in the region.'
Fayaz Lolu, a stringer with ETV Bharat; Mudasir Qadri, a stringer with News 18 Urdu; and Junaid Rafiq, of V9; were beaten by the senior superintendent of police (SSP), Anantnag Sandip Chowdary, in the Srigugwara area of South Kashmir. The journalists were all covering the District Development Council elections in the Anantnag district of Jammu and Kashmir on December 10.
During the attack, the journalists were thrashed and slapped after interviewing voters who complained that polling was not beginning at the scheduled time. Voting did not commence until 8.30am, an hour and a half later than the organised start time of 7.00am.
The journalists allege their equipment, including mobile phones and microphones, were confiscated.
Police escorted them to Srigugwara's police station where they were detained for almost two hours.
During their detention, journalist Rafiq complained of breathlessness and was taken to a nearby hospital where he was placed on oxygen support.
Kashmiri journalists are routinely arbitrarily intimidated, harassed, attacked and faced legal action by authorities and security officials.
On September 19, the cyber wing of the Jammu and Kashmir Police summoned and abused Auqib Javeed, a Kashmir based journalist, over a news report about police intimidation of social media users.
Similarly, on July 31, Qazi Shibli, the editor of news portal The Kashmiriyat, was detained, while Fahad Shah, editor of news portal Kashmir Walla, was summoned on May 20.
Srinagar police also filed separate investigations or First Information Reports (FIR) against Kashmiri photojournalist Masrat Zahra and journalist Gowhar Geelani on April 18 and April 21 respectively. Cyber police in Srinagar questioned journalist Peerzada Ashiq on April 19 in relation to the journalist's news articles.
The IJU secretary general Sabina Inderjit said: 'This highhanded attitude of police is unacceptable and the IJU demands an inquiry into the incident and stern action if the culprits are found guilty. Elections are bedrock of democracy and any attempts to browbeat media covering these is tantamount to making a mockery of the exercise.'
The NUJ-I president Ras Bihari said: 'The NUJ-I will send a fact finding committee to investigate the case and appeal to the Governor to set up a high level judicial committee to probe the incident and punish the guilty police officers for assaulting journalists.'
The IFJ said: 'The IFJ continues to document a disturbing series of attacks and harassments against media workers and journalists in J&K territories. We urge security officials and authorities to cease these attacks and intimidation of media workers and remind authorities of their responsibility to respect journalistic independence.'
Indian police arrested more than 100 workers who went on a rampage over unpaid wages at a Taiwanese-run iPhone factory near Bangalore at the weekend.
Footage on social media showed smashed CCTV cameras and glass panels, broken lights and a car set on fire at Wistron Infocomm's manufacturing facility.
The workers have not been fully paid for four months and are being forced to do extra shifts.
Wistron said that it 'pledged to follow local labour (laws)'.
In a statement, the company did not refer directly to the workers' complaints but claimed that 'the incident was caused by people of unknown identities from outside who intruded into and damaged its facility with unclear intentions'.
Bangalore, the capital of southern Karnataka state, is India's technology hub.
The violence broke out as about 2,000 workers from the night shift were leaving the building at Narsapura on Saturday.
Hundreds went on a rampage, ransacking the offices of senior executives, destroying furniture, assembly units and smashing glass panels and doors with rods.
A trade union leader told The Hindu newspaper that there was 'brutal exploitation' at the plant.
'The state government has allowed the company to flout basic rights,' said Satyanand, who uses only one name.
The factory employs about 15,000 workers, with most contracted via recruitment agencies.