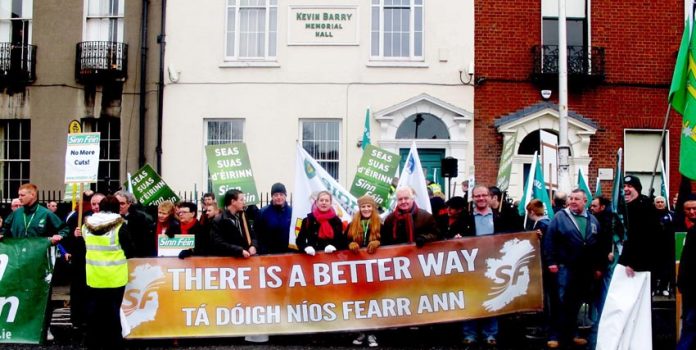 20,000 people took part in last Saturday's march in Dublin organised by the Dublin Council of Trade Unions.
The aim of the protest was to highlight the impact of the Government's policies of austerity and cuts.
The President of the Irish Congress of Trade Unions joined in calls for a general strike in protest at austerity and cutbacks.
Eugene McGlone told a crowd the steps required to organise a strike starting in individual workplaces.
McGlone was initially heckled when he took to the platform.
Other speakers echoed the call for a general strike that would shut the country down.
SIPTU President Jack O'Connor has said that while he is not necessarily opposed to a day of action against austerity, unions would have to be able to convince the overwhelming majority of workers that the objectives they were advocating were achievable and were a better alternative.
He said that they still had a lot of work to do to reach that point.
However, he said that if that amount of support could be mobilised, the trade union movement might be able to achieve its aims through negotiation without the need for actual industrial action.
O'Connor was speaking after McGlone called for a general strike at the anti-austerity march.
The SIPTU leader criticised what he called fascist behaviour at today's protest when McGlone was heckled by members of the crowd.
However, a number of other senior trade unionists dissociated themselves from McGlone's call for a general strike – describing it as a 'solo run'.
The organisers of the pre-Budget anti-austerity protest have condemned what they describe as 'the divisive attack' of O'Connor on a section of the crowd.
In a statement, Councillor Brid Smith said: 'Nobody orchestrated any heckling – it was a spontaneous outburst of anger at the inaction of union leaders.
'Some highly-paid union bosses appear so much out of touch with the anger of their own grassroots that they see conspiracies everywhere,' she added.
The demonstrators were led by activists from the Spectacle of Defiance and Hope, including a young woman wearing a white mask and riding a dark horse with a banner reading 'No to austerity' draped around it.
The march was organised by the Dublin Council of Trade Unions and supported by the ICTU, SIPTU and other trade unions, political parties, the Irish National Organisation of the Unemployed and groups and individuals from around the country.
Michael O'Reilly, President of the Dublin Council of Trade Unions (DCTU) said it was just one step in a long campaign to reverse cutbacks.
'The evidence is clear – you cannot cut your way out of a recession,' he told protesters gathered outside the GPO on O'Connell Street.
'On the contrary: with each cut in public spending, and with each euro taken out of the pockets of low and average earners in new or increased taxes, we are digging ourselves further into a hole.'
Speaking in advance of the Anti-Austerity March, David Begg, General Secretary of the Irish Congress of Trade Unions, said: 'We are five years into self-defeating austerity that has cost us 360,000 jobs so far: that's 360,000 compelling reasons to change course immediately.
'Even the IMF admits they got their calculations wrong. Austerity has become a mantra without reason or meaning.
'Being the best performing pupil in the class is of little comfort for families broken up by emigration or for those with no prospects of work.
'Too much has been taken from working people and those who depend on public services. The social cost of continuing on this path is too high. We need to see a greater contribution from wealthy individuals and the profitable corporate sector. And we need investment in jobs.
'Don't be misled, there are alternatives and we do have choices. Growth, hope and jobs are the key elements missing from our recovery plan.
'That is why Congress has called on all affiliate unions to back the march this coming Saturday,' Begg said.
Sheila Nunan, General Secretary of the Irish National Teachers' Organisation (INTO), said: 'The coming budget may contain serious and significant spending cuts that will impact directly on primary schools.
'The INTO believes that primary teachers must do everything to safeguard primary education at this crucial time. One way of doing this is to support the DCTU's march against austerity on Saturday.
'Ordinary Irish citizens face the prospect of digging even deeper into their pockets to bail out bankers, speculators and developers.
'Education services are being slashed. Already over-crowded classes face the prospect of more pupils. Parents are being asked to dig deeper into their pockets to subsidise a school system that is under-funded under-resourced and under-staffed.
'Every euro cut from the education budget reduces children's prospects, harms their futures and risks recovery. Education cuts don't heal,' Ms Nunan said.
Steve Fitzpatrick, General Secretary of the Communication Workers' Union (CWU) said: 'As the clear evidence continues to mount, there can be no doubt that austerity is nothing more than a form of slow, painful economic and social suicide.
'Its creeping, sinister effects are touching every family and community as services are cut; as dole queues grow; as domestic demand continues to fall and as ordinary people continue to struggle under the crushing weight of a debt that the banks bought but which we must all pay for.
'This is why the Communications Workers' Union (CWU) is encouraging its members all across the country to make their voices heard and their presence felt on Saturday in support of the DCTU Anti-Austerity march.
'As we face into another austerity budget a clear message must be sent to government – austerity has not worked, it will not work, and its destructive failure must be recognised. There are better, fairer options – these must be given a chance,' Fitzpatrick said.
Eamon Devoy, General Secretary of the Technical, Engineering and Electrical Union (TEEU) said: 'The TEEU is urging its members to join the Anti-Austerity March on Saturday.
'We share the belief of the Dublin Council of Trade Unions that it is essential to continue campaigning against the failed austerity approach and for an alternative to policies that continue to inflict untold hardship on workers and the most vulnerable in our Society.
'Austerity has failed economically and is inflicting untold social damage. As we approach the centenary of the 1913 Lock Out, this march gives us a chance to send a loud and clear message to Government: Enough is enough. It is time for a change of direction,' Devoy said.