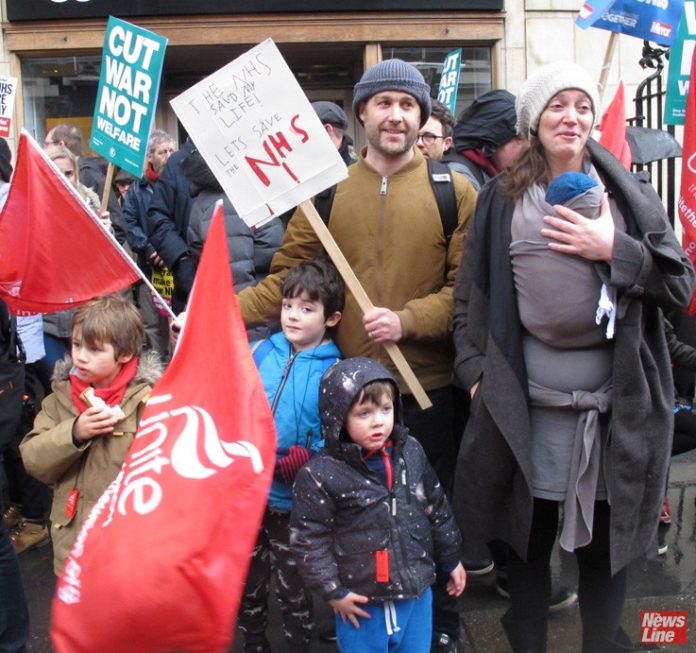 THE UNITE trade union, the largest in Britain, is calling for a suspension of the privatisation of all cervical cancer screening services in NHS laboratories nationwide – in the wake of reports the service is approaching 'meltdown'.
Unite warned earlier this week that the crisis will worsen further if tenders to take over the service –  expected to mean that the current 46 laboratories are cut down to just nine – are allowed to go ahead.
The successful bidders are set to be announced next April 12th!
Unite's call comes as NHS  England said it intends 'taking back in-house' the administration of the service from Capita from June, after it was revealed that more than 40,000  women had not received the appropriate smear test information from the outsourcing giant.
In a letter to the government and to Matt Hancock, Unite national officer for health, Colenzo Jarrett-Thorpe, has called for the suspension of the cytology tendering process, so that a full review can take place to ensure the smooth transition to primary HPV testing without backlogs and delays to patients.
In the letter, Jarrett-Thorpe said: 'We ask you (Matt Hancock) to use your office to intervene especially, after the press reports over the weekend that state the cervical screening service is in meltdown,' following the launch of a Public Health England campaign to encourage more women to attend cervical screenings.
'This follows reports that there are already several months in backlogs in patients receiving their cervical test results. This is traumatic for patients and is caused by not just the extra demand for cervical screening, but also the shortage of scientific staff who conduct the tests.
'Some are deciding to leave the service rather than taking a chance to find out if their laboratory will be a winner in the tendering process.
'The recent National Audit Office report on health screening highlights several warnings that the roll-out of the HPV programme and the resulting staff shortages will affect performance by causing backlogs and delays leading to missed targets for sample turnaround times.'
Unite's letter follows the reported comments of the chair of the British Association for Cytopathology, Alison Cropper, that the cervical cancer screening service is already 'in meltdown'.
Commenting on NHS England's Capita decision, Jarrett-Thorpe added: 'This announcement by NHS England strongly reinforces Unite's argument that the outsourcing of NHS services to profit-hungry companies is a fatally flawed model.
'You can't put a shareholder price tag on women's health.'
A recent Unite survey of its healthcare science membership also revealed that:
80 per cent of respondents said their workload had increased either a little or a lot over the previous year.
71 per cent said that morale in their workplace was worse or a lot worse compared to the year before.
Workplace stress, restructuring or reorganisation and dissatisfaction in the quality of care they are able to provide were the three main causes for declining morale
68 per cent had raised concerns over safe staffing in their workplace over the previous 12 months.
l Meanwhile at Southampton General Hospital, security staff have voted to launch a strike action from March 20th. Their first 24-hour walkout is set to take place on 5 April.
Twenty-one employees of Mitie Security voted for a series of walkouts over what they claim is a lack of protective equipment and inadequate payments for staff injured at work.
Their union Unite also said that members would start an overtime ban and would then strike for eight days in April, May, and also June. Talks are now scheduled to take place with conciliation service ACAS on 25 March.
The union said staff were being attacked 'on a regular basis' by members of the public, either under the influence of drink or drugs, or with mental health problems.
It has also called for personal protection gear such as stab vests and safety restraints, six months' full-pay followed by six months' half-pay for all sickness absences, as well as 'transparent investigations' into any attacks.
The security staff are to strike for 24 hours on 5 April, 19 April and 24 May. There will also be a 48-hour stoppage starting on 3 May and a further 72-hour strike on 7 June.
A spokesman for Southampton University Hospitals NHS Trust said it was in talks with Mitie Security about maintaining security cover in the event of a strike.
'Our organisation has a close working relationship with Mitie security staff and greatly appreciate the service they provide, so it is important to us that Unite and Mitie meet together and agree how this situation will be resolved,' the spokesman added.
A Mitie Security spokesman said in response: 'We take the safety of our staff very seriously.
'Whilst none of our security guards have been directly targeted, we are piloting the use of safety gear and regularly talking to our team on site about personal protection equipment.'
l Meanwhile the NHS in England has 'no chance of training enough GPs and nurses to solve the shortages it faces', according to experts.
The report, by three leading 'think tanks', predicts that in the next five years nurse shortages will double and GP gaps nearly treble, unless there is 'radical action'.
The Nuffield Trust, Health Foundation and King's Fund say a combination of international recruitment, student grants and innovation is needed.
But the government is insisting plans are in place to recruit more staff. And yet it is already well documented that the NHS is short of staff.
Current figures suggest there more than 30,000 extra nurses are needed and almost 3,000 GPs.
l NHS Lothian in Scotland has written to nearly 200 patients who underwent heart surgery in the last six months to warn them of a potentially deadly infection risk.
The move comes after a review found six patients who were operated on had contracted an infection.
NHS Lothian said it is thought the infections may have been acquired during surgery, and that 'a number' of those patients later died.
However, the health board refused to reveal how many deaths were involved.