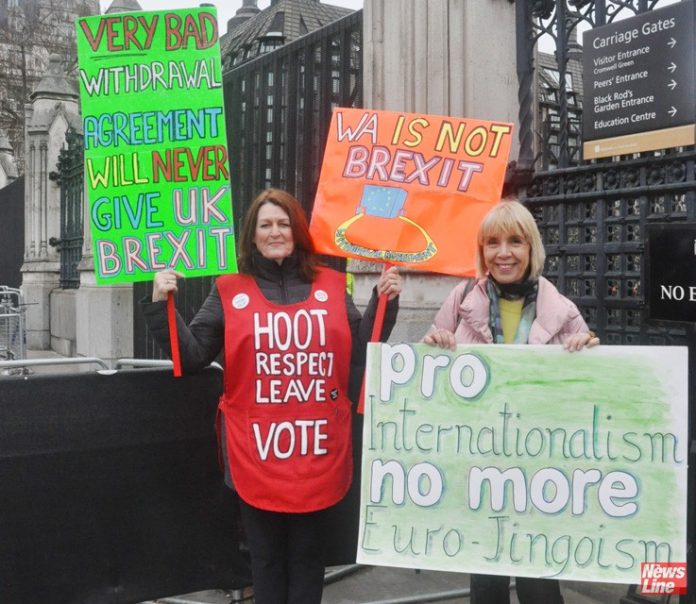 10 DOWNING Street is preparing to allow parliament to vote on seven alternative EU options next week amid their growing fears that PM May will not get her EU Brexit plan through the House of Commons.
A senior minister told Sky News that plans are being drawn up to give MPs a choice between revoking Article 50, a second referendum, the prime minister's deal, her deal plus a customs union, the deal plus a customs union and single market access, a standard free-trade agreement, or a no-deal Brexit.
The minister said that it was being considered as a 'way to find a solution', given that May's EU-supported Brexit deal will be defeated for a third time next week.
The minister said Number 10 is in 'panic mode'.
Theresa May and EU leaders have agreed amongst themselves that Brexit will no longer happen on 29 March.
The 'indicative votes' would not replace a so-called 'meaningful vote' on the prime minister's deal, which has to be held next week in order to meet the terms of the extension offered to the UK by the EU. They would follow on from the meaningful vote's defeat.
Sky TV asked ERG supporter Tory MP Mark Francois about the government considering holding those indicative votes.
He responded, 'I was in the chamber when Kwasi Kwarteng, the junior Brexit minister mentioned this. I mean I have been an MP for eighteen years and I have never seen a shambles like this in all my life.
'The idea that the government is going to allow indicative votes, if there is no government position on any of those issues about the future of our country means there isn't really a government.'
He continued: 'The Prime Minister made a very ill-judged speech in which she attacked members of Parliament for having the temerity to vote with their consciences, that has hardened the opposition to her deal.
'Some people who voted for it the second time around are absolutely determined not to vote for it a third time around, so I am very confident that the meaningful vote will not go through and it is the Prime Minister's fault.'
Asked if he will vote for it, he said: 'No I have never voted for it and I never will.'
He was then asked if the government pushed for an indicative vote what would happen?
He replied: 'What I think is going to happen is that the British people will get extremely angry, because they voted, 17.4 million of them, to leave the European Union and it is now becoming plain as a pikestaff that the establishment, including senior members of the civil service, including people like Olly Robbins, and members of the cabinet like Amber Rudd and David Gauke, and a number of members of Parliament like Oliver Letwin and Nick Boles and others are all conspiring to steal Brexit.
'They are using Parliamentary tricks and motions and amendments, basically to try and stop Brexit from ever happening, whereas the ERG have been fighting for Brexit all along.'