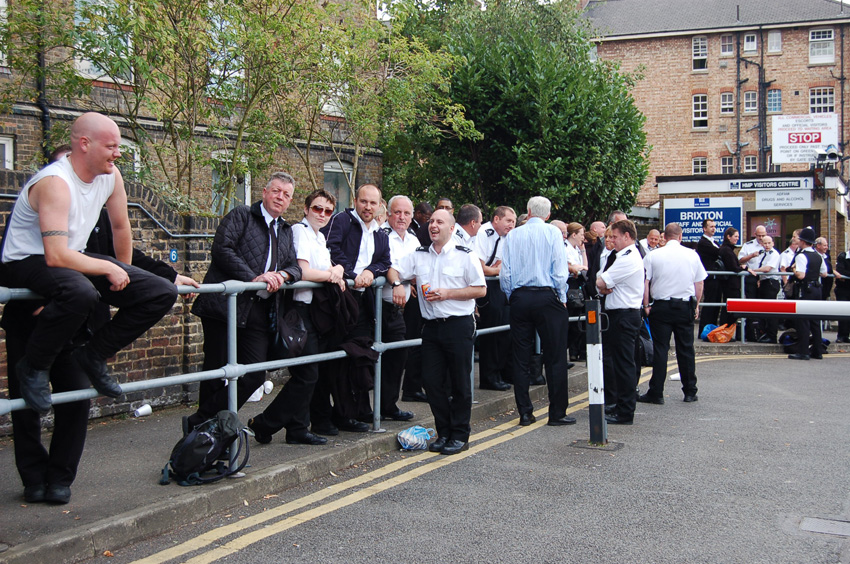 PRISON Officers' Association (POA) has again this week urged Secretary of State for Justice, Robert Buckland MP, 'urgently to intervene in order to protect prison officers at work'.
This is as newly published Safety in Custody quarterly statistics again highlighted 'record levels of self-harm, assaults and serious assaults on (prison) staff'.
The proportion of assaults on staff 'increased to 31% of all incidents in the twelve months to June 2019, a steady increase from 20% in 2012.' And assaults in prisons were recorded at a record high of 34,112, up 5%.
Assaults on prison staff reached a record high of 10,424, up 10%. Assaults in the Youth Custody estate reached a record high of 2,466. Self-harm in prisons increased by 22%.
POA National Chair Mark Fairhurst responded to the latest statistics by warning: 'Our employer has dramatically failed to address violence and self-harm in our prisons. By their own admittance, the under recording of violence is rife, so these statistics are actually much worse.
'Over 12 months ago, the government promised Prison Officers that the roll- out of PAVA incapacitant spray would commence in January 2019. To date, just two prisons have rolled it out due to the criteria our employer has placed on the roll-out, which clearly compromises the health and safety of staff.
'The key worker scheme is not reducing violence, despite assurances from HMPPS that this was the way forward. In the absence of safe and adequate staffing levels I now call upon the Secretary of State Robert Buckland to urgently intervene and insist that PAVA is rolled out immediately, without delay, in order to combat the unprecedented levels of violence in our prisons.
'Empty promises will not curtail the life-changing injuries both staff and prisoners face. If he is serious about staff safety, I would expect him to use his position to influence those who continue to stall the roll-out and place POA members at risk.
'The safety of staff is non-negotiable and the POA will use any means necessary to ensure staff are safe in their workplaces.'
Then on Wednesday a further POA statement added: 'There's an ''appalling state of crisis'' in the UK prison system with no plan for ''desperately needed change'' according to a new report.
'MPs on the Criminal Justice Committee have warned that safety, security and decency are all lacking in prisons across the country.
'The committee condemned the lack of a clear plan for reform and long-term strategy to ''reverse the fortunes'' of prisons and called for more detailed plans to meet the pledges made.'
The statement stressed: 'Too often, prisons are identified as needing extra support, but their performance continues to decline. There is little point in identifying poor performance if the necessary resources are not then provided to drive improvement.'
Bob Neill, the committee chairman, added that there is 'what might be called ''policy by press notice'' without any clear or coherent vision for the future of the prison system.
'New prison places might be welcome, but they do nothing to improve the appalling condition of much of the current prison estate, nor the prospect of offering a safe environment in which to rehabilitate offenders.
'At the same time self-inflicted deaths among offenders on probation has risen by one-fifth. And the England and Wales probation sector has been criticised since its 2014 partial privatisation
'And the number of suicides among offenders who were being managed in the community has risen by a fifth in the past year against a backdrop of criticism of the probation service.
'Figures released by the Ministry of Justice show the number of self-inflicted deaths increased by 19% from 283 in 2017-18 to 337 in 2018-19, and made up 31% of all deaths of offenders in the community.
'In 2018-19, there were 1,093 deaths of offenders in the community, up 13% from 964 in the previous year. The number of deaths from natural causes rose by 7% from 308 in 2017-18 to 331 in 2018-19, and made up 30% of all deaths.
'The probation sector in England and Wales was overhauled in 2014 by the then-justice secretary, Chris Grayling. Ignoring significant warnings from within the MoJ, he broke up probation trusts and replaced them with a public sector service to deal with high-risk offenders and (private) Community Rehabilitation Companies (CRCs) that manage low-to-medium-risk offenders.
'In May, the then-justice secretary, David Gauke, announced the supervision of all offenders in the community would be renationalised.'
Deborah Coles, the executive director of Inquest, a charity that provides expertise on state-related deaths, said: 'These figures are deeply disturbing and require urgent scrutiny due to the current lack of independent investigation.
'What is known is that people are being released into failing support systems, poverty and an absence of services for mental health and addictions.
'This is state abandonment. This is the violence of austerity.'
Meanwhile the University and College Workers' Union (UCU) has welcomed a Justice Select Committee call for 'more stable prison education contracts'.
Its statement continued: 'The University and College Union has today (Thursday) welcomed calls from the Justice Select Committee for more stable prison education contracts and increased training for prison governors, but said bolder reform is needed to ensure prison educators are able to do their jobs effectively.'
The union was commenting on the committee's report on prison governance, which highlighted concerns about new one-year 'Dynamic Purchasing System' contracts for prison education.
UCU said the uncertainty created by constant re-tendering was 'bad for staff and bad for prisoners', and welcomed the committee's recommendations for longer, more stable contracts and improved accountability'.
UCU added that 'the call for more training for prison governors was also welcome, but said bolder reform was needed to ensure that prison educators could do their jobs effectively.'
It said the process of competitive tendering for prison education 'diverted resources away from the front line and made it harder for providers to retain staff and invest in their development'.
The union also called for a wider review of how prison education is delivered to ensure the government's approach is meeting the needs of prisoners and education staff.
UCU general secretary Jo Grady, stressed: 'The Committee is right to recognise that short-term contracts for prison education are bad for staff and bad for prisoners.'