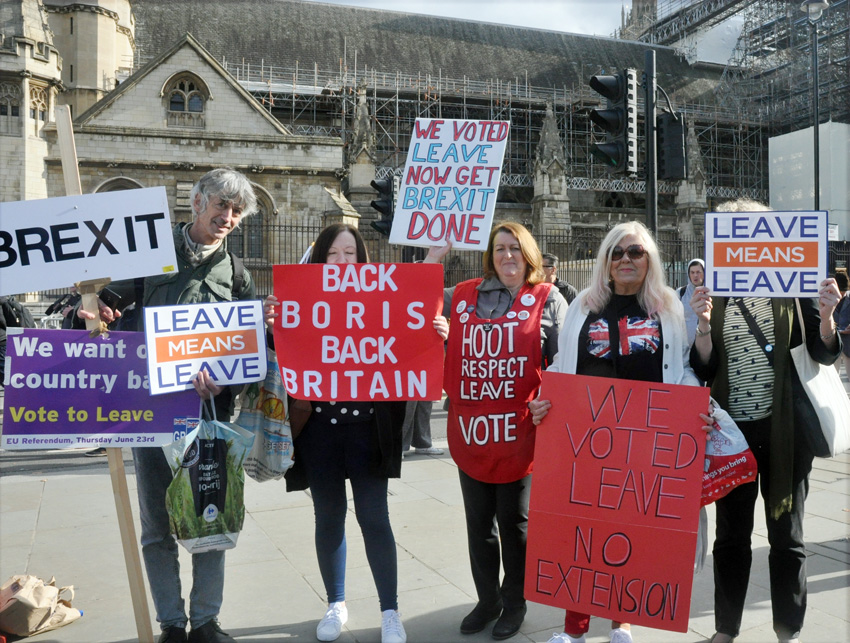 THE TORY government has defended its proposed Brexit deal with the EU, following criticism from President Trump, who suggested a Johnson-Farage alliance.
Trump told LBC the US 'can't make a trade deal with the UK' under Boris Johnson's EU withdrawal agreement.
Speaking to Brexit Party leader Nigel Farage on LBC, Trump was critical of the withdrawal agreement PM Johnson recently reached with EU leaders.
Trump said: 'We want to do trade with UK and they want to do trade with us.'
But he added: 'To be honest with you … this deal … under certain aspects of the Brexit deal … you can't do it, you can't trade.
'We can't make a trade deal with the UK because I think we can do many times the numbers that we're doing right now and certainly much bigger numbers than you are doing under the European Union.'
Trump added that Nigel Farage – leader of the Brexit Party – should team up with Boris Johnson to do 'something terrific', saying they would be 'an unstoppable force' in the December poll.
Brexit Party leader Nigel Farage yesterday proposed, at Trump's behest, a Tory/Brexit Party deal, or else the Brexit Party would stand in every seat in the country.
He said: 'I don't doubt for a moment that Johnson did his best to improve May's deal, and perhaps the one significant achievement was that Great Britain is not committed to be in the Customs Union, but the price of that was appalling …
'Boris tells us it is a great new deal, it is not. It is a bad old treaty and simply it is not Brexit.
'… We are committing in an international treaty to negotiate for three years in line with the Political Declaration and that means that we are aiming for regulatory alignment.
'Yep. Everything from financial services to fisheries – if we do this trade deal we will be tied to EU law.
'We will not in any way be taking back control of our laws, our money and our borders.
'And I am grateful to president Trump for making it clear last night. That if we continue down this route there will not be trade deals with the USA or indeed, I think, with any other parts of the world.'
Farage concluded: 'So I am going to say this to Boris Johnson: "Drop the deal because it is not Brexit."'
Farage then offered Johnson a deal: 'I believe that the only way to solve this is to build a Leave alliance across this country. 'And that does not mean just the Brexit Party and the Conservatives.
'There are Labour figures out there that I have spoken to who would more than happily stand in this election if we can put this coalition together.
'But if it was done, Boris Johnson would win a very big majority and on that manifesto we really could get Brexit done. We would become an unstoppable force.'