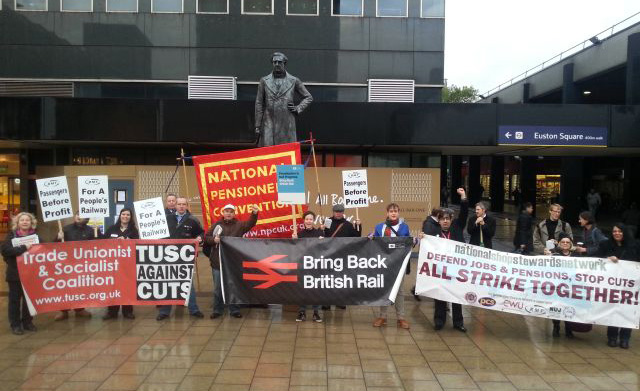 The UK's rail unions joined colleagues from across Europe in Strasbourg on Tuesday to protest against European Commission (EC) plans to impose the privatisation of rail passenger services across Europe.
On Tuesday and Wednesday MEPs in Strasbourg were debating and voting on the Fourth Railway Package.
Proposals in the package include making the tendering of rail passenger services obligatory, and imposing the separation of train operation from infrastructure management in every EU member state.
The demonstration against the Fourth Rail Package took place in front of the European Parliament at 1pm on Tuesday and representatives from the unions' Action for Rail campaign – including ASLEF, the RMT, TSSA and Unite – all attended.
The EC's proposals could permanently expand the control that overseas rail companies will have over the UK's rail services, Action for Rail warns, and will impose the UK's model of privatised and fragmented rail passenger services – that has created huge inefficiency and escalated costs – across Europe.
Action for Rail also believes that the package will make it impossible for any UK government to adopt an alternative to privatisation, ruling out successful publicly-owned and run services such as the East Coast Mainline.
Customer satisfaction rates for the line are amongst the highest for train operating companies in the UK; the company provides an income of up to £800m to the Treasury and since 2011 it has received 35 industry awards.
While the UK government has ruled out public ownership of the railways at home, Action for Rail is concerned that foreign state-owned rail companies are using this as an opportunity to make a profit.
Of existing UK rail companies, Arriva is a wholly-owned subsidiary of the German national rail company Deutsche Bahn; Keolis is majority-owned by the French national rail operator SNCF, and Abellio is owned by the Dutch state operator Nederlandse Spoorwegen.
According to a recent study by the Centre for Research on Socio-Economic Change for Arriva Trains Wales, subsidy exceeds private revenue from fares, with the state contributing 60p in every £1 of revenue.
The report finds that privatisation is not value for money for UK taxpayers as Virgin West Coast Trains would not make a profit from the West Coast Mainline without state support, and Arriva Trains Wales would not run at all.
Since the start of the franchise in 2003, Arriva and Deutsche Bahn (Deutsche Bahn AG acquired Arriva in 2010) have extracted £75 million in dividends.
Government plans to privatise East Coast Mainline could see the company taken over by Keolis and Eurostar through their joint bid. Action for Rail argues it would be far more efficient for rail services to be directly run and operated by the public sector.
Action for Rail argues that the emphasis on privatisation goes against public demand.
A YouGov Poll from November 2013 found that two-thirds (66 per cent) of respondents wanted the railways to be run by the public sector, compared to less than a quarter (23 per cent) wanting it to be run privately.
Former Secretary of State for Transport, Lord Adonis, has spoken in favour of the East Coast Mainline remaining in public hands and Alastair Campbell has recently suggested that the Labour Party should re-nationalise the railways.
Chair of Action for Rail and TUC General Secretary Frances O'Grady said: 'Imposing the rail privatisation system that is so clearly failing in the UK across Europe would be a disaster for passengers and taxpayers alike.
'Today we are urging MEPs to vote against the damaging Fourth Railway Package which will entrench and extend UK rail privatisation and overseas control of the UK's railways.
'We have real concerns that if these proposals are adopted future UK governments will be unable to create a publicly-owned railway that puts passengers and public first like the successful East Coast Main Line.'
ASLEF General Secretary Mick Whelan said: 'In the UK we are still learning and suffering from the harsh lessons of the flawed model that the European Commission now wants to impose on Europe.
'In the interests of passenger safety, proper investment, a properly integrated and publicly-accountable railway network, I urge MEPs to reject these proposals.'
RMT General Secretary Bob Crow said: 'This rail package demands that the disastrous rail privatisation experiment that started in Britain 20 years ago is now imposed on the rest of the EU through compulsory competitive tendering, fragmentation and open access competition.
'As a result of this EU business model Britain now has the highest rail fares in Europe, a culture of cuts and profiteering and the growing use of contract labour and zero-hour contracts.
'That is no future for public transport here or anywhere else in Europe. We need publicly-owned and accountable transport services that serve people before profit.'
TSSA General Secretary Manuel Cortes said: 'Rail passengers in the UK are still paying dearly for the Tories' disastrous sell-off of our public railway 20 years ago. Fares have more than doubled and are now the highest in Europe.
'Our fragmented private network has turned into a taxpayer funded junkie, needing over £4 billion a year in public funding fixes just to keep going.
'It would be economic madness if the rest of Europe now adopted this disfunctional system.'
Unite National Officer Julia Long said: 'UK commuters spend over three times more of their salary on rail fares than European colleagues.
'Why on earth is the EC now planning to impose the privatisation of rail passenger services across Europe?
'MEPs must vote against these alarming and misguided proposals and tell the Commission it is on the wrong track.
'British commuters are being ripped off by sky high train fares which have been caused by privatisation. These proposals are bad news for commuters across the rest of Europe and could prevent the UK from looking at alternatives to privatisation.'
• Meanwhile, Unite has warned patients needing psychological and mental health support in Coventry and Warwickshire face a 'postcode lottery' with a much reduced service.
Unite is concerned at the way Coventry and Warwickshire NHS Partnership Trust intends to 'remodel' services which will be detrimental to the 850,000 people covered by the trust.
Unite believes that the changes could result in 20 fewer staff in the community mental health team, with the downgrading of up to half of the remaining staff.
The union says that management wants to introduce these changes on 1 April this year.
Unite regional officer Frank Keogh said: 'Currently the proposals will see a cut to both experienced nursing and psychology staff, who would be replaced by less experienced staff.
'These healthcare professionals care for some of the most vulnerable members of society.
'In the case of psychology staff, they will be replaced by staff with a basic training in psychological therapy, rather than by fully trained psychologists.
'Unite members are concerned that this may lead to patients with complex needs not getting the level of support they need.
'We call on the trust's management to reconsider its plans, and also to consult the community and interested stakeholders more widely.'
Against a background of cuts generated by the so-called Nicholson challenge of £20 billion 'efficiency savings' in the NHS, Unite members have witnessed cuts in services due to staff not being replaced when they have left.
The current proposals would result in a significant de-skilling of clinicians.
Unite is also concerned that this model has not been implemented elsewhere.
No 'pilot' studies have been carried out, so there is no evidence whether it would be effective.
Frank Keogh added: 'It is difficult for our members to understand why, at a time when there are government initiatives to increase psychological therapies, the trust is seeking to reduce the number of experienced and skilled staff that it currently employs.
'The restructuring will have a longer term adverse impact on the recruitment and retention of key clinical staff.
'There will be only limited posts for experienced clinicians which could mean staff leaving the trust to advance their careers, thereby, perpetuating a skills gap in Coventry and Warwickshire.
'This will disadvantage the 850,000 population and good mental health care will become a postcode lottery.'
• Commenting on figures published on Tuesday by the Office for National Statistics (ONS), which show that the average number of days lost to sickness absence has fallen by almost 40 per cent since 1993, TUC General Secretary O'Grady said: 'These figures prove that there is no such thing as a "sickie culture", with the number days lost to ill-health falling as employers get better at managing sickness absence.
'The real health threat we face is the growing culture of presenteeism – where unwell staff are pressurised into coming work by their bosses.
'This can prolong illness, spread germs and cause unnecessary stress throughout the workplace.
'Many of the main reasons why people take time off, for example to cope with back pain and stress, are actually caused by work.
'If we want to see sickness levels brought down even further, we should be concentrating more on how to prevent these problems.'