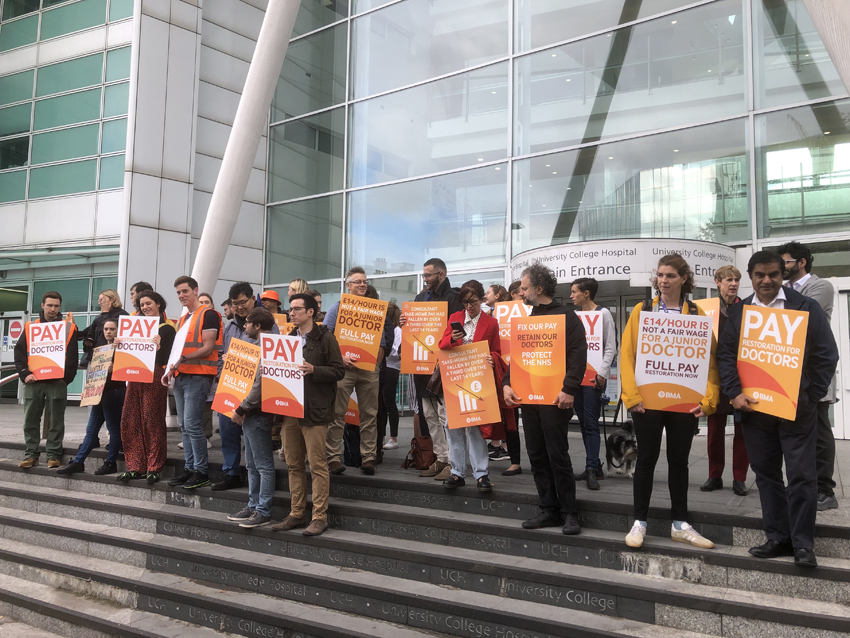 THE HOUSE of Commons PAC (Public Accounts Committee) report into emergency care should 'concentrate minds' in government, says the BMA.
Responding to Wednesday's PAC report on access to urgent and emergency care, professor Phil Banfield, BMA chair of council, said: 'As winter approaches the inevitable worsening crisis in NHS emergency care should be concentrating minds in government.
'This report shows a depressing trend of deteriorating performance over the last decade, with the targets for A&E waits not having been met since 2015.
'Behind this headline is the all-too-familiar fact that the number of patients presenting to the hospital front door is climbing relentlessly and that transferring patients to wards and discharging patients at the other end of the system back home or into appropriate care has also become increasingly difficult.
'It is good to see the PAC acknowledging the impact of the Covid pandemic on the workforce as the BMA has repeatedly pointed out: doctors suffering from the aftereffects of the pandemic including long Covid are leading to exceptionally high levels of physical and mental ill health.
'The PAC is right to doubt how far NHSE (NHS England) can achieve its optimistic assumptions about how many staff can be recruited and retained.
'We are currently in the middle of the most profound pay dispute in the history of the health service, and a horribly overstretched workforce is being asked to do more with less, with a projected shortfall of up to 360,000 staff by 2036 in NHS England.
'Against such a backdrop, it is hard to see how the health service is going to recruit and retain the vast number of doctors required to make up shortfalls in their numbers.
'We join the PAC in its concern over the lack of long-term funding being set out to support the new Long Term Workforce Plan.
'While emergency care will continue to be covered during any further strike action, it is still a worrying sign that the government is heading into winter with unresolved industrial disputes involving the very doctors it is relying on to fix this crisis.
'Only a properly valued and fully staffed NHS is going to be able to make meaningful improvements to delayed discharges and unacceptable waiting times this report is rightly raising the alarm on.'
The Royal College of Nursing (RCN) was contemptuous of the government after Wednesday's (PAC) report.
RCN Director for England, Patricia Marquis, said: 'Another day, and yet another report into failing NHS services that cannot keep patients safe.
'Nursing staff have been sounding the siren on staff shortages for years, but the government remains more focused on soundbites than solutions.
'When there aren't enough nurses, care becomes unsafe.
'Nursing staff are routinely treating patients in corridors – it is undignified for the patient and compromising for the nurse.
'Often a single nurse can be responsible for 10, 15 or even more very sick patients at one time. Nursing staff often aren't even able to provide adequate comfort at the end of a patient's life.
'We need the government to take urgent action, to stop our nursing staff leaving the profession. Patient care demands it.
'We are crying out for funding and detail on the workforce plan – there is still very limited progress on closing the gap in nursing vacancies.'
Dame Meg Hillier MP, chair of the PAC, said: 'Anyone who has had recent contact with the NHS knows it is in crisis. Patients suffering long waits and hard-pressed staff working in a system which is not delivering deserve better.'
Meanwhile, responding to the Scottish government's winter preparedness plan, chair of BMA Scotland, Dr Iain Kennedy, said: 'While it is good to see a plan, we'll need to spend some more time looking at it in detail – but on first glance the Scottish government does appear to be focusing on the right areas such as recruitment and retention, social care, and hospital at home.
'However, it is really just tinkering around the edges and lacks the real substance and understanding – and crucially proper investment – that we need to improve the current situation our NHS is in.
'And it is worth noting there was no mention of investment in the medical workforce at all, despite GP and secondary care doctor vacancies being worryingly high.
'The whole system approach as outlined in the plan is welcome, acknowledging that the problems are not confined to simply one area of our NHS and recognising that there are issues across the entire system – but this cannot be just about winter.
'We are in a year-round crisis with our NHS and workforce planning is abysmal.
'We simply do not have the staff – be that doctors, nurses or allied health professionals – to cope with the rising levels of demand and we are heading into what I expect will be our worst winter ever.
'It's a bleak picture but we cannot sugarcoat it or we will simply lurch from winter crisis to winter crisis until the system finally breaks.
'I cannot be clearer when I say that a national conversation on the future of Scotland's NHS is desperately needed – an open, honest and transparent cross-party discussion that also involves the profession and the public is needed now more than ever.
'Investment in the system must be improved, investment in staff is crucial. Available beds in our hospitals are only as valuable as the doctors and nurses who available to staff them – without the workforce, the NHS is nothing.'
SAS (specialist, associate specialist and specialty) doctors in England have spoken and delivered a decisive YES result in their indicative ballot.
The BMA says: 'The government has written to us and offered to meet with us next week.
'We have accepted their offer and will continue to negotiate in good faith.
'If talks with the government do not produce meaningful and detailed progress, we will move to a formal ballot on strike action which will be open from 6 November to 18 December.
'We will continue to use this mandate to fight on behalf of our members.
'The result of the indicative ballot may influence whether a committee will move on to a statutory ballot.
'We have not yet announced a statutory ballot. A successful statutory ballot does provide a legal mandate for strike action.
'To be successful, at least 50% of balloted members must take part, and the result must be a simple majority (e.g. more than 50% of respondents say 'yes').
'A formal ballot needs to be compliant with trade union law, which can mean there are restrictions in the way it is conducted.
'Since 2008/09, SAS doctors in England have been forced to put up with a 30% fall in real terms pay.
'For those on the new contracts, adjusted to reflect the promised multi-year deal investment, the real terms pay cut is 31%.
'This is the equivalent of working more than 3.5 months of the year for free.
'SAS doctors' pay is reviewed each year by the DDRB, an 'independent' body who makes recommendations to the government on pay uplifts for doctors.
'The government introduced its own criteria for how the DDRB reviews pay, and the limited uplifts which are recommended by the DDRB are often ignored by Ministers, leading to pay erosion.
'With rising inflation and doctors working harder than ever to address the growing backlog, SAS doctors are increasingly feeling undervalued and unrecognised.'