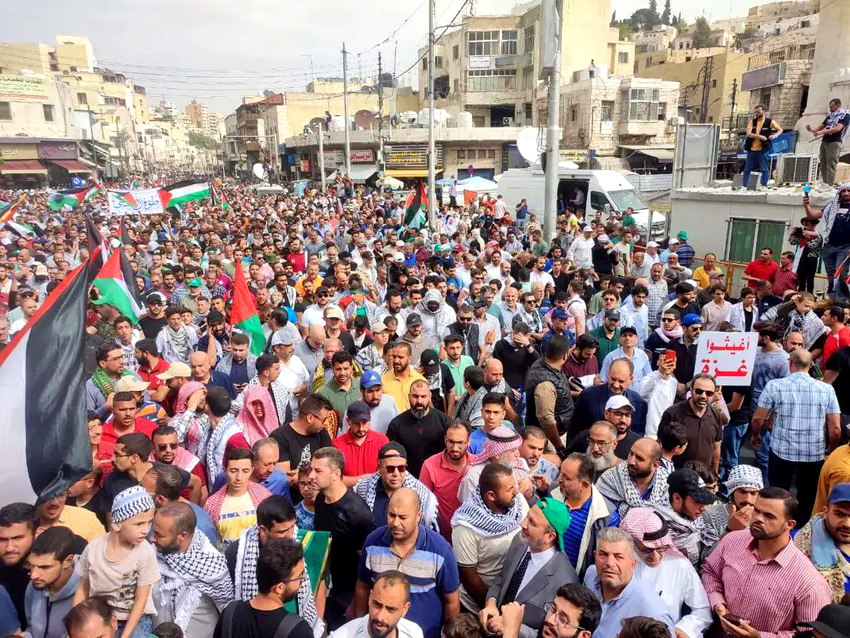 NEARLY a quarter of Labour MPs have called fora ceasefire in Gaza.
Forty-nine of the party's 199 MPs have either said they want a ceasefire or signed a motion calling for one.
Underlining the extent of pressure on Keir Starmer over the issue, 49 Labour MPs have either said they want a ceasefire or signed a Commons motion calling for one, out of a current total of 199 Labour members in the Commons.
With continued speculation that some frontbenchers are ready to quit, Imran Hussain, the Bradford East MP and shadow minister for the future of work, signed an early day motion on Friday calling for a ceasefire.
About 40 Labour MPs have signed the EDM – a way by which MPs can formally register a view – which condemns 'the massacre of Israeli civilians' by Hamas but says this does not 'justify responding with the collective punishment of the Palestinian people', and calls for a ceasefire.
Questions to Labour about whether Hussain might face repercussions for dissenting from the party view on a ceasefire brought no response, suggesting Starmer and his team are anxious to avoid exacerbating the situation.
Among those who have demanded a ceasefire by other means is Yasmin Qureshi, the shadow equalities minister, who spoke out at prime minister's questions on Wednesday but has not yet been disciplined.
Qureshi asked Rishi Sunak: 'How many more innocent Palestinians must die before the prime minister calls for a humanitarian ceasefire?'
The Labour stance is that calling for a complete ceasefire would deny Israel its legitimate right to pursue Hamas after the group stormed the Israeli defences from Gaza on 7 October, and took more than 200 hostages.
Starmer is under intense pressure from a number of his MPs to go further in seeking relief for Gaza, where more than 7,000 people, many of them children, have been killed by an ongoing Israeli bombardment, according to the Hamas-run health ministry.
Many Labour MPs in turn say they have received huge amounts of correspondence and messages from constituents expressing worry about the official line, notably after an LBC interview during the Labour conference earlier this month in which Starmer said Israel had the right to cut off power and water to Gaza.
Days later, he clarified that his answer was only intended to be about Israel's wider right to self-defence.
Several Labour MPs stated that they have received more emails and other messages about this than any other issue in the past.
In some cases more than 1,000 people have been in touch with an MP, including a range of voices from Muslim communities and beyond.
The Labour leader and his deputy, Angela Rayner, met more than a dozen Muslim Labour MPs on Wednesday afternoon, who said that his positioning on the conflict was causing distress to many in the party.
Those at the event argued that the disappointment amounted to much more than a 'Jewish-Muslim community issue'.
A series of Labour councillors also quit the party after the LBC interview. On Wednesday, 150 other councillors jointly signed a letter to Starmer and Rayner requesting that Labour back a ceasefire.
Starmer has also been accused of having 'gravely misrepresented' a meeting with Muslim leaders in Cardiff on Sunday.
The South Wales Islamic Centre said a meeting between Starmer and about 30 community leaders had been 'tense', and that subsequent tweets by the Labour leader were not accurate.
Two million people are being strangled
'WHAT we are seeing in the Gaza Strip is unprecedented,' Juliette Touma of the UN agency for Palestinian refugees, Unrwa, told the BBC.
'Two million people are being strangled. Gaza is being choked with very, very little assistance that is coming from outside.'
Israel began its bombing campaign in Gaza, cut off electricity and most water, and stopped imports of food, fuel and other goods, in retaliation for a cross-border attack by Hamas on 7 October, in which at least 1,400 people from Israel were killed and 224 taken hostage.
Gaza's Hamas-run health ministry says 7,000 Palestinian people have been killed in the territory since then and that its health system is facing total collapse, with a third of hospitals not functioning and the rest only treating emergency cases.
At least 74 lorries carrying food, water and medical supplies have crossed from Egypt via the Rafah border crossing since Saturday, which Touma called 'a drop in the ocean of overwhelming needs'. About 500 lorries were allowed into Gaza every day before the start of the war.
Israel refuses to allow deliveries of fuel because it says it could be used for military purposes by Hamas, which it classes as a terrorist organisation – as do the UK, US and other powers.
But Touma said Unrwa urgently needed fuel if it was to continue to serve as a lifeline for the 629,000 displaced people taking refuge inside its facilities. Most fled homes in the north of Gaza after being told by the Israeli military to leave for their own safety.
'We're the largest humanitarian organisation and we are on the verge of stopping operations. We are being banned from undertaking the mandate that was entrusted to us by the UN General Assembly. All we're asking to do is to be able to do our work,' she added.
Dr Abdelkader Hammad, a surgeon at the Royal Liverpool University Hospital in the UK who arrived in Gaza to carry out transplants the day before the war began, is sheltering at a UN facility in the southern city of Rafah.
'The situation on the ground is deteriorating day by day,' he told the BBC.
'People are fighting for the water, for the food, because of the shortages. Whatever they have in the stores is running out now. People are queuing for hours and hours to get some bread from the bakeries which are still working.'
He also expressed alarm about the conditions at the hospitals where he usually performs operations, saying that his colleagues working at them were describing a 'medical disaster'.
'Theatres are full of wounded people. They have to make very difficult decisions about who they treat because they cannot cope with the sheer number of (wounded) people coming,' he said. 'They are running out of medical equipment. The fuel is running out.'
• See editorial