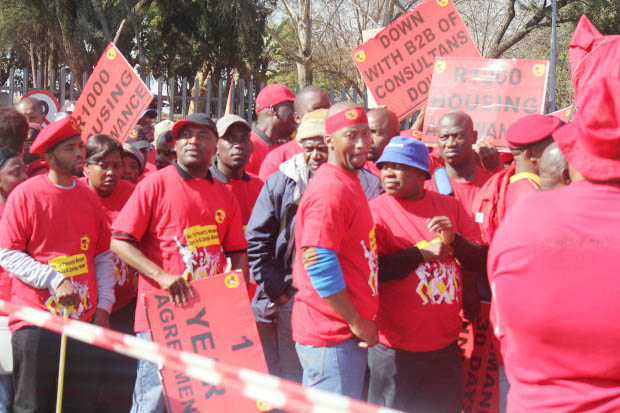 TWO weeks into their strike, the National Union of Metalworkers of South Africa (NUMSA), has rejected the latest wage offer in the metals and engineering industry.
On Sunday, it said its 220,000 striking members will intensify their industrial action.
Both NUMSA and the Steel and Engineering Industries Federation of South Africa (SEIFSA), the employer body, say they have made concessions on their demands and offers, but the parties still can't reach a deal.
The union has rejected what SEIFSA CEO Kaizer Nyatsumba said was its 'very last offer', a three-year deal offering the lowest paid categories 10%, 9.5% and 9% increases over three years and higher paid workers 8%, 7.5% and 7%.
If rejected, it would be taken off the table, said Nyatsumba.
NUMSA is clear: it wants double-digit increases. It's pushing for a one-year deal with 10% but said it might accept a three-year deal with 10% increases each year.
The union also wants a R1,000 housing allowance, which has been rejected by the companies.
NUMSA General Secretary Irvin Jim said on Sunday: There's more to the negotiations than pay increases.
He said: 'Our members remain extremely angry and irritated by the refusal of employers to do away with labour brokers through an agreement with the union, as it has been the case in the auto sector and tyre sector in South Africa.
The union wants a ban on labour brokers. The employers aren't budging.
Then there's the issue of paid leave for shop stewards who need to attend union meetings.
NUMSA wants union reps to get more than the offered five days off to attend to union work.
While putting together the United Front, a collective of organisations in support of socialism, and distancing itself from the ANC, NUMSA has made clear that it's driven by the historically-created inequalities and abuses in South Africa and the disappointing efforts from the government to overcome them. Jim Continued: 'NUMSA has endured, like all the black and African working class post-1994 in South Africa, sustained vicious attacks by the combined might of the capitalist bosses of all colours, its liberal media and right-wing political representatives and black and African parasitic capitalist elites in the ANC and Alliance.'
The union is fighting for R5,600 a month for the lowest-paid workers, and has been accused by the South African state of violence and intimidation, including dozens of arrests.
The union says it doesn't condone violence or intimidation and praised its members on Sunday for helping the police to arrest 10 people in Benoni who were committing criminal acts in NUMSA t-shirts but aren't a part of the union or the strike.
Jim said: 'Nothing best confirms the discipline of NUMSA members than this behaviour during the strike.'
The strike is costing the economy 300 million rands a day and the employers' organisations claim it will further harm a struggling industry. Statistics South Africa released last week show a 7% drop in metals and engineering production in May, with only 2% growth in the industry over 12 months. Producers say they are competing with manufactured imports, the flow-on effect from the platinum strike, and low business confidence leading to negative profit margins.
The strike, comes after the long strikes in the platinum industry. The strike, affects a third of manufacturing output, and economists have said it could harm South Africa's credit rating. Credit ratings agency Moody's said: 'Continued weak investment, exports and overall growth will pose serious challenges to the government's efforts to reign in its budget deficit and stabilise its debt metrics, a credit negative for the economically troubled country.'
NUMSA says it can't be blamed for the economy's poor performance.
Jim stated: 'While we are fully aware of the state of the industry in the metals and engineering sectors, we are also very acutely aware of the miserable conditions of the life of the majority of the black and African working class who are the backbone of this industry and who survive on extremely low, colonial and very inferior, racist-inspired wages.
'It is not the working class who are destroying South African economy which apparently must only feature black and African workers as very cheaply and racially exploited human beings. Rather, it is the employers and their greedy colonial and racist wage strategy.
'This of course translates into superior profits for them. This is the real threat not only to the South African economy but to our entire society and any possibility of evolving into a truly free, democratic, prosperous and peaceful country.'
• Since January 2012, when the first illegal mining strike at Impala Platinum (Implats) challenged the mining companies, so much has changed that the labour market dynamics are hardly recognisable.
Trade unions, employee expectations, and the established mode of conducting negotiations over wages have been suddenly and violently swept away. Although conditions have changed, too much has stayed the same.
It is the mining companies that the new labour revolt will ultimately displace. In 2014, that fight is far from over because South Africa's mining industry is changing in fundamental ways.
This includes many things: from the way it values, rewards and communicates with employees and how it takes care of the social needs of employees to the extent to which it is able to mechanise, with employees who are more productive, more skilled, less migratory and better paid.
Those are the big picture, long-term issues that, as the recurrence of strikes in 2014 shows, are neither easy to solve, nor will they go away.
There will be more strikes following the collective agreement between Anglo American Platinum (Amplats), Implats, and Lonmin and the Association of Mineworkers & Construction Union (AMCU) which agreed wage increases significantly above the 10% the National Union of Mineworkers (NUM) secured in the gold and coal sectors.
Union rivalry in gold and coal will intensify, as workers lose faith in NUM and depart for AMCU.
A commonly expressed frustration of Rustenburg miners is that 'NUM has no truth' and 'negotiated only for themselves' meaning workers in higher skill bands, from which much of the union's leadership was drawn.
The Marikana massacre had scarred labour relations permanently. Asked by a reporter recently how trust could be restored after such a long and acrimonious strike, Joseph Mathunjwa, president of AMCU, said: 'Trust, was there any trust to begin with?'
It is this absence of trust that lay at the root of AMCU's non-compromising approach to negotiations. From October 2013 when wage talks began until well into the strike, AMCU stuck doggedly to the R12,500 basic wage demand, shifting only before a final settlement to say it was prepared to allow that this be achieved in four years instead of one.
Arguments from producers and mediators around affordability and cost had no impact on union positions, not just because the demand of R12,500 is emotionally tied to the death of mine workers at Marikana, but also because both the union leadership and membership believed that it could be afforded.