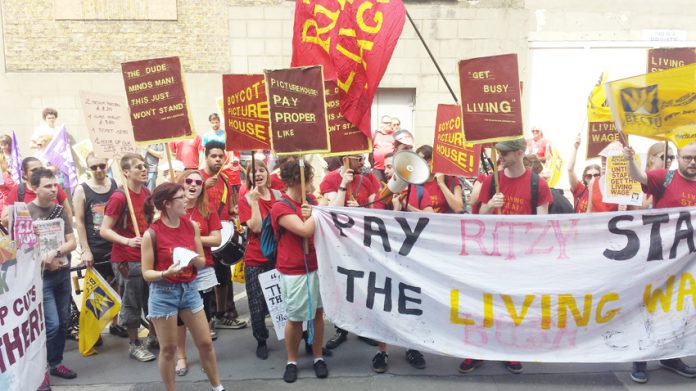 RITZY Cinema workers, on their ninth day of strike action, marched with 200 supporters and trade unionists from the British Film Institute (BFI) yesterday.
What do we want – the living wage! When do we want it – now!' rang out through the streets of London as the lively march was led by a drumming band.
There were big delegations of BECTU workers with their banner and Equity workers carrying purple flags.
Cinema worker Blaise Hure said: 'We are here to strike against Picture House for refusing to pay us the London living wage of £8.80 an hour.
'We are living on the bread line and scraping the barrel to make ends meet and pay our rent and living costs.
'We shouldn't have to live like this, especially when the fat cats at the top are getting major pay rises and major bonuses and clearly have the ability to pay us.'
BECTU member Thea Sandall, who works at the Young Vic theatre, said: 'I do get paid enough to live on at the Young Vic and I am here today supporting these young workers because people can't be expected to live in London on less than the living wage.
'Young people haven't got a future at the moment. I have two grandsons and they are in the same situation. They cannot afford to move out from their parents' house, they cannot afford to live alone.'
Ritzy Cinema worker Zaz Wood told News Line: 'This is the ninth day of strike action and our tenth will be on Sunday.
'We are going to fight until we win. We are going to win the London Living Wage. Personally, it is very hard for me to pay rent, bills and student tuition fees as well as obviously food and drink. Their ticket prices have gone up to £12 on the weekend to see a film and that is significantly more than I am paid in an hour – a large popcorn costs £4.50!
'Other workers should come out on strike with us.
'Last Thursday we joined the massive strike of teachers, fire fighters and other cinema workers – we definitely need a general strike.'
The march stopped outside the Picture House headquarters that own Ritzy headquarters at St Vincent House, Orange Street, then made its way to the Curzon headquarters in Stukeley Street and finished with a rally addressed by Ken Loach after ending at the London Mayor's office at City Hall.