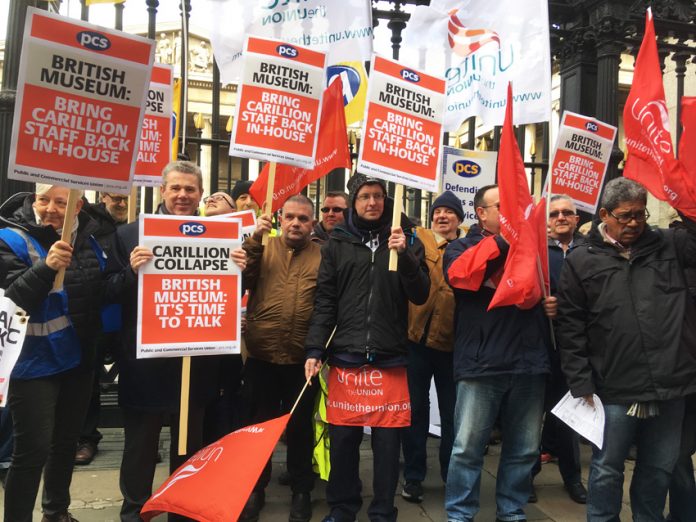 THE PCS (Public and Commercial Services Union) is holding a rally in parliament from 6.30pm next Wednesday, 9 May, to highlight how jobs and services at our national museums and galleries are being impacted by government cuts and privatisation.
PCS said on Thursday: 'Privatisation in our culture sector isn't working. The collapse of Carillion, which provided support services at the British Museum, is just the latest example. 'Government cuts have driven the privatisation agenda at the expense of the services provided and the workers who provide these services. 'The 100 facilities management and cleaning services staff on the British Museum contract are now being paid by the receivers and face an uncertain future.
'PCS is seeking urgent talks with British Museum management and we are calling for our members' jobs, pensions and terms and conditions to be protected and for their jobs to be brought back in-house. The rally has been organised to support our members – to discuss how privatisation is failing public services, with specific reference to culture areas like the Tate, Imperial War Museum and the National Gallery, and to engage with MPs on this issue.'
The rally will be held in the House of Commons, Committee room 6. Speakers are: Mark Serwotka, PCS general secretary; Rebecca Long-Bailey, Labour's shadow secretary of state for business, energy and industrial strategy; Kevin Brennan, Labour's shadow minister for arts and heritage; Chris Stephens, PCS parliamentary group chair; Clara Paillard, PCS culture group president; and Janice Godrich, PCS president (chair).
The union has called on its members to 'email your MP and ask that they attend the meeting and meet you.' A suggested text to be used in the email states: 'I am writing as your constituent to ask you to support members of staff who provide vital support services at our national museums and galleries by attending a rally in parliament on 9 May.'
It points out: 'PCS, the trade union which represents these (British Museum) workers, is calling for the workers' jobs, pensions and terms and conditions to be protected and for their jobs to be brought back in-house. 'I agree that the best way to safeguard the services these staff provide is to bring them back in-house like other public service bodies have already agreed to do.
'This damaging impact of privatisation as a response to cuts in government funding is not limited to British Museum: '• The Imperial War Museum privatised its gallery services back in 2014. The private contractor Shield collapsed in 2016 and was bought up by private firm Noonan leaving staff unsure of the future of their pensions.'• The National Gallery privatised 400 workers back in 2015 despite a high profile campaign opposing it. Private company Securitas has since refused to honour promises and has been less than cooperative with workers represented by PCS. Meanwhile the National Gallery itself has de-recognised the union arguing that most of its members were now working for Securitas.
'• Some of Tate's visitor services were provided by Wilson James who used zero hours contracts and paid their employees far less than Tate. PCS members won union recognition and parity of pay after their EqualiTate campaign. But in 2017 the contract was passed on to Securitas who immediately derecognised the union. 'I would like you to show your support for workers who play a vital role in making our national museums and galleries highly popular attractions for visitors from across the world. 'Please show your support by attending a public meeting in parliament on Wednesday 9 May in committee room 6 from 6.30-8pm.'
• New research by the Musicians' Union (MU) has found that 44% of the UK's orchestral musicians say they don't earn enough to live on, putting the future of the nation's orchestras at risk. The MU says: 'We're calling on the public to support orchestral musicians, as decades of funding cuts jeopardise their jobs. 'The research found that musicians are struggling to make ends meet and may leave the profession. Two thirds (66%) of veteran musicians with up to 30 years' experience have considered alternative careers.
'The figures also paint a bleak picture for musicians entering the profession, fuelling concerns that the pipeline of new talent will be stifled. Musicians typically invest around £80,000 in their training, including tuition fees and student loans. 'Those in full-time employment earn around £21,000 after qualifying, but cuts have led to a lack of availability of full-time roles. 'More than two-fifths (43%) of musicians with five years or less experience in the industry have taken on unpaid work in the last 12 months to gain experience, compared to almost one in five (17%) of those with 11-20 years.
'The new figures have prompted us to launch a campaign to highlight the value of orchestral musicians to UK society. 'The Musician Behind the Moment campaign features four inspiring musicians whose stories remind people of the moments in their lives in which orchestral players have played a huge part.'
Horace Trubridge, General Secretary of the Musicians' Union, said: 'Funding cuts mean orchestras present less of a viable career option for many professional musicians than they once did.
'In real terms, musicians' earnings have not kept pace with inflation or the general standard of living. This is putting the UK's orchestras under serious threat of a skills gap or even closure, which would leave a huge cultural void in the UK. 'Orchestras need the support of the UK public if they are to survive. That's why we've launched the Musician Behind the Moment campaign. 'We want people to see the true breadth of work our world-class orchestras do, appreciate the contribution of orchestral musicians, and back their local orchestra.'
The Musician Behind the Moment campaign features four orchestral players talking about their most poignant moments working with orchestras, that go above and beyond what the public may expect.
Michael Kidd is one of the musicians featured in the campaign. He plays French horn with the City of Birmingham Symphony Orchestra. Michael played at the wedding of the Duke and Duchess of Cambridge, receiving a piece of wedding cake from Prince Charles as a thankyou gift.
However, he cites his work in a local retirement home, as part of an orchestra outreach programme, as one of the stand-out moments of his career. Talking about the impact of this work on the elderly people who benefit, he said: 'One resident put it to us that she comes in feeling miserable and goes out feeling happy. It's not just art for art's sake.'
The MU stresses: 'Almost all orchestras (97%) are involved in community outreach programmes with schools, hospitals and care homes. 'Plugging gaps in sectors that have suffered their own budget cuts, over half of UK orchestras work specifically in healthcare. 'Around 65% work with people living with dementia, 38% work in hospitals or hospices and 34% work in mental health settings.
'In 2016, UK orchestras reached almost 900,000 children and young people via performances and education sessions.'
Trubridge continued: 'These are challenging times for many sectors, but the contribution orchestral musicians make to both UK culture and communities can't be taken for granted. 'We hope members of the public will become supporters of the MU and help us in our fight to increase funding for the arts.'