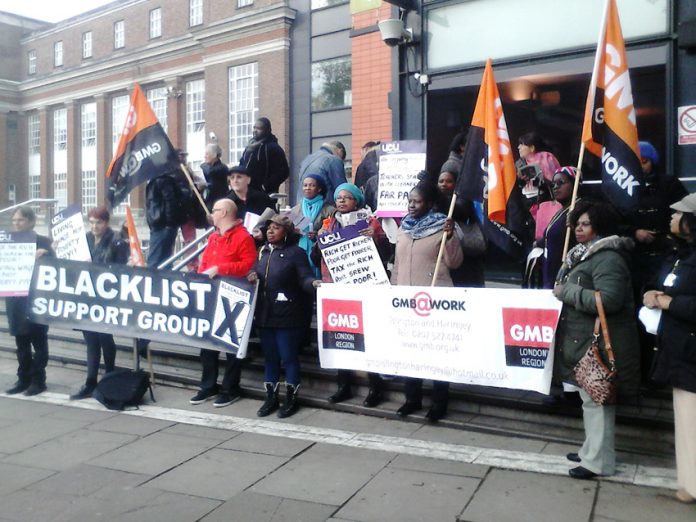 'NO CUTS to Cleaners Pay! Our cleaners deserve a living wage, not poverty pay!' demanded angry cleaners at the College of Haringey, Enfield and North East London(CoNEL) as they demonstrated last Friday against a 23% pay cut.
They were joined by UCU lecturers, GMB members and other supporters as they protested outside the Tottenham college against the private cleaning company Ocean's attempts to cut the amount of weeks they work from 51 to 39 weeks out of the year.
GMB, the union that represents the cleaners is fighting for all workers to receive the living wage which is £8.55 an hour in London.
Currently the cleaners are on just £6.31 an hour (Minimum wage), however the cut in the number of weeks they are contracted to work amounts to cutting their pay by 23%.
The GMB said: 'This is below minimum wage and is shameful and disgusting!'
At the demonstration, Elvis Omani, a GMB cleaner told News Line: 'Ocean, the cleaning company, is cutting our hours and wages.
'Inflation and everything is up, bus passes, food and bills are all up. No cuts, we don't need it. I have a family and it is difficult. I am demonstrating against cutting our pay. I get only £260 a week after tax.'
Ruth Oppong said: 'They are cutting our pay. It is really bad, it is no good, so we have to get money to pay our rent and food.
'The cuts are two and a half hours a day.
'I will come and occupy next Thursday.'
Nana Nsafua, a GMB shop steward at CoNEL said: 'The demonstration went very well, everything was good. We will not give up. We will continue the campaign until we win.'
Agnes Ofounwah said: 'I am disabled and a single parent. I need to pay my bills with three children to look after.
'So if they cut the wages that were not enough anyway, if there is a cut, I won't be able to manage.
'It's very bad the way the government treats the workers. I think the union leaders should do something to hold this government to account.'
Fellow worker Doris said: 'I've been working here for seven years. My wages have never gone up and now they want to cut them.
'I will not be able to manage, I have only got this one job. Some people have got two or three and I have three children. The union are trying to talk to the company but they say there is nothing we can do. The contract is already signed.
'I think the union leaders should organise an action to win this struggle. I would like to see a general strike against this government.'
The GMB union is campaigning for all employers to pay a Living Wage of £8.55 per hour in London (up from £8.30) and of £7.45 per hour in the rest of the country (up from £7.20).
In a statement, GMB said: 'GMB has already got a large number of council employers to pay or commit to pay a living wage.
'GMB Submits Wage Claim For Living Wage And £1 Per Hour Increase For 1.6 Million Council Workers In England, Wales And Northern Ireland.
'Councils are starting to recognise that they cannot and should not cut services further and their staffs are demanding that they are no longer used as austerity cannon fodder,' says GMB.
'GMB, UNISON and Unite, representing 1.6 million local government workers in England, Wales and Northern Ireland, formally submitted their pay claim to employers on 5th November 2013.
'The claim steps up their campaign to put an end to poverty wages amongst the lowest-paid group of workers in the public sector.
'The unions seek a £1-an-hour minimum increase to bring the bottom rate of pay in local government to the level of the living wage.
'Half a million local government workers earn less than the current living wage and a million earn less than the Coalition's "low pay" threshold of £21,000 a year.
'The uprated figures for a living wage of £7.65 and £8.80 in London was announced earlier this week on 4th November.'
Brian Strutton, GMB National Secretary, said: 'It's time that the abject depression that has settled on local government since the 2010 election was lifted.
'Councils are starting to recognise that they cannot and should not cut services further and their staffs are demanding that they are no longer used as austerity cannon fodder.
'GMB members are telling us that they are ready to take action to break the cycle of pay restraint and that's what we will be preparing the ground for.
'The claim we are lodging today is just the start of our campaign to win a fair deal for council staff.
'If local government workers had received pay increases at the level of inflation, half a million local government workers would now be earning £7.53 an hour, a living wage instead of a poverty wage.
'But they have had a four-year pay freeze and the lowest paid are now £1,994 per year worse off in real terms than in 2010.
'If a nursery nurse earning £17,802 in 2010 had received rises in line with inflation, she would now be earning £20,862.
'Those on higher grades have taken a considerable pay cut in return for years of hard work in a stressful occupation. Some care workers have lost more than £5,000 in income in real terms since 2010.
'Part-time workers have been particularly hard hit, their hourly earnings now worth the same as they were 10 years ago.
'Low-paid part-time local government workers usually need benefits and tax credits to keep their families out of poverty, creating a false economy.'
Heather Wakefield, Unison Head of Local Government, said: 'The government and local councils can't have it both ways. They are overlooking the problem that is on their own doorstep.
'In the lead-up to Living Wage Week, politicians from all parties talk about the need to end low pay and introduce the Living Wage.
'This must apply to local government workers, more than half a million of whom currently earn less than the Living Wage, and not just to those in the private sector.
'It is deeply disturbing to hear the stories of local government workers resorting to food banks. They have suffered an 18% drop in earnings since the government's austerity measures were introduced.
'That's why we want the same flat rate increase to be applied to everyone.
'More than 75% of the workforce are women, whose contribution has been consistently undervalued.
'This pay increase should be part of a new gender agenda to give our members the recognition they deserve in their pay packets.
'Our members have had enough of falling wages, redundancies and cuts to conditions and this campaign will signal an end to the exploitation they have suffered under this government's austerity agenda.'