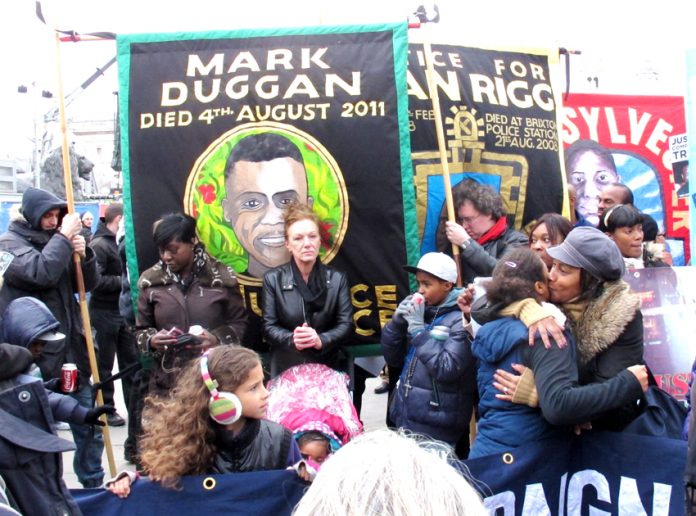 THE METROPOLITAN Police is using a 'racially discriminatory' Gangs Matrix database, says Amnesty International in its new report. Amnesty International UK's Director, Kate Allen, told a press conference at the organisation's HQ in Shoreditch east London on Tuesday: 'Our research raises concern on every level – our young people are put on the database, they are predominantly black, and information is shared across agencies which affects their home, school and work.'
There are 3,806 people who have been put on the database and more than three-quarters of them are black, she said. She said that the data-sharing practice 'leads to an over-representation of young black men in the criminal justice system, which affects their homes and jobs'.
Lord Herman Ouseley, former chair of the Commission of Racial Equality, said: 'It's institutional racism with a disproportionate representation of young black men.' Stafford Scott of Newham Monitoring Group, said: 'This is my community in a pattern of being criminalised by the state.'
Matrix Secrecy, stigma, and bias in the Met's gangs database, a new report by Amnesty International UK, confirms the continued use by police of racial profiling, The EXECUTIVE SUMMARY states: 'Over the past decade, the concept of "gang association" has emerged as a measure for assessing potential harm to public safety from young people. It crops up not only in police strategies to tackle violent offending, but across a range of public sector services: from local authorities to the criminal justice system, from schools to the UK Visas and Immigration authority.
Underpinning the increased use of the gang label by public agencies is a police intelligence system that purports to identify and share data about individuals who are considered to be linked to gangs.
In London, this is most clearly institutionalised in the Metropolitan Police Service Gangs Matrix – a database of suspected gang members in London which went into operation at the beginning of 2012. The highly charged context for the establishment of the Gangs Matrix was the England riots of Summer 2011. In the wake of the riots Boris Johnson, then Mayor of London, was quick to conflate those arrested during the riots with 'gangs'.
In the days immediately after the riots, Prime Minister David Cameron promised a "concerted, all-out war on gangs and gang culture" and within six months both the Home Office and the Mayor's Office had announced flagship new anti-gang strategies, including the launch of a reconfigured Trident Gang Command in London.
Politically, the Gangs Matrix was set up to provide the government with some clarity on the extent of gang activity. At an operational level, it provided the Metropolitan Police with a risk-assessment tool to assess and rank London's suspected gang members according to their 'propensity for violence'.
Individuals on the matrix are known as "gang nominals" and each is marked in a traffic-light scoring system as red, amber or green. "Red nominals" are those the police consider most likely to commit a violent offence; "green nominals" pose the least risk.
In October 2017, the Metropolitan Police reported that 3,806 people were on the Gangs Matrix. Less than 5 per cent were in the "red" category, with 64 per cent marked as "green". In July 2016, a more detailed demographic breakdown of those on the matrix revealed that 87 per cent were from black, Asian and minority ethnic (BAME) backgrounds (78 per cent were black). Eighty per cent were between the ages of 12 and 24, and 15 per cent were minors (the youngest was 12 years old). Ninety nine per cent were male.
Amnesty International has been conducting research on the Gangs Matrix for the past year and has met with more than 30 professionals who use, or are familiar with, the Gangs Matrix. They come from the police, the voluntary sector, and local authorities in several London boroughs – including staff from three borough Gangs Units. We have also asked community members and young people affected by the Gangs Matrix to tell us their experiences.
Our research shows that the Gangs Matrix is based on a vague and ill-defined concept of "the gang" that has little objective meaning and is applied inconsistently in different London boroughs. The Matrix itself and the process for adding individuals to it, assigning "risk scores" and sharing data with partner agencies appears to be similarly ill-defined with few, if any, safeguards and little oversight.
Not only does this data collection amount to an interference with young people's rights, but the consequences could be serious for those labelled as "gang nominals", more than three-quarters of whom are black boys and young men. Data sharing between the police and other government agencies means that this stigmatising "red flag" can follow people in their interaction with service providers, from housing to education, to job centres. It is important to examine the impact this has on their rights. We believe further investigation by the appropriate authorities – the Information Commissioner's Office, the Mayor's Office for Policing and Crime, and the Metropolitan Police – is necessary to ensure the rights of these young people are respected.
Amnesty International's research shows that: • While it purports to be a risk management tool focused on preventing serious violence, 40 per cent of people listed on the matrix have no record of involvement in any violent offence in the past two years and 35 per cent have never committed any "serious offence". • The concepts of the "gang" and "gang member" are vague and ill-defined, and the process for adding people to the matrix or removing them from it appears to lack clear parameters, thresholds and criteria; this leads to over-broad and arbitrary identification of people as gang members. • Many of the indicators used by the Metropolitan Police to identify "gang members" simply reflect elements of urban youth culture and identity that have nothing to do with serious crime. This conflation of elements of urban youth culture with violent offending is heavily racialised.
The result is that the matrix has taken on the form of digital profiling; 78 per cent of individuals on the Gangs Matrix are black, a number which is disproportionate both to the black population of London (13 per cent of the whole) and the percentage of black people among those identified by the police as responsible for serious youth violence in London (27 per cent). "Youth violence" refers to violent offences against people below the age of 20. • There are no clear processes for reviewing the matrix, or for correcting or deleting outdated information. There is no formal process to notify individuals that they are on the matrix and no official system through which they can challenge their inclusion or have their name removed. • Data sharing between the police, housing associations, schools, job centres, the criminal justice system and the Home Office appears to lack safeguards; there is therefore a risk that these services will discriminate against already marginalised young people, with disproportionate impact on black boys and young men.
Community activists, young people and family members all told Amnesty International that they felt the Gangs Matrix unfairly profiled and stigmatised black youth, further entrenching distrust in the police and isolating at-risk individuals. Although the police may be pursuing a legitimate aim when they collect data on gang members, the Gangs Matrix is an excessive interference with the right to privacy that affects the rights of black boys and young men disproportionately.
The weak data governance and lack of safeguards that characterise the database show that it was designed and put to use without sufficient regard for the rights of those listed on it. Amnesty International believes that the Gangs Matrix is unfit for purpose: it puts rights at risk, and seems not only ineffective but also counter-productive. Systems for gathering and sharing intelligence on individuals suspected of violent crime must be fair, implemented in accordance with human rights law, and have robust oversight mechanisms.
We expect the Mayor's Office and the Metropolitan Police to establish clear and transparent measures to ensure that this is the case. They must dismantle the matrix unless they can demonstrate that it has been brought into line with international human rights law, in particular the right to non-discrimination.
Measures must also be taken to ensure that in future, systems that aim to gather and share intelligence on individuals suspected of violent crimes are fair and implemented in accordance with human rights law, with robust oversight mechanisms in place.'