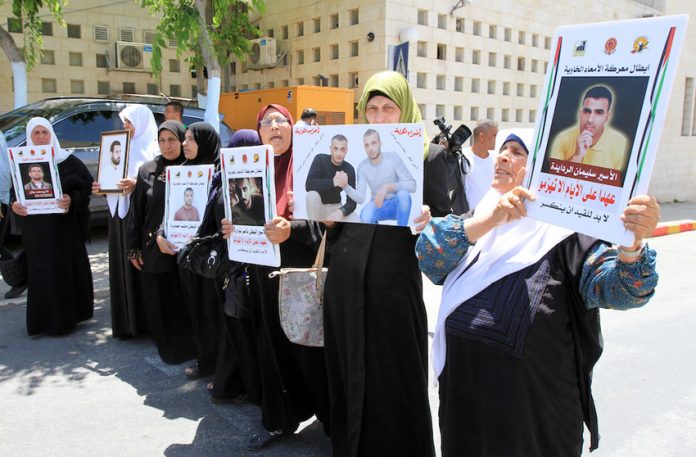 THE Palestinian Authority intends to file a legal case against Israel at the International Criminal Court (ICC) on Friday for its crimes against the Palestinian prisoners, according to Issa Qaraqe, head of the Prisoners Commission.
He told Voice of Palestine radio on Monday in reaction to an attack by Israeli Defence Minister Avigdor Lieberman against Palestinian prisoners that going to the ICC is part of efforts that should be adopted by the Palestinian Authority that would include securing the legal status of the prisoners and responding diplomatically and through the media to the offensive campaigns targeting the struggle of the prisoners.
Qaraqe said Lieberman's statements and threats to deduct allowances provided by the Palestinian Authority (PA) to the families of prisoners from the tax revenues Israel collects on behalf of the PA will hurt the situation of the prisoners and increase racist measures against them.
Meanwhile Palestinian-Israeli lawmaker Aida Touma expected a draft law on deducting allowances for detainees and families of Palestinians killed by Israel from Palestinian tax revenues to have a majority of votes in Monday's Israeli parliament session. Touma told the official Voice of Palestine radio on Monday that the draft law came after a campaign carried out by senior Israeli officials to agitate the situation in order to accuse the Palestinian Authority of financing 'terrorism' and 'to steal' the Palestinian money. The draft law stipulates that the Israeli minister of finance deducts the amount of the money paid by the Palestinian Authority to the families of detainees and people killed by Israel from its tax revenues.
• The Health Ministry on Monday sent a medical aid convoy worth of $3 million to Gaza, announced Health Minister Jawad Awwad. Awwad said that the ministry dispatched 20 truckloads of medical supplies from its warehouses in the West Bank city of Nablus to the besieged Gaza Strip following the instructions of President Mahmoud Abbas and Premier Rami Hamdallah.
The medical aid convoy is expected to reach its destination within two days. This came as Gaza suffers from a serious shortage of medicines due to the large number of injuries sustained during the Great March of Return protests along the eastern border of Gaza. Israeli snipers have injured over 7,000 protestors, including over 20 protestors who had their legs amputated as a result of being shot with expanding 'dum-dum' bullets.
• Presidential advisor for foreign affairs, Nabil Shaath, said on Monday that coordinated Palestinian-Arab efforts have blocked Israel's bid for a United Nations Security Council (UNSC) seat.
He told the official Voice of Palestine radio that the coordinated efforts were extremely important and evidence of their potential to challenge 'Zionist settler-colonialism' and US bias toward Israel.
Commenting on Palestine's bid for full UNSC membership, Shaath said that Palestine's application to gain full UN membership would most likely be vetoed by the US, a step which would compel Palestine to call for convening the United Nations General Assembly (UNGA) under the 'Uniting for Peace' principle to get the resolution to pass.
Shaath ascribed the Palestinian delay in this step to being preoccupied with the recent Palestinian National Council session and President Mahmoud Abbas' current visit to Latin America, saying that this matter will be picked up again after Abbas returns home. Commenting on Israel's steps to strengthen ties with African countries, Shaath said Palestine did not fear Israel's diplomacy in Africa and ruled out the possibility that any African country would opt to strengthen bilateral ties with Israel since it would be confronted by South Africa and the Organisation of African Unity (OAU). He also pointed out that what could succeed in this case are the efforts by some countries in Central America such as Guatemala and Honduras that fall under US domination.
• As the date to open the US embassy in Jerusalem set for May 14 approaches, Palestinian officials reiterated on Monday warning that this move encompasses a grave violation of international law.
Saeb Erekat, secretary general of the Executive Committee of the Palestine Liberation Organisation (PLO), told foreign diplomats he met with that opening the US embassy in Jerusalem violates international law and United Nations Security Council resolutions.
'By recognising Jerusalem as Israel's capital and moving its embassy thereto, the (US President Donald) Trump administration is violating its obligations under international law, including UNSCR 478, and the US's own commitments towards the peace process,' he said.
'As Washington pursues a policy of encouragement of international anarchy and disregard for organisations and international law, we call upon all diplomatic corps, civil society organisations, and religious authorities to boycott the inauguration ceremony of the US embassy in Jerusalem, lest they lend legitimacy to an illegal decision and to continued Israeli policies of occupation, colonisation, and annexation.'
Erekat warned that this move 'is not only illegal but will also thwart the achievement of a just and lasting peace between two sovereign and democratic states on the 1967 borders, Israel and Palestine living side by side in peace and security. Those who attend the ceremony will thus be sending an ominous message, a message that they encourage flagrant violations of international law and the inalienable rights of the Palestinian people.'
The West Jerusalem municipality started on Monday putting up road signs for the US embassy, which will be located where the current visa section of the US consulate is located in an area close to pre-1967 armistice line. The killing of three Palestinians by Israeli forces in the besieged Gaza Strip dominated the front page headlines in Palestinian dailies on Monday. Al-Quds reported that Israeli snipers shot and killed three Palestinians along the eastern border of Gaza.
Al-Ayyam reported that Israeli snipers killed two Palestinians protesting at the March of Return encampment near the demarcation line, east of Khan Younes in the southern Gaza Strip, and withheld the body of another. Mohammad Abu Rayda, 20, and Bahaa Qdeih, 23, were killed by snipers when they purportedly attempted to cross into Israel.
Al-Quds also highlighted the funeral procession of six members of the armed wing of Hamas, al-Qassam Brigades, on its main front page news item. The six Palestinians were reportedly killed in an explosion that Hamas blamed on Israel in Az-Zawayda area in the central Gaza Strip.
Al-Ayyam added in this regard that al-Qassam Brigades blamed Israel for the explosion. Furthermore, al-Ayyam said that Israeli forces opened fire at four Palestinians for purportedly attempting to 'infiltrate' into Israel. It added that Israel is looking for solutions to stop the Great March of Return protests on May 15, which marks the 70th anniversary of the Nakba (catastrophe).
Moreover, al-Quds reported member of the Palestine Liberation Organisation's (PLO) Executive Committee Hanan Ashrawi stating: 'Palestine is and must remain an important home for religious tolerance and coexistence.'
It also reported that the Israeli Court in Lydda is contemplating the prosecution of prominent Palestinian-Israeli filmmaker Mohammed Bakri over his 2002 documentary 'Jenin, Jenin'. The dailies said that President Mahmoud Abbas started a visit to three Latin American countries.
Al-Quds said that the foreign and information ministries condemned the US and Israel's campaign that labelled Abbas' recent remarks on Jews at the Palestinian National Council's session as anti-Semite. Al-Quds and al-Ayyam reported that Jordan reiterated its rejection and warned of the consequences of relocating the US embassy to Israel from Tel Aviv to Jerusalem.
Highlighting Israeli forces and settlers' attacks in the West Bank, al-Ayyam said that Israeli forces delivered a stop-construction notice for tents and water pipeline in Ras al-Ahmar, southeast of Tubas.
It said that Israeli occupation authorities continued their excavations under Palestinian homes in the East Jerusalem neighbourhood of Silwan, adjacent to Al-Aqsa Mosque compound.
Besides to that, al-Hayat al-Jadida reported the Palestinian Foreign Ministry announcing that India has reactivated a procedure exempting holders of Palestinian diplomatic passports from applying for visas. It spotlighted the 45th session of the Council of Foreign Ministers of the member states of the Organisation of Islamic Cooperation (OIC) in Dhaka. It said that OIC issued a statement stressing its rejection of US President Donald Trump's recognition of Jerusalem as Israel's capital.
Chairman of the Palestine Investment Fund (PIF) Muhammad Mustafa was reported in al-Ayyam and al-Hayat al-Jadida stating that PIF's negotiations with global companies over Gaza offshore gas field has reached an advanced stage.
It also reported that Israeli forces suppressed a rally marking the World Press Freedom Day at the northern entrance of al-Bireh city.