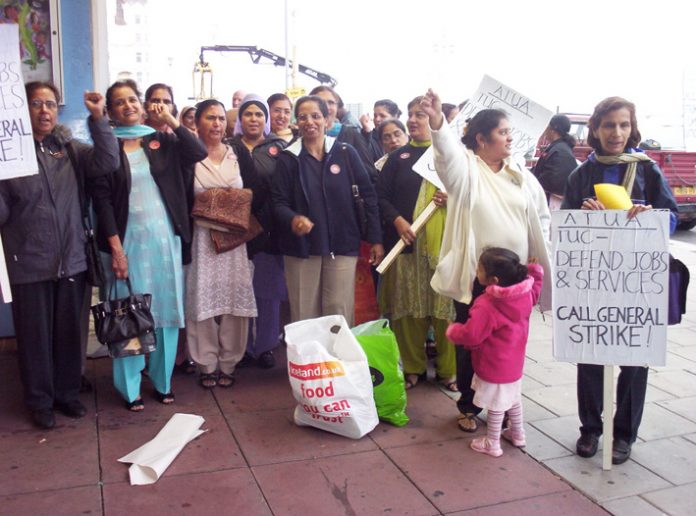 'WHAT do we want? Justice! – When do we want it? Now!' and 'Police – murderers!', shouted more than 70 people at a demonstration and vigil for Paul Coker outside Plumstead police station on Tuesday night, a month after he died in custody.
A minute's silence was held for Paul, a young man described by his family and friends as a fit, intelligent, compassionate person who was looking forward to a fulfilling life, before it was cut short.
They demanded to know what happened to Paul inside Plumstead police station, and when he was being taken there by police, and vowed to continue fighting until they get justice.
Aboo Jahtata told News Line: 'I'm here to support the vigil because it may be him today, it may be me tomorrow.
'This is not a black or white thing, it's a human thing.
'No one should be treated like that, but you have a sick set of police.'
Mrs Coker, Paul's mother, invited people to lay candles and make floral tributes to her son before she read out a statement at the vigil.
She said: 'My son Paul was a survivor with a brave and compassionate heart.
'He was on the verge of a new beginning and was looking forward to having the peace and happiness that he so fully deserved.
'The State took this away from him.
'Paul died alone in pain, fear and anguish. Do not think that this can not happen to your family. It can. The State has obligations to protect the lives of all citizens.
'The duty of care is particularly important for those in custody. The State has betrayed many families and has failed. The State is not above God's Law.
'Our current State system does not work and requires radical reform.
'It clearly breaches the Right to Life as enshrined within the European Convention of Human Rights.
'Individual rights are seriously at risk of being over-ridden by the State.
'We not only demand Justice but we will continue to seek it because it is our right.'
Amy, Paul's sister, said: 'I am standing outside this police station today because on August 6 at 6.45am my brother Paul was found dead in a cell inside this police station.
'I want to know why 15 police officers were needed to arrest my brother, who was one single black male.
'The parties responsible for my brother's death need to be held accountable.
'My family and I will continue to fight for justice and will not accept anything but the true answers to our questions and the prosecution of those responsible.
'I am devastated at how my brother died but we are united in our determination to seek justice for Paul.'
Mrs Coker also said: 'My son is still lying in a mortuary in Greenwich awaiting a second autopsy.
'I can't bury him until that autopsy has been completed.'
A statement from John Williams, Paul's friend, was also read out, saying: 'Paul was a good friend I grew up with from the age of 11.
'Paul was taken from us by means no one has been able to explain,' he said. But his family and friends suspected 'foul play'.
Paul 'always looked to enjoy the moment' and had 'determination, passion and honour'.
His family needed 'honesty and straight answers'.
Until then, Paul's family and friends would continue 'to question what is not right'.
The statement from Paul's friend concluded: 'Our thoughts go out to his family at this time. Please continue to support Paul's family's fight.'
Another friend of Paul, Gideon, said: 'It still astounds me no one knows exactly what happened at the police station that day.'
He said Paul was a fit young man, 'fitter than me', adding: 'He never had any medical problems I know of.
'It's shocking somebody dies like that. How can someone die with no reason? I don't understand it.
'People don't just drop dead and that's it, there's no cause of death!
'So we will fight until the truth is known about what happened to Paul between these four walls and on the way to the station.'
Osman Hassan said: 'I am devastated, shocked.
'We were like blood brothers. We played games together, shared clothes. We even had nicknames for each other.'
Mrs Coker said other people were welcome to speak at the vigil.
Minca, speaking about the United Families and Friends Campaign, said: 'I want to take issue with "decent police''. Paul Coker was arrested by about 15 officers.
'I want to know if there's any "decent'' one among them who can come out here and speak about how one young, fit black man can be dead the next minute, and there's supposed to be a "decent'' one among them!'
He said the United Families and Friends Campaign started in 1987.
He said one of the families was Joy Gardner's family.
'They pushed her to the ground and put tape round her mouth to stop her shouting out and as a result she suffocated and died. We call it murder!' he charged.
The family of Brian Douglas had also helped start the campaign.
He said police 'tried out' their new extended baton on him, alleging: 'They busted it over Brian Douglas's head, cracking it open.
'His friend was there, witnessed it.
'They went to court and the jury came back with a verdict of "misadventure''.
'Police can beat you over the head and it's called "misadventure''!'
He said that since 1969, 'there have been over 1,000 deaths in custody', but 'to now no officer has been brought to account or sentenced.
'We want officers prosecuted.'
There were more chants from the crowd, including: 'Touch one, touch all!'
Another speaker said: 'Look at Hurricane Katrina, what's the first thing the government does? Sends in police to shoot people.'
'Over 230 black people have died in police cells,' said Kilanji Bangarah, from the Black Quest for Justice Campaign. 'We cannot sustain these killings. We have to do something about it.
'Who decided people should be shot eight times in the head?' he asked, referring to the murder of Jean Charles de Menezes by armed police at Stockwell in July.
'There is nothing in British law that gives the police the right to execute people. What kind of society is this!'
Iain Fitt told News Line: 'My family is part African.
'This is no different from any other case.
'I am a teacher. We are subjects. All of us are subject to the law. We pay the police's wages.
'I don't see any sociological changes taking place.
'My family served for generations in the army to get freedom but all I see is a racist society, which hasn't even the guts to be openly racist.'
Paul's older sister Madeleine thanked everyone for attending the vigil.
'Justice will come. I know it will,' she said.
She told News Line: 'What goes around comes around.
'I'm Paul's older sister. I loved him very much.
'As far as I'm concerned, everybody is the same inside and you don't go around treating people like that, especially in a place like this. This is supposed to be a police station.'
l The Justice For Paul Coker Campaign is hosting a fundraising party on Saturday October 1, 5-10pm, at the Woolwich Simba Project, 48-50Artillery Place, London SE18. All those attending are asked to make a donation of £3.50 towards the campaign.