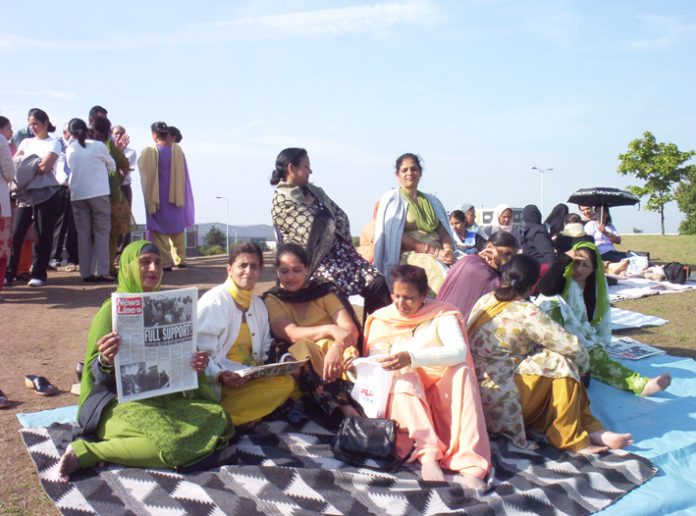 Postal workers called for action to defeat privatisation at a mass rally of over 600 at Friends Meeting house in central London on Wednesday.
Speaking from the floor, Richard, Harrow CWU, said: 'We are under attack from a Labour government.
'We should not go cap in hand asking them not to privatise.
'Unions should withdraw all support from Labour until they treat us with more respect.'
A rep from Leeds said 'strike action is the only way to win' and called on the national union leaders to 'set a date'.
Donovan Green, Rathbone Place, central London, CWU rep warned the rally about taking share options: 'Six years ago I was with London buses when they pushed the share option.
'They dropped our money more than £40 a week for three years and people suffered for the next five or six years.
'Shares are no good in the long term.
'With different bus companies, everyone was on a different contract.
'And they brought in cheap labour.
'We've got to fight privatisation.'
Martin Walsh, south west London CWU, demanded the campaign 'should be led nationally'.
He warned: 'Ownership counts.
'German and Dutch companies are coming to take our jobs, we have to fight this.'
He said: 'We should march on the Post Office.
'If we are going to win we have to mobilise the membership and start fighting now.'
Billy Colvill, a south-west London CWU rep., said: 'All the attacks come from the Labour government to privatise.
'This government has to go.
'This government has to be brought down to stop privatisation, liberalisation and defend our jobs.
'How else are we going to do it without a general strike? We have to take this government on. It's coming for all of us – the CWU, FBU, UNISON, PCS, NUT and all of us.
'Let's take this campaign forward.
'We are a big union and a strong union and we can win.'
Angie Mulchachy, east London CWU member, said: 'You've just taken the ground from under my feet. We should lobby the TUC to call a general strike to win this fight for our jobs.'
Communication Workers Union General Secretary Bill Hayes told the rally: 'Share ownership is creeping privatisation.
'Competition is a way to destroy a public service. We have to fight both.'
He warned: 'Once we take shares for our own members we are knackered in stopping privatisation.'
Hayes said that regulator Postcomm. 'intends to rig the market so the access price is fixed.'
He concluded: 'We are taking initiatives at the TUC and Labour Party conferences and we are going to tour the country.
'We have to win the debate in our membership and in the workplace.
'We are the strongest union and when we defeat privatisation, when we defeat competition, every other union will take part. We will win this dispute.'
Dave Ward, CWU deputy-general secretary (postal), told the rally at Friends Meeting House: 'Calls for people to get off their backsides and do something have been noted.'
He said: 'Alan Johnson says "we are not going to privatise the post office''.
'When you say "what are you going to do?'', the story unravels a little different.'
Ward continued: 'Postcomm. are allowed carte blanche to do what they want.
'On competition, if the playing field is any more tilted, we'll fall off it.
'We are competing with the two biggest postal services in Europe, the Dutch and the German.
'The government is running a mile from this debate. We do not accept the government saying it cannot be stopped.
'We're about delivering a universal service. These people have no interest in that, they are interested in creaming off the profitable parts.
'Now we have to make a stand.
'This hinges on mobilising our members.'
Warned if the government can succeed in privatising the post office, 'it will be the end of the relationship' between the unions and Labour.
'There won't be a relationship between the Labour Party and the unions.'
He concluded: 'But if you want to damage the government, the best way is one of trust.
'We are going to go to the public and say the government is not telling us the truth.'
Earlier, FBU General Secretary Matt Wrack told the rally: 'We will give you our full support, whatever form your campaign takes.'
He said the fire service also faced 'creeping privatisation', that in London the fire engines and kits are privately owned.
He said: 'Privatisation started under the Tories and it's being carried on by what is called a Labour government.'
He said: 'Our members are against privatisation.
'They call on us to clear up the mess and pull out the bodies when it all goes wrong, like Hatfield.
'No one agrees with privatisation, of the rail or of the post office.
'It's not we who are out of touch, it's the government.'
Referring to Hurricane Katrina in the United States, he said: 'For safety you need quality public services and quality public planning. The people who were left behind were the poor of New Orleans.
'We better start saying to politicians, "you better take notice or the unions will take you on''.
'We have to fight. If you don't fight you're bound to lose, if you fight you stand a chance of winning.'
Bob Crow, RMT general secretary, said: 'Privatisation has never been in people's interest.
'The Gate Gourmet dispute, where I was this morning, would never have happened if it had been under British Airways.'
He said the action by the Heathrow baggage handlers 'wasn't secondary action it was solidarity action.'
'What counts is it was effective.
'Why should bosses be given eight days' notice (of a strike).
'That's why we have to get rid of these anti-union laws.
'Where are the MPs? Eight years into a Labour government and we are still giving money to people that are not prepared to represent our interests in parliament.
'Blair promised in 1997 he would not privatise the post office.
'Privatisation saw its result at Hatfield.'
He said that the unions couldn't continue 'with the unity of the graveyard' in the event of a Brown government.
He stressed: 'We don't want Tory policies operating under a Labour government.
'We don't want privateers getting their hands on the post office.
'They are doing it for cash at the expense of your wages.
'We are standing shoulder to shoulder with the CWU, PCS, FBU and any other set of workers that are determined to defend their pay, jobs, conditions and industry.'
Other speakers included Charlie Cotton for the PCS union, Labour MP John Grogan and Lord Tony Clarke of Hampstead.