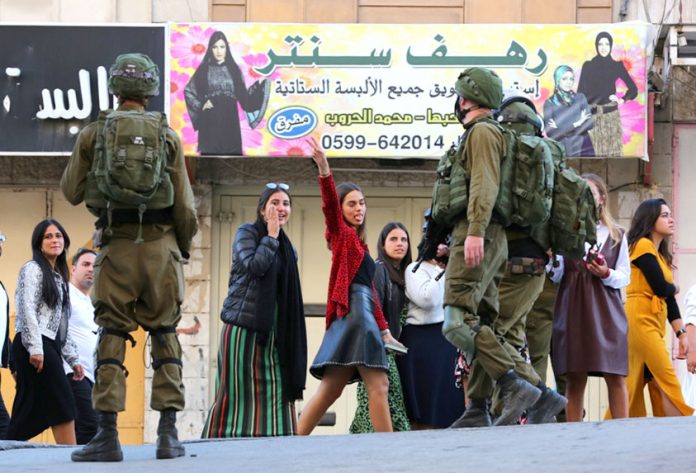 PALESTINIAN Arabic dailies on Friday highlighted the Israeli government's approval of the construction of new settlement units in the heart of Hebron's old city. Al-Quds reported that the Israeli government has advanced a plan to construct new settler units in the vegetable market, known as al-Hisbeh, in Hebron's old city.
Al-Ayyam reported in this regard that Israeli Defence Minister Avigdor Lieberman has adopted a plan to construct a new settlement building comprised of a number of settler homes in the heart of the southern West Bank city of Hebron. Al-Hayat al-Jadida added that the Palestinian government called on the international community to uphold its responsibilities towards Israel's actions aimed to forcefully displace Palestinians.
With regards to the situation in Hebron, al-Quds and al-Ayyam highlighted Israeli efforts to end International Presence in Hebron (TIPH) mission, an observer mission formed following the 1994 massacre of 29 Palestinians committed by Israeli settler Baruch Goldstein.
Al-Quds and al-Ayyam also reported that Israeli occupation authorities laid the cornerstone of a new settlement, called New Migron, near Ramallah. Additionally, al-Quds reported that Israeli troops raided Silwan Club in the East Jerusalem neighbourhood of Silwan, detaining Jerusalem Governor Adnan Gheith and two others. Al-Ayyam said that in addition to Gheith, three other Palestinians were detained, while al-Hayat al-Jadida explained that Israeli troops assaulted Palestinians who participated in a seminar at the club.
Regarding detention raids, al-Quds said that Israeli forces carried out multiple detention raids across refugee camps in Nablus district. According to al-Ayyam, a total of 17 Palestinians were detained in overnight Israeli military raids across the West Bank.
Al-Quds and al-Hayat al-Jadida reported that Israeli bulldozers razed Palestinian-owned lands belonging to Shufa village in the northern West Bank district of Tulkarem. Bulldozers reportedly razed the Shufa villagers' lands and uprooted their olive trees adjacent to the Israeli settlement of Aveni Hefetz in preparation for settlement expansion.
Regarding demolition raids, al-Ayyam said that Israeli occupation authorities have threatened to demolish Palestinian structures recently rebuilt in the northern Jordan Valley.
According to al-Hayat al-Jadida, President Mahmoud Abbas is slated to attend the opening session of the World Youth Conference in Sharm al-Sheikh in response to his Egyptian counterpart Abdel-Fattah al-Sisi's invitation. Regarding Egyptian efforts to reach intra-Palestinian reconciliation and restore calm, al-Quds reported progress has been made in the talks to restore calm.
It added that the agreement under discussion would be implemented gradually in three stages. Al-Ayyam also reported that Palestinian factions have agreed to hold calm border protests for three weeks to give a chance to the Egyptian-mediated contacts to restore calm.
According to al-Quds, Hamas and Islamic Jihad have called for the sanctions against the besieged Gaza Strip to be lifted and maintained that the Great March of Return protests would continue. Al-Quds highlighted the Israeli settler NGO Regavim submitted a report to the Israeli parliament inciting against the Palestinian Authority for the latter's attempt to extend strategic control over the West Bank and the Jordan Valley.
Regavim reportedly promotes Israeli Jewish settlers' 'right' to colonise Palestine, mirroring the techniques and strategies of liberal human rights NGOs. According to al-Quds, Premier Rami Hamdallah briefed European Union's diplomats on the latest political developments.
Yet, al-Quds said that the Arab League Educational, Cultural and Scientific Organisation (ALECSO) slammed Israel's decisions over the ownership of Deir al-Sultan in East Jerusalem. This came following the recent assault of Coptic clergymen by Israeli police outside the Church of the Holy Sepulcher.
Al-Quds reported US Department of State's Deputy Spokesperson Robert Palladino claiming that Washington seeks to bring the West Bank and Gaza together. Palladino made his statement in response to PLO Secretary-General Saeb Erekat's recent remarks accusing Israel of plotting to separate Gaza from the whole Palestinian issue with US help.
Al-Quds said that the National Campaign for Palestinian Free Movement has won a case submitted to Israeli courts demanding that Israel no longer charge every Jerusalemite Palestinian travelling to Jordan via King Hussein Bridge the sum of ILS 230. It added that thousands of Palestinians took to the streets to protest the Social Security Law across the West Bank.
It spotlighted Brazil President-elect Jair Bolsonaro's remarks indicating his intention to relocate his country's embassy in Israel from Tel Aviv to Jerusalem. In addition, al-Hayat al-Jadida reported Palestinian ambassador to France Salman ElHerfi stating that it was only a matter of time before Paris recognises the State of Palestine, especially after it (Paris) no longer ties the recognition to the outcomes of negotiations.
• Israel's main public sector union plans to shut down main airports, banks, stock exchanges and all offices in protest at the regime's inaction over the rising number of deaths at construction sites. Workers at many private companies, including telecoms firms and train and bus companies, are expected to join the strike due to start this Wednesday, Histadrut labour federation chief Avi Nissenkorn said last Thursday.
'It is shocking and repulsive that in 2018 in Israel, nobody cares (about construction deaths). People wake up in the morning, bid farewell to their families, go to work and don't return,' he said.
The federation chief also demanded that the regime spend an additional 20 million shekels ($5.4 million) on hiring more safety inspectors. Three weeks ago, the federation said it would prepare for a 'complete shutdown' of the economy if no steps were taken.
According to Histadrut, around 40 workers have died on building sites so far in 2018 and 200 others have been seriously injured. Labour activists say 35 died in 2017, with the Haaretz newspaper saying the number of such deaths in previous years had averaged around 30.
The federation, which represents hundreds of thousands of public sector workers, has demanded that the administration of Prime Minister Binyamin Netanyahu adopt European construction standards, beef up safety measures and enforce a law on wearing safety harnesses.
Nissenkorn has written to labour, welfare and social services minister Haim Katz, and finance minister Moshe Kahlon, calling on them to act in response to the labour dispute and to improve safety.
Tel Aviv recruits many construction workers from China and eastern Europe but the vast majority of construction casualties are among Israeli and Palestinian workers from the occupied West Bank.
The daily, The Times of Israel reported recently that the rate of deadly work accidents in Israel's construction industry is more than double the average in the European Union. According to the report, there are only 18 construction site inspectors in Israel while European standards would require 360 for a similar number of sites. Many cranes in Israel are said to have been manufactured 40 to 50 years ago.
In February, 52-year-old Netta Rotman was killed when part of a crane fell from a building site onto her car in Kfar Saba, north of Tel Aviv. Rotman was a top official in Access Israel, a disability rights and advocacy group. In September 2016, lawmakers set up a parliamentary inquiry after six construction workers were killed in the northern Tel Aviv neighbourhood of Ramat Hahayal. Histadrut wants a clear chain of command for on-site safety inspections and the implementation of regulations.