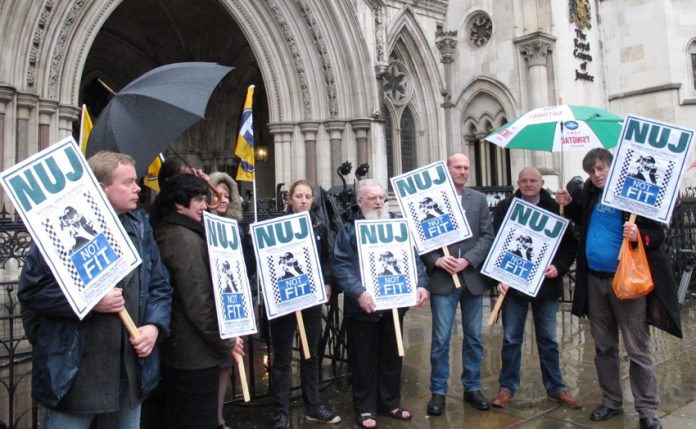 HUMAN rights groups warned the United Nations this week that a new British law allowing police to see journalists' communications threatens sensitive sources and freedom of expression.
The English Pen writers association and the freedom of speech group Article 19 told the UN Human Rights Council that the Investigatory Powers Bill would jeopardise journalistic sources, particularly whistleblowers.
The Bill, which has been dubbed the 'Snoopers' Charter', would allow British intelligence agencies and police to intercept communications between anyone in the country, including mobile phone conversations and internet records such as websites visited.
The Investigatory Powers Bill 'remains vague and lacks adequate protections for freedom of expression and privacy, and if enacted will introduce broad powers that threaten to undermine these rights,' a joint letter by the organisations to the UN said.
'There is no upper limit on the number of people whose private communications may be intercepted or whose data may be collected and retained. In many instances, anonymity is the precondition upon which information is conveyed by a source to a journalist (or human rights organisation).
'This may be motivated by fear of repercussions which might adversely affect their physical safety or job security. When sources cannot be sure of protection, the public loses its right to know critical information.' The letter branded such interference with journalists' private communications 'inherently disproportionate'.
Almost 4,000 people have signed a petition launched by the industry magazine Press Gazette demanding UK Home Secretary Amber Rudd guarantee more serious protections for journalists and their sources in the Bill. The call was also supported by several British media groups, the National Union of Journalists and the News Media Association.
The Bill is currently at its report stage in the House of Lords, but the English Pen and Article 19 believe it should go back for 'fundamental reconsideration' by its authors. It emerged on Monday that the new shadow attorney general Shami Chakrabarti, who just a few months ago said the Bill needed redrafting, is now planning to abstain on the vote in the Lords.
The opposition Labour Party will not be tabling amendments and is not expected to vote against the new powers. English PEN has joined forces with fellow civil liberties groups to launch a campaign calling for reform of United Kingdom surveillance laws
It states: 'The disclosures by whistleblower Edward Snowden revealed the disturbing extent of mass surveillance by the British spy agency GCHQ and the NSA.
'The agencies have used secret data-sharing agreements to circumvent the requirement for warrants and oversight. They have collected telephone, e-mail and web browsing data for millions of people who are not suspected of any crime. Parliament has failed to operate an effective system of oversight, and the legal routes to challenge unwarranted intrusion are both limited and secret.
'Freedom of expression depends on an expectation of privacy. How can we think freely and exchange ideas if we know that the government is looking over our shoulder? Democracy, culture and creativity cannot properly flourish while spies are logging our communications and keeping records of its citizen's behaviour.
'The #DontSpyOnUs campaign is demanding surveillance reform in the UK. We recognise that the security services need some powers of surveillance, but these must be necessary, proportionate, and subject to proper democratic oversight.
'Our key principles are:
• No surveillance without suspicion
• Transparent laws, not secret laws
• Judicial, not political authorisation of warrants
• Effective democratic oversight of the security services
• The right to redress when privacy has been invaded
• A secure web for all – Government spies should not weaken the security of widely used technologies, internet protocols, and standards
'Visit the Don't Spy On Us home page to read more about the campaign's pragmatic policies for change, and to add your name in support of reform. The Don't Spy On Us campaign website was launched to coincide with #TheDayWeFightBack, a global day of action protesting against the excessive and unwarranted surveillance practised by NSA, GCHQ and their "Five Eyes" counter-parts around the world.
'English Pen is also party to an ongoing legal challenge to GCHQ's surveillance practices at the European Court of Human Rights. Lawyers acting for English Pen, Open Rights Group, Big Brother Watch and Constanze Kurtz have argued that the Government's surveillance programmes are unlawful, and that there is no effective and open means to challenge this surveillance in the British judicial system.'
• Lib Dem leader Tim Farron accused Shami Chakrabarti of 'selling out' on civil liberties after it emerged that Labour would abstain on a key vote on the Investigatory Powers Bill.
The bill returned to parliament on Tuesday.
The Lib Dem leader has accused the new shadow Attorney General of selling 'the final bit of her credibility', by preparing to 'wave through' the legislation she previously opposed in her role as director of pro-civil rights group Liberty.
'Shami sold her principles to get a peerage and has sold the final bit of her credibility in accepting a shadow cabinet role in a party which plans to sit on its hands and wave through the deeply illiberal and intrusive Investigatory Powers Bill,' Farron said.
'What really smarts is that she has spent her whole career attacking others for doing the craven thing she is about to do. She is now central to a party that is not fit to call themselves an opposition party. Shame on her – I actually thought better of her.'
In her former role as Director of Liberty, Chakrabarti was deeply opposed to the so-called Snoopers' Charter. Writing last November, she called it 'extraordinarily intrusive' and said, 'We need to tell our MPs that we won't stand for a Bill that makes us less safe and far less free.'
In the same month, in a blog for Liberty, she wrote: 'We must now look to Parliament to step in where Ministers have failed and strike a better balance between privacy and surveillance.'
In February, calling for the bill to be re-written, she said: 'The government needs to pause, take stock and redraft – to do anything else would show astonishing contempt for parliamentarians' concerns and our national security.'
In the same month, she said: 'This report shows just how much homework the Government has to do on this landmark legislation. Despite reams of evidence from the Home Office, the Committee finds the case for unprecedented powers to bulk hack, intercept and collect our private data has not been made.'
In March, she called existing amendments to the Bill 'minor botox' which 'had not fixed' it, and in June, she said challenging the Bill would involve 'real attention and effort from parliamentarians across the parties'.
In a recent lecture to Hertford College, she said: 'The spooks call it the Communications Data Bill and we call it Snoopers' Charter. Words are so important in defence of human rights. There were occasionally debates about pieces of draft legislation that might have been adopted to allow for greater pieces of blanket surveillance for all sorts of laudable reasons like fighting terrorism and online child abuse and so on. But those bills did not pass. And they were doing it anyway.'
A Lib-Dem spokesperson called on Labour to 'grow a backbone' on the bill. This is a bad Bill that turns each one of us into suspects. We will oppose the Government's plan to collect and store all of our web histories and try to improve transparency and oversight arrangements,' they said.
'We hope, that now Labour's top team on this Bill have all previously spoken out against it, we will see a change of heart from them and that they will join us in the lobby. There is still time to stop this bad piece of legislation but it will require Labour to grow a backbone.'