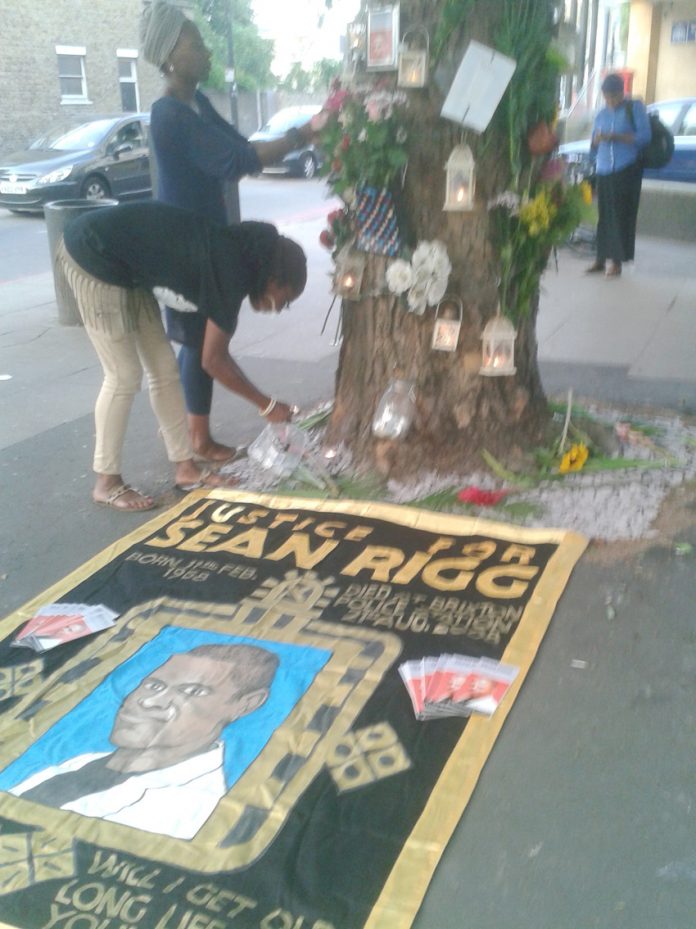 THE family of Sean Rigg marked the fifth anniversary of his tragic death by holding a peaceful candlelit vigil on Wednesday night, the 21st August from 7.00-9.00pm, outside Brixton Police Station where he tragically lost his life back in 2008 while he was in urgent need of mental health care.
This fifth anniversary event came as the Rigg family continues the campaign to ensure that the recommendations made in his inquest verdict are fully implemented.
Supporters of the Sean Rigg Justice and Change Campaign assembled with the family at the tree planted outside Brixton Police Station.
It has become a memorial, not only to mark the tragic death of Sean Rigg, but also many other innocent men from the community such as Ricky Bishop and Wayne Douglas who also lost their lives at Brixton Police Station.
As well as marking five years since the singer and songwriter's death soon after being picked up by officers while he was in urgent need of mental health care back in August 2008, this memorial vigil also marks a year since the damning inquest verdict into this case.
The jury at Southwark Coroners Court returned an inquest verdict that the failings of both the Metropolitan Police and South London and Maudsley NHS Trust (SLAM) more than minimally contributed to the singer and songwriter's death.
On the back of this, the IPCC commissioned former UN Special Rapporteur on Torture Dr Silva Casale to conduct an independent review of its original investigation into this case. Recommendations in the Casale report included considering bringing misconduct proceedings against officers involved in this case.
Three officers are currently under investigation for perjury. The Met Police have also conducted an independent review into how it deals with people with mental illness.
'I want the officers charged for the murder of Sean Rigg', Marcia Rigg said outside Brixton Police station, in an impassioned speech where she described the abuse her brother had suffered at the hands of the police.
By the candlelit tree she told how the police cynically refused to help her brother as he suffocated to death as a result of the restraint techniques used by police officers, and how subsequently the police told the most absurd lies to cover up their racist and murderous actions.
Pointing to Brixton Police station, Marcia said: 'So many people have died here – not just black people, white people, working class people. Yet not a single police officer has been charged.
'Sean must be the last one. Sean's case is not an isolated one. Many black young men now in prison have suffered from some kind of mental illness.'
Marcia said she believed her brother was already dead when the police dragged him from the van into the station.
She said the police had concocted a story that her brother had been spinning around on his back, in other words 'break dancing' in the back of the van, which was impossible the inquest found.
Three officers are currently under investigation for perjury.
She slammed the Independent Police Complaints Committees' cover-up, and the coroner who said Sean had died from cardiac arrest and would not allow a verdict of unlawful killing nor a verdict of neglect.
In an interview with News Line, Marcia said: 'It's five years this evening since Sean died, and it's really sad, just looking at the tree it brings back all the memories.
'We have come along way and haven't got justice yet. The inquest was over a year ago and we still haven't had any concrete answers as to whether the officers are going to be charged or prosecuted for gross misconduct or criminal proceedings.
'The officers who were arrested back in March are still on bail. It's a waiting game, but tonight will show we are not going to give up. We are fighting not just for Sean but for many others.
The vigil took place between 7.00-9.00pm, the time Sean was arrested.
He died at 8.24pm according to the inquest jury and left Brixton Police station in an ambulance at 9.00pm.
The vigil was an opportunity to update the community and supporters of where the Sean Rigg campaign is at five years.
The campaign is now waiting to see whether the IPCC will refer this case to the CPS for charges of misconduct or criminal proceedings.
It is also waiting to see how the recommendations made by the coroner will be fully implemented by SLAM.
Five years is a significant milestone but the issue is nowhere near closure yet.
It has been very taxing on the family, which has had no time to grieve.
Matilda MacAttram, director of Black Mental Health UK, commented: 'This memorial is of great significance – to those from the community who use mental health services and their families who've been following this case closely.
'Data shows that black people are 50% more likely to be referred to mental health services via the police and that also 50% of those who lose their lives in police custody are mental health service users.
'All of the coroner's recommendations that came out of the Sean Rigg Inquest verdict need to be fully implemented by the police and SLAM if we are not to see another tragedy like this one.'
The Peaceful candlelit vigil marked the 5th anniversary of the sad passing of Sean Rigg, and there was a minute's silence at 8.24pm, the time that the jury found that Sean Rigg had sadly passed away on that evening.