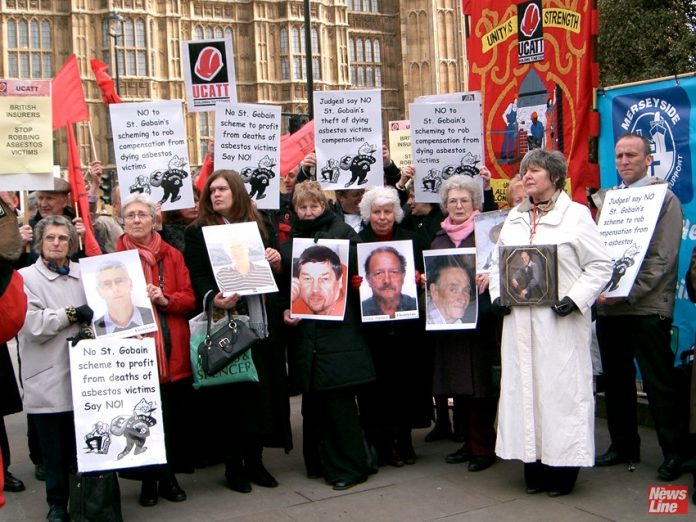 'EVIDENCE shows', says a just-released statement by the Hazards Campaign, 'that the three factors that make work "safer and healthier" are – strong laws, their strict enforcement, and strong, active trade unions.'
It particularly insists: 'Unionised workplaces with elected safety reps using full Safety Reps and Safety Committee Regulation rights are up to twice as safe as non-union workplaces – and evidence shows that a reduction in trade unionisation has led to a significant increase in work fatalities.'
And it warns: 'All of these positive factors – laws, enforcement and trade union organisation – have been attacked and undermined by deregulatory neoliberal governments since Thatcher's "bonfire of regulations" to "Better Regulation" and the 2010 Coalition Conservative-led government.
'This turbo-charged deregulation, with derogatory statements made by David Cameron promising to "kill off health and safety culture for good", castigating health and safety laws as an "albatross" and a "millstone round the neck of business", and led to HSE budget cuts of 50%; massive cuts to enforcement action, prosecutions and inspections by the HSE and Local Authorities (LAs); and attacks on trade unions' ability to protect workers over the last eight years.'
It therefore insists: 'No-one should be injured, killed or made ill at work in preventable incidents, and all workers should be able to go home healthy at the end of their shift; this is a basic human right and it is the job of the state to establish a system of law and enforcement to ensure this right to life and health at work.'
And it adds: 'This also makes moral, but also practical and economic sense, as poor health and safety costs British society an estimated £60 billion a year. 'Improving health and safety would save money for businesses, workers and their families and the overall economy, save lives and health, contribute massively to reducing pain and suffering, improving public health, increasing life expectancy and years or healthy life, reducing poverty and inequality, save money in reducing cost to the NHS, the state, and employers from work harm.'
It also stresses: 'Health and safety at work is an equality and class issue: generally as your pay goes down, your risks go up. 'Lower paid, less secure workers face more risk of injury, becoming ill, being killed at work, dying from work illnesses including the major killers of heart, lung disease and cancer, and even of work-related suicide.'
And in the light of that it demands: 'The British health and safety system is broken. Workers are harmed daily just for going to work to earn a living, and many now have no realistic prospect of enforcement of their basic human right: a safe and healthy workplace.
'A Manifesto for Health and Safety Fit for Workers, Decent Jobs and Decent Lives demands: 'End Deregulation and restore regulation and enforcement as a social good!
'Develop a health and system based on prevention, precaution and participation! Ensure good health and safety in low paid and precarious work via joint enforcement agency working!
'Health and safety has been ideologically demonised as "pointless red tape", a "burden on business", in order to undermine its value and its essential role in protecting workers and others from unscrupulous businesses in a deregulatory process called "better regulation". 'The reality and evidence shows that "red tape is indeed better than bloody bandages", that regulation and enforcement prevent harm and are an overall social good, saving lives, health and money. 'Evidence shows the three factors that make work safer and healthier are strong laws, strictly enforced and strong, active trade unions.'
Three examples from the recent period show what happens under the deregulation regime that the Tories introduced. A demolition contractor was fined after two workers fell from an attachment on an excavator, resulting in serious injuries. The case was heard in Greater Manchester Magistrates' Court. Cheshire Demolition and Excavation Contractors Limited was demolishing a derelict nightclub in Alderley Edge, Cheshire.
The two workers climbed into a pick bin and were lifted by an excavator. The bin suddenly released from the arm of the excavator, causing both men to be ejected from the bin and fall approximately seven metres onto a pile of bricks and rubble. Both sustained serious injuries.
One worker suffered a broken back and the other sustained a fractured skull.
Executive (HSE) found that Cheshire Demolition and Excavation Contractors Limited did not properly plan the work and failed to provide suitable access equipment.
In a second case, a privately owned care home Woodbay Limited, which operates Abbotsford Nursing Home in Ardrossan, was fined after an employee sustained severe injuries following a fall from height.
A lift engineer told the Director that a screwdriver could be used to facilitate opening the door of the lift.  Woodbay allowed its employees to continue to use the lift. An employee used a screwdriver to open the lift, she intended entering the lift backwards, and in doing so fell approximately four metres to the ground as the platform had not been brought up to the landing.
In the third example, two companies were sentenced after a structural engineer received serious crush injuries when a bundle of scaffold tubes weighing about one tonne rolled onto his legs while he was visiting a client's construction site. The top bundle was disturbed, rolled off and fell onto the engineer's lower legs. The engineer suffered fractures to both ankles and a number of fractures on his right leg.