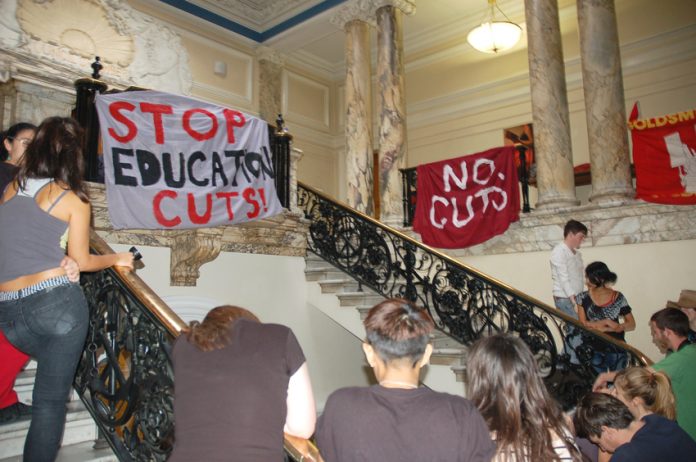 GOLDSMITHS College students began an occupation of Deptford Old Town Hall, (now part of the university), on Wednesday afternoon – after the Tory-LibDem coalition announced plans to treble tuition fees to £9,000 a year.
The students maintained their occupation overnight and said they planned to bring a mass contingent to next Wednesday's national demonstration called by the National Union of Students (NUS) and the University and College Union (UCU).
Ed Molloy, part-time students rep, Goldsmiths Students Union, told News Line on Thursday as the occupation continued: 'We started at 4.00pm yesterday afternoon after a rally in the main campus against the cuts in education and the raising of tuition fees.
'We are in solidarity with all those fighting cuts.
'We've had people from the NUT and the FBU and Lewisham against cuts coming to show solidarity and bringing us food.
'We held a spontaneous class during the occupation and a lecturer from Greenwich came to address us.
'Since 6.00am this morning we have barricaded the stairs to stop management from entering their offices.
'This is part of the build-up to the national demonstration next Wednesday by the NUS and UCU to save higher education.
'The £9,000-a-year fees being introduced are just to maintain current funding of universities, which are already under-funded, and will further alienate people from the working class.
'Students will either have to abandon their plans to go to university or be saddled with massive debt for the rest of their lives.'
He added: 'Goldsmiths is going to be one of the most severely affected universities in terms of the reduction in funding for our university.
'Courses will be closed and the increase in tuition fees to come, to pay for the cut in government funding, will mean only the rich will be able to have a degree in any arts or humanities subjects.'
Molloy said that the students union was planning to bring 800 students to next Wednesday's national march.
Simon Barber said: 'Education is being turned into a commodity.
'In future, courses will have to prove they can pay for themselves and increase profit.
'They're furthering privatisation well past the point of no return.'
He warned: 'Vital departments will close and the knowledge will be lost forever.
'If we don't win now, it will be the end of higher education as we know it.'
Georgia Harrison said: 'I think they're using the economy as an excuse when actually these are things they have wanted to push through for a long time.'
Students in the occupation said they were fighting for the restoration of free education and didn't accept the argument that students have to pay any fees.
Neither did they accept any cuts, not only to the universities, but to any part of the public sector.
Students also expressed their solidarity with the striking tube workers and firefighters.
Chloe Wade, a student in English and art, said: 'This is just the first of many actions that we're going to take and we're not going to stop until our demands are met.'
Jazz Blackwell-Powell said: 'If our senior managers won't support the students, then we're going to have to take more direct action.'
Chin-Fang Chang, a Phd student, said: 'Overseas students are paying the most money for their courses.
'They are already paying over £10,000 a year – £10,000 is the minimum charge – and there is no government funding for us at all.
'They just want to charge us more and more and more.
'In the last decade I have seen the change to education in Britain.
'Now, MA students probably see their supervisor just twice before they have to finish their dissertation and each session might be up to 20 to 30 minutes.
'So, that means the college expects that each student has to write a sensible quality dissertation with only one hour's supervision support.
'I just feel that I am being exploited because I pay such high fees but I don't get the support I am promised.'
Matt West said: 'I support the occupation because I believe in free education.
'I think the NUS should be demanding abolition of all fees and I'm putting a lot of work into getting as many people as we can on next Wednesday's march.
'And I think it's important that not only students, but all people who benefit from education, or those that hope their children will someday benefit, join us on the march and show us their support.'
He added: 'I think it's the job of the Liberal Democrats to hold true to the manifesto they presented to the people.
'I think this government has no true mandate to rule.
'It's led by a Tory party that didn't win the election, supported by LibDems whose votes were won on an entirely different platform to the one they now support.'
Matt welcomed the Young Socialists March for Jobs and Free State Education from Manchester to London.
'I say all power to all people who believe in fighting for a cause, and if you want free state education, then I support your Young Socialists march entirely,' he told News Line.
Emily Pritchard said introducing £9,000 a year tuition fees was 'extortionate'.
She told News Line: 'They can't charge that much for something that has now become essential for the youth of today and for something that should be open to all.
'And by raising the tuition fees they are attempting to create an elitist system, much like the Ivy Leagues in America.
'It's archaic and the idea of it being a progression for society is spin put forward by the politicians to basically brainwash the youth, to make the younger members of society comply with the wants of a corporate government.
'I support your march and I support the idea of revolution and marching against the archaic policies of the government.'
She added: 'We want to thank the local community for the food that they've brought and their overwhelming support for everyone's cause.'
In Goldsmiths canteen, students said they fully supported the occupation.
First year student Louis O'Donnell told News Line: 'We were just at the Town Hall a minute ago and I'm totally against the fees and raising them to £9,000 a year.
'It will mean poor and working-class students won't be able to get a university place. It will be for the rich.
'I couldn't afford £9,000. It's too much.'
All the students we spoke to were angry at the announcement of £9,000 a year fees.
'I don't see what they need those kind of fees for,' said one. 'We're paying over £3,000 a year – why do you suddenly need this massive increase?'
Another student told News Line: 'I think it's unfair that everyone who did get free state education is deciding to put the bills up.
'They themselves got free state education, they took advantage of the system, and they're not letting us do the same.
'It's not fair, they can get free education and I have to come out of university with a £27,000-£30,000 debt.
'We are struggling now with £3,000 a year, but in 2012 it will be £9,000.
'We've got to make our voice heard.
'This government shouldn't have got up into power to start with. It only got in on a flawed election system.'