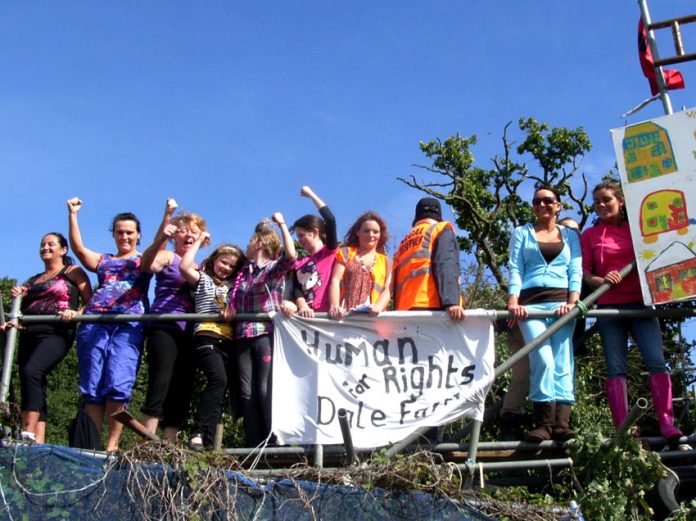 MONDAY saw the conclusion of one of the two legal processes challenging Basildon Council's planned eviction of the Dale Farm community.
'The case, which halted eviction at the eleventh hour on Monday 19th September, has resulted in a series of concessions from Basildon Council that a number of structures cannot legally be removed from the land', say campaigners.
'The finalised details, confirmed in Monday's hearing in the High Court, show that Basildon Council cannot legally enforce a full clearance of Dale Farm.
'Basildon Council was also ordered to pay one third of the costs of the case to Dale Farm residents by the judge Mr Justice Edwards Stuart, who added that the dignity of all concerned should be respected in the event of an eviction.
'All of the fences, walls and walkways, along with certain caravans, buildings and concrete, cannot legally be removed in the eviction – either because the structures pre-date the families' purchase of Dale Farm, or because they were not covered by the Council's enforcement notices.
'This includes a number of plots which could still be used residentially.
'If the Dale Farm residents' application for a judicial review into the legality of the entire eviction fails, Basildon Council must then decide whether to spend £22 million on a partial eviction.'
Dale Farm resident Kathleen McCarthy said: 'This will leave Dale Farm as a patchwork of concrete and fences, not the greenbelt the Council are claiming it will be.
'Where are we supposed to go? They are separating families and ruining so many lives here, and for what? To turn Dale Farm into a scrapyard again. It's ridiculous.'
The eviction of the Hovefields Traveller site also in Basildon, in September 2010, was approved 'on the basis that it was greenbelt land', says Dale Farm Solidarity, but the site has since become 'a rubbish dump'.
'Cheap, peaceful solutions still remain for Basildon Council to resolve the situation,' Dale Farm Solidarity adds.
'It was revealed in court last week that they have been offered free land and funding to provide alternative Traveller pitches to resettle Dale Farm residents, who have said all along they would gladly move as long as they had somewhere to go.'
Dale Farm supporter Lily Walker said: 'Today's outcome nullifies the greenbelt argument the council have been using – it is now clear that if the eviction goes ahead, Dale Farm will return to its former state as a scrapyard.
'We are calling on the Council to abandon an eviction which will come at great financial and human cost and instead engage the Dale Farm community in negotiations.'
In its its statement on Monday, Dale Farm Solidarity commented: 'Basildon Council leader Tony Ball departed for the Conservative Party Conference at the weekend, shamefaced and fleeing increasing pressure from his constituents to find a resolution to the Dale Farm fiasco.'
The campaigners said that as legal proceedings entered their third week on Monday, 'Basildon Council's £18 million eviction strategy has sparked criticism from all quarters.
'Len Gridley, the most outspoken advocate of evictions at Dale Farm, has now accused Ball of a botched eviction.
'He said: "I've lost faith in the council's promises to resolve this.''
'He added: "He has had six months now, so he has to resign." '
Campaigners said that Dale Farm residents also hope the Conservative Party Conference sheds light 'on why Eric Pickles' department agreed to give Basildon Council £1.2 million towards the eviction of the former scrapyard in a major u-turn on funding.'
They claim that in February this year Basildon Council leader Ball's request for funds was flatly rejected, 'but a single telephone call in March by Ball caused the Department for Local Communities and Government to reverse the decision and give Basildon Council £1.2 million towards the costs of the eviction.'
Dale Farm Solidarity says 'The contract between Eric Pickles' department and Basildon Council has not been seen, but the letter refers to payment only "after the clearance operation has been completed".'
The campaigners add: 'Given that the High Court cases indicate that Dale Farm will not be cleared – only some plots will be removed – it is unclear if the Department for Local Communities can now legally pay the £1.2 million if the eviction goes ahead.'
Long-term Basildon resident Zelda Jeffers said: 'Tony Ball's arguments about greenbelt have completely fallen apart in court – they can now only return Dale Farm to its former state as a scrapyard with isolated fences, walls and caravans.
'They are breaking up a community for political gain.
'This is not only senseless, it is financially reckless when there are lots of local community groups that have seen their funding reduced or withdrawn.'
'Ball has faced further criticism for refusing an offer of free land from the Homes and Communities Agency,' said Dale Farm Solidarity.
'He claimed that the reason the land was refused was because of the possibility that Great Crested Newts live there.'
Dale Farm resident Kathleen McCarthy said: 'We're concerned that Mr Ball doesn't seem to want to find a solution, he's just hell bent on getting us out of Basildon.
'We contacted him yet again a week ago, asking for him to re-engage in negotiations.
'Even though he's said to me on national television that he received our letter, a week later, he's gone off to the Tory Conference in Manchester without even responding.'
Celebrity Big Brother winner and Traveller, Paddy Doherty, has also weighed into the debate, stating: 'So, the government has said that they have some land, but Basildon Council says no because there are some newts down there.
'I mean, show some respect.
'We're not asking for anything special, we just want to be treated like human beings.
'It's appalling how they are treating the Dale Farm community.'
Dale Farm Solidarity reported that last week Labour leader Ed Miliband 'joined the chorus of criticism of Ball, accusing Basildon Council of "grandstanding'' and failing to assist the travellers in finding an alternative site.'
They state: 'Dale Farm is not an isolated case, but part of a sustained attack on Travellers' rights by the government.
'After abolishing Regional Spatial Strategy, the government's proposed Localism Bill goes even further in reducing the responsibilities local councils have to Traveller and Gypsy constituents.
'Basildon Council have a responsibility to provide 62 more pitches, but they have refused.
'Last week, it was revealed that only £16.9m of the £97m allocated to the Gypsy and Traveller Sites Grant had been spent since 2008.
'The money was intended to "reduce the number of unauthorised sites" and "reduce the need for costly enforcement action".'