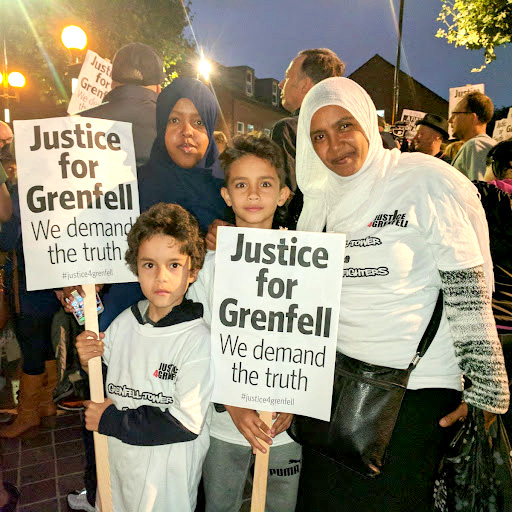 THE NUMBER of firefighters has been cut by nearly a quarter over the past decade, a newly released Home Office report has shockingly revealed with the firefighters union warning that taking the Grenfell tragedy into account these cuts are a 'huge threat' to the public.
In 2017, 33,049 firefighters were working in the UK according to the report. This was a 4% decrease compared with the previous year (34,395 in 2016), a 17% decrease compared with five years ago (39,678 in 2012) and a 22% decrease compared with ten years ago (42,385 in 2007).
The cut in firefighter posts mirrors a decline in fire prevention work with the number of fire safety audits declining by 14% over the last year and 36% fewer than in 2010.  The Fire Brigades Union (FBU) general secretary Matt Wrack said: 'The fire and rescue service is in crisis. Seven years of budget cuts have left the public at greater risk as there are far fewer firefighters left to respond to emergencies.
'We've seen thousands of frontline firefighter posts axed and dozens of fire stations closed with the result that it's taking a lot longer for fire crews to arrive at emergencies. In a fire, every second counts – it can make the difference between life and death.
'If the government is serious about keeping the public safe, they should use the upcoming budget as an opportunity to bring the cuts to fire and rescue services to an end and invest in the service instead.
'Disasters like the fire at Grenfell Tower show how important and valued our emergency services are. MPs from all parties should support investment into the fire and rescue service in order to maintain a world class, professional service that keeps us all safe.'
Latest government figures show response times to practically all types of fires have increased significantly since 2010 and are at their slowest for 20 years. Last week, a firefighter refused an invitation from Tory Prime Minister Theresa May in protest at cuts to the fire service saying that he holds her in 'complete contempt'.
The invitation was to a reception hosted at Downing Street for first responders involved in the recent terror attacks in Westminster, Manchester, London Bridge and Finsbury Park, and those who responded to the Grenfell Tower fire.
He turned her down in protest over government cuts to the service, and because he had to work his second job. David Badillo, 44, wrote in a Facebook post that he was invited to Downing Street along with 35 of his fire brigade colleagues but 'unfortunately I had to turn down the invite from the Prime Minister as it is on a Monday and I will be working my second job to pay my rent and put food on the table for my family.
'I have to do this due to eight years of pay cuts,' he added. "Which will continue after being enthusiastically voted in by our government, cheering, days after the Grenfell fire, when the vote was won. So when you're giving out your meaningless praise for our emergency services remember I hold you in complete contempt.'
Badillo has been a firefighter for 19 years, mainly stationed in North Kensington, and works as a labourer for £80 a day on his days off to supplement his salary and help pay his mortgage. He said that he did not become a firefighter to be a millionaire, but that he loves his job and expects to be able to earn a decent wage. That is why the PM's invite is so hollow and it beggars belief she has the front to invite us while cutting our pay,' he said.
Meanwhile a fire safety expert previously contracted to work on Grenfell Tower has said sprinklers would have stopped the fatal fire from spreading. Paul Atkins said sprinklers give people a '99% chance of survival' and would have stopped flames taking hold. Atkins is director of M&P Fire Protection which maintained the dry riser in Grenfell Tower and the sprinkler systems of surrounding buildings.
He said: 'If they'd had a sprinkler system the fire would have been deluged before it got to the cladding. People would've had plenty of time to leave the building. To date no-one has ever died in a fire with a sprinkler system in the household, so the proof's in the pudding. You've got a 99% chance of surviving.'
Stewart Kidd, a consultant and former director of the Fire Protection Association, said: 'Grenfell would not be built now as the fire regulations changed in 2007. However regulations are not retrospective which means existing buildings don't have to comply with new standards. Sprinklers are the optimum way of compensating.'
Of the Grenfell fire, he said: 'The flat where the fire started would have been badly damaged by the fire, but it would have been contained. It certainly wouldn't have spread to the cladding. The Fire Brigade would have arrived to find a small fire that could have been put out with an extinguisher or stamped on.'
• The Community Safety Minister for Scotland has said Scotland's fire service 'needs to be transformed' after it emerged staffing issues mean up to 100 fire engines will be unavailable for use every day.
Annabelle Ewing said no decisions had been made amid reports that the Scottish Fire and Rescue Service (SFRS) is to cut both the number of firefighters and stations it has. Sweeping reforms of Scotland's Fire and Rescue Service will now see stations closed and firefighter numbers cut, it has emerged.
Documents being circulated to senior Scottish Fire and Rescue Service (SFRS) management have said the current service could not last beyond the end of the financial year. It has been suggested that some city-based staff could switch to an on-call rota similar to that used in rural areas, while the number of full-time posts will be reduced with the SNP presiding over the cuts.
SNP First Minister Nicola Sturgeon has repeatedly 'ducked' questions about cuts to the service.
Fire Brigades Union Scotland said that dozens of fire engines were already unusable because there were not enough crews to take them out.
The internal report says: 'The Scottish Fire Service is operating against a backdrop of both significantly changing risks and the greatest financial challenges seen in decades.' It said the service has to 're-balance' firefighter numbers and review its 'station footprint'.
Fire Brigades Union Scotland's Chris McGlone said: 'I think what the documents show is that there are significant changes coming.' He added: 'Routinely at the moment the fire service is required to remove fire engines from operational availability and that is because at the moment we don't have enough firefighters. In the whole-time service we think it is up to six on any given day – in the retained service it is 50, 60, 70 at times.'
Labour Justice spokesperson Claire Baker said: 'These proposals will shock people across Scotland. With fire safety so fresh in our minds following the tragic events of Grenfell it scarcely seems believable that our Fire Service has to make further cuts. Labour has put the issue of protecting the Fire and Rescue budget directly to Nicola Sturgeon at First Minister's Questions, only to see her dodge the question. Now we know why.'