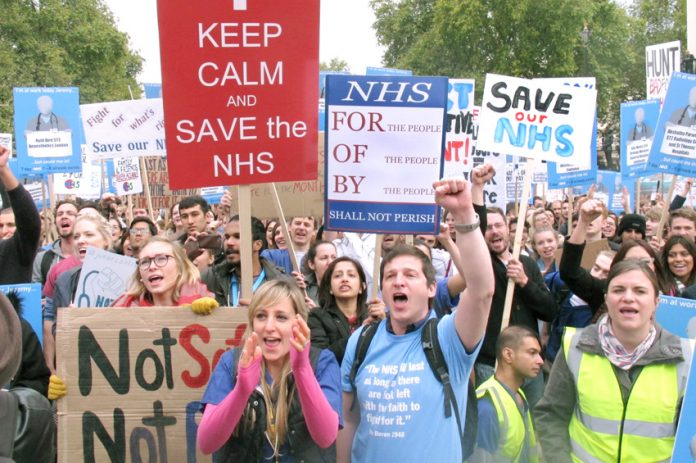 NHS! NHS! NHS! chanted 20,000 junior doctors, medical students, health workers and supporters as they marched in central London on Saturday.
'The BMA is balloting for industrial action,' BMA junior doctors committee chair Johann Malawana told a mass rally in Pall Mall to cheers before the march set off for Parliament Square. He added: 'There are doctors who would have liked to be here but are working today. We want a safe contract for doctors and a safe contract for patients.'
Rounding on Tory health secretary Jeremy Hunt, Dr Malawana said: 'Stop attacking us. We are not the enemy. We are just health professionals who want to have a meaningful discussion. Talk to us, talk to us reasonably. Stop going to the press claiming that we are scaremongering.'
The defiant rally was interspersed with noisy chants of 'Hunt must go, Hunt must go' and 'BMA, BMA, BMA'. Consultant Dr Rob Galloway warned the crowd: 'The NHS is on a knife edge. The changes to the junior doctors contract are unfair and unsafe. Bevan said the NHS can survive as long as there are people who will fight for it. We will fight for it,' he added to cheers.
Slamming Hunt's 'myths', he said: 'He's not interested in weekend cover, he's interested in not paying for it! No-one rejects seven-day working, but they have to pay for it. The issue is larger than junior doctors – cooperation, not competition, patients before profits. Cameron needs to apologise for cuts in the NHS and social services. Hunt should at least resign.'
Protest organiser Anna Worthington alleged to News Line: 'Jeremy Hunt is lying to the people of this country about his plans for the NHS. And us junior doctors are not going to take it.' Junior doctors who spoke to News Line made it clear they are ready to take strike action.
Cardiographic registrar and BMA member from St George's Hospital in Tooting, south London, Stephanie Fraser, said of the government's attempt to impose contract changes: 'I believe this is a harsh step towards dismantling the NHS. I think we were naive to ignore it as long as we did. Fundamentally, we are all here because we believe the NHS is the most defining institution of the UK.
'It separates us from other countries. We don't believe that people who are suffering should have to worry about the financial side. It would be a tragedy for future generations if we allow this government to tear down the NHS. I've heard that under government plans, within two years the NHS will be privatised away. We need to draw attention to this so there is a public will to take action against this government. I would be in favour of a general strike.'
Dr Ranjit Brar, a junior doctor from Watford, said: 'Essentially, I don't think it's fair what the government are doing, imposing this new contract on doctors. It's going to affect patient safety, lower the morale of a stretched workforce and ultimately lead to many doctors to consider their future within the NHS as well as prospective medical students who are the doctors of tomorrow. I support taking industrial action, including going on strike. Everyone should strike, not just the doctors and support this action. I'd support a general strike against NHS cuts and privatisation.'
Dr Charlotte Lees from Oxford said: 'Jeremy Hunt is out of touch with the people who he claims to represent. Doctors of all seniority are angry at this outrageous attempt to impose a new contract.
'It will discriminate against women, against those doing world-class research and is asking us to do more hours for less pay. It's unfair and unsafe for patients. I'm backing strike action 100 per cent. It will be great for other unions to take action with us. We need every bit of support we can get.'
Dr Samantha Lang from Bristol said: 'We're here because we already work long hours. These make us tired and it's already difficult to concentrate. We don't want to work even longer hours and make mistakes. Power to the NHS. I don't want to strike but if necessary I will. My priority is the NHS. All the unions and every single person in the UK should support the junior doctors and take action to defend the NHS.
University graduate Jai Kapoor declared: 'I'm not a doctor or medical student but I'm here to support the junior doctors. I have a lot of respect for them, they already work a seven-day week. People should support doctors. I would support junior doctors taking well-thought out industrial action.'
Dr Piyush Pushkar from Stepping Hill Hospital, Stockport, said: 'I'm here because I object to everything that's happening. We already work weekends. We don't want to lose the remuneration we receive for doing that. Nor do we want to lose the safeguards that penalise hospitals if we work unsafe hours. That would not be safe and not fair. I'm prepared to take strike action to defend our contract and to defend the NHS. Other workers taking strike action in our support would be more than welcome.'
Leicester BMA member Dr Olivia Chapman said: 'We're against the changes to the junior doctors contract Jeremy Hunt is trying to impose. It's taking away the safeguards protecting us from working excessive hours – by that I mean 70 plus hours a week. This would mean tired doctors making mistakes, consequently making it unsafe for patients.
'Jeremy Hunt said there will be winners and losers on pay. But no doctor should lose out. Doctors are already in tens of thousands of debt from our student fees and ongoing training fees. Cuts are another aspect that would make the job unfeasible financially, as well as the impact on our health. I'm prepared to take strike action if the BMA decides. All the BMA should support the junior doctors – it's our union.'
Stephen from Cambridge said: 'We are here to show that we are not happy with the proposed changes which we feel are not safe and unfair on much of the hard-working healthcare workers. Our contracts need to be protected and safeguards put in place to protect our patients today and doctors for the future. This government are not going about things in the right way.'
Cambridge final year medical student Aws Sadik said: 'I'm here in solidarity with students and doctors. They give their all to the NHS and dedicate their lives to such a good cause under very difficult circumstances. Now they are being punished for this career choice and watching the service they've dedicated their lives for being disintegrated by a short-sighted and privatisation-driven regime.
'It's good that doctors have come out in protest and decided to ballot for industrial action. It's important that they don't stop. Even if the contracts are improved, they still have to protect the NHS from the range of attacks it's experiencing. Other unions should come out in support of junior doctors and junior doctors should support other workers in struggle.'
BMA member Dr Stania Kamara from south London told News Line: 'I work in mental health and I'm here because we're all concerned that if these new contracts go through, everyone would suffer. Doctors would have to work longer hours, and that means tired doctors and tired doctors make mistakes. All the doctors are worried about this and we have to do something about it. We're worried about patient safety and we're worried about the state of the NHS.'