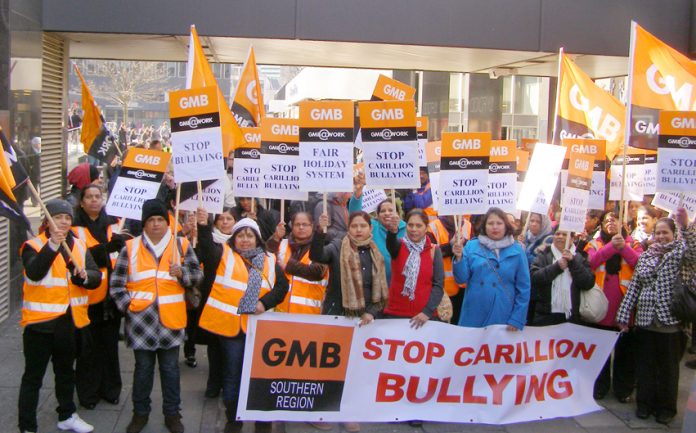 WHEN CARILLION collapsed last month it left the future of the new Royal Liverpool Hospital in limbo.
The half-built £335 million hospital which has already faced three delays, now faces an 'extended delay'. The heads of the Hospital Trust faced angry questions from concerned residents, patients and hospital staff at a meeting on Tuesday.
Work on site has stopped while the Hospital Company (Liverpool), the private firm responsible for building the hospital, works out what to do next. The Hospital Trust also revealed that a burst pipe had caused some of the earlier delays to the new Royal.
On Tuesday campaigners attended the board meeting of the Royal Liverpool and Broadgreen University Hospitals NHS Trust to share their concerns over the scheme. Royal Liverpool Hospital chief executive Aidan Kehoe told them talks over the hospital's future were 'complex', while finance director John Graham confirmed there was still 'no planned handover date'.
Kehoe added: 'It's something that's going to go on for a while and could have an extended delay.'
After an almost three-hour board meeting, members of the public were given a chance to quiz the board. Questions were asked over when the hospital would open and what would happen to the workers who were building it.
Kehoe said the company's 'Plan A' was to find a way to rehire those subcontractors to get the building finished. He said: 'What we obviously want to happen is to support the subcontractors who are there already. They are owed money by Carillion, fairly significant amounts. Plan A is absolutely about using the existing people and trying to finish the hospital.
'That's why the hospital company is trying to find a company that can hire those subcontractors to get the building finished. 'Those discussions are happening daily. They are thorny discussions.
'Some of the subcontractors are potentially at risk, worried whether they will survive – they are owed lots of money. Others don't want to come back on site until they've got the best solution for their company. That's entirely understandable.'
The trust has already confirmed reasons for the hospital's delay included asbestos in the ground and cracks in the beams. Kehoe said a 'burst pipe' had also caused delays. He said: 'It flooded out some machine rooms.'
Carillion was also slammed again for its past links with blacklisting. The Blacklist Support Group (BSG) has said Carillion's former subsidiary firm, Crown House, had signed up to a secret database run by the Consulting Association targeting construction workers. One questioner said Carillion's 'credibility was in the sewer' over the claims.
• 'Virgin Care has been like a cash-hungry octopus with its tentacles grabbing more than £1 billion worth of NHS contracts,' Unite said on Tuesday adding that 'Lancashire County Council urgently needs to reconsider its decision to transfer NHS community services to Virgin Care,' given that the outsourcing of public services 'had fallen into disrepute' in the wake of Carillion's collapse.
Unite said a 'council rethink' was needed on awarding the £104 million, five-year contract to Virgin Care to run Lancashire's 0-19 healthy child programme, given that Carillion had numerous NHS contracts before its collapse earlier this month.
According to the NHS Support Federation, Virgin Care has been the most successful company winning more than £1 billion worth of NHS contracts, mainly in community healthcare. Unite, which has 100,000 members in the health sector, said there needed to be greater transparency about Virgin Care's finances and these concerns were enough to justify the Tory-controlled council looking again at the contract awarded just before Christmas.
Lancashire Care Trust, which currently runs the contract ending in March, lost out in the bidding process. Unite national officer for health Colenzo Jarrett-Thorpe said: 'The collapse of Carillion which had many NHS contracts, including managing 11,800 beds, has brought the outsourcing of public services to profit-hungry private companies into disrepute.
'Virgin Care has been like a cash-hungry octopus with its tentacles grabbing more than £1 billion worth of NHS contracts. We think there needs to be greater transparency surrounding Virgin Care's finances.  
'Virgin Care's holding company is registered in the British Virgin Islands. Suppliers of public services should pay UK tax and not be based in tax havens. The public mood is such that it would be entirely appropriate for the county council to reconsider the awarding of this contract in the interests of those children who receive these services.
'This is once again the thin end of the wedge. There will be concerns from health visitors about how much they will be required to compromise their professional code of practice to work for Virgin Care and the impact that will have on the quality of services for children and families in Lancashire.
'Given that the majority of expenditure goes on health workers' wages, there must be serious worries that the way Virgin Care will maximise its profits will be by cutting the number of health visitors and school nurses. Unite will strongly oppose any such moves.'
Richard Branson's Virgin Care Services saw a 50 per cent rise in revenues to £200m in its latest financial year, helped by a series of new NHS outsourcing contracts. However Virgin Care Services paid no corporation tax because its parent company lost money, it has emerged.
The web of companies is ultimately owned by a company registered in the tax haven of the British Virgin Islands, where Branson is domiciled. Virgin Care Services made an £8m profit in the year to the end of March 2017 but paid no corporation tax, its latest accounts show. That was because the company is part of the larger Virgin Care group, the parent company of which declared a loss of £19.3m.
Virgin Care claims this corporate structuring makes no difference to the amount of tax it pays in the UK.
Virgin Care Services began work on three large new NHS contracts in 2017: A £64m, five-year contract in Wiltshire, another seven-year deal in East Staffordshire worth £270m and a £126m, seven-year contract with Dartford, Gravesham and Swanley Clinical Commissioning Group and NHS Swale Clinical Commissioning Group.
Virgin Care has reportedly received a cash settlement from the NHS after it lost a bid to provide various healthcare services in Surrey. The private firm took legal action against six Surrey clinical commissioning groups (CCGs), Surrey County Council and NHS England in November 2016 after the failed bid.
It was competing for an £82 million contract to provide a range of healthcare services for children across the county. However, it lost out to Surrey Healthy Children and Families Services, which is an alliance formed by Surrey and Borders Partnership Foundation Trust and two social enterprises.
A company spokesman said there 'may have been serious flaws' in the procurement process, adding the outcome was 'not in the best interests of either the children and families we support'. After a legal battle with the NHS organisations and the cash strapped county council, a resolution with 'confidential terms' was reached.
Now, according to Health Services Journal (HSJ), the matter was eventually settled with a £328,000 payout to the private company. The journal last month reported the payout after spotting the figure in a financial report published on the Surrey Downs CCG website, stating its 'liability' was £328,000.
A spokesman for Guildford and Waverley CCG said: 'The parties are pleased to confirm an agreed resolution on the litigation concerning the Surrey Children's procurement has been reached to a satisfactory conclusion for all parties with detailed terms confidential to the parties.'
The same statement was given by a Virgin Care spokesman when asked. In March 2012, Virgin Care won a £500 million contract to run a number of community services in Surrey. Since then, it has variously provided healthcare in seven Surrey community hospitals, community nursing, community dentistry, health visiting and specialist services such as physiotherapy, diabetes treatment, and renal care.
This contract lapsed in 2017 with the county's CCGs instead opting to split it into smaller contracts across a number of different providers.