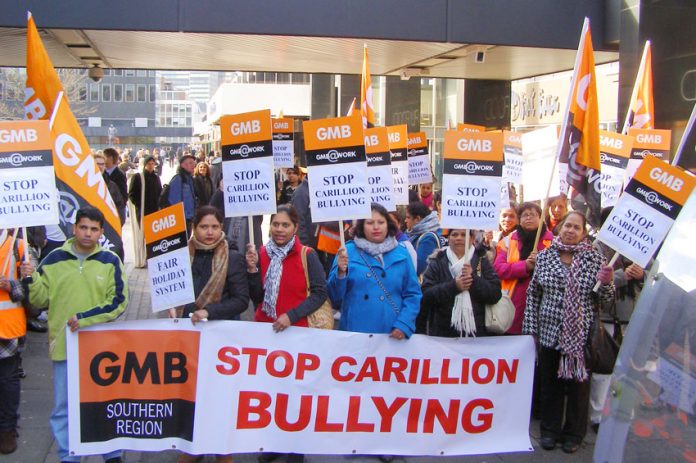 'THE Ontario government must step in to protect hospital staff and the public in the Carillion bankruptcy,' Canada's largest private sector union, Unifor, demanded on Tuesday.
'Seize the moment and protect patients and hospital staff by ending privatisation of contracted out hospital services following the complete collapse of private contractor Carillion,' said Unifor and the Ontario Council of Hospital Unions (OCHU/CUPE) in a united statement.
The unions represent hundreds of staff at William Osler Health System, The Royal Ottawa Hospital, Halton Healthcare and the Sault Area Hospital, that all have service contracts with Carillion. These hospital workers are among the 6,000 Canadian workers who are affected by the Carillion liquidation.
'In Britain, the hospital staff employed by Carillon have been given guarantees by the British government that they will continue to be paid,' said OCHU president Michael Hurley. The provincial government needs to make the same assurances to the hospital staff working at Carillion's Ontario P3 (public private partnership) hospitals. It is also time for these projects to be brought back into the public sector. The folly of private ownership of the hospitals is exposed fully by this bankruptcy.'
He said that the British government has committed that services contracted with Carillion but funded by the public purse will continue to be provided and advised workers in those industries that they will be paid and to continue to go to work.
No such promise however has been made by the Ontario government, leaving in question the future of public services provided by Carillion workers. UK media are reporting that while the company was imploding Carillion bosses pocketed millions of pounds in bonuses.
Thousands of small businesses are owed money by Carillion and the future of many of them may now be in doubt. Will they be protected?
'Contracting out to these private firms puts public services at risk. This is more than a cautionary tale for our provincial government. These contracted-out hospital services must be brought back under public delivery and guarantee that affected workers are paid,' said Katha Fortier, Unifor Assistant to the National President.
Ontario's auditor has challenged the wisdom of the provincial government's use of private contractors and private capital infrastructure, estimating that they've cost $8 billion more than had the projects been fully public.
The auditor also found that Carillion cost over-runs during the construction of William Osler amounted to more than $200 million. Just last December, a damning 2017 Ontario auditor's report showed that hospitals are being gouged by P3 contractors for maintenance work not covered under the original P3 contract.
Several hospitals are in long-term disputes with P3 maintenance companies over these contracts which often last for 30 years. OCHU, the hospital arm of the Canadian Union of Public Employees (CUPE) in Ontario, and Unifor together represent nearly 50,000 hospital staff in hospitals across the province.
The collapse of the United Kingdom's second-biggest construction firm seems set to reverberate around the world, including and especially Canada. Carillion PLC, which was forced into bankruptcy on Monday morning, has 20,000 employees in Britain where it has been busy with more than 450 government contracts, including building hospitals and a high-speed rail line, and managing schools, military housing and prisons.
During a debate in the British Parliament, one MP asserted that the now non-functioning company has been providing cleaning, catering and other management services to 50 prisons, 9,000 schools, 200 operating rooms, and hospitals totalling almost 12,000 beds.
The company also has an extensive presence abroad, with 23,000 workers around the globe including 6,000 in Canada. Carillion Canada is the country's largest road service contractor, responsible for ploughing and maintenance along 40,000 kilometres of highways in Ontario and Alberta.
It has been involved in a number of high-profile construction projects, including the ongoing renovations of Toronto's Union Station — although the city parted ways with the company in 2014 over ballooning costs and performance issues. A subsidiary, Outland, manages remote works camps across the country for mining, forestry and oil and gas firms.
A property services division looks after some of Canada's largest airports, malls, commercial buildings and educational institutions, as well as hospitals in Toronto, Ottawa, North Battleford, Sask., and Nunavut, as well as base housing at CFB Petawawa.
Carillion PLC is carrying more than $2.6 billion in debt, as well as a $1 billion pension deficit.
It's not yet clear what effect the death of the parent firm will have on Canadian operations. But there have been signs that not all was well. In September, for example, Ontario's Ministry of Transportation announced that it had reached a 'joint decision' with Carillion to end an 11-year maintenance contract for the highways in Muskoka-Parry Sound, five years early.
There had been complaints about the quality and frequency of the work, especially during the area's frequent snowstorms. A new firm is supposed to take over the region's road maintenance in September this year.
Of the company's 43,000 employees worldwide, 20,000 work in the UK, while the company also has a significant presence in the Middle East and Canada. The company has built iconic buildings in the U.K. and abroad, including the Tate Modern in London and the Grand Mosque in Oman. It is also responsible for the revitalisation of Toronto's Union Station.
Carillion has been flagging up that it was in trouble since last July, when it announced it was losing money and its debts were rising. In the subsequent five months, it issued two more profit warnings. During all this time however, the British Tory government was sending out the message that all was well and it had full confidence in Carillion, continuing to sign off new multi-million contracts with it.
But by last weekend, the company had a £900 million ($1.2 billion) debt and a £587 million ($808 million) pension deficit. By last Friday, the company's market capitalisation had dropped to £61 million, down from £2 billion in 2016.
With debts and pension obligations outweighing the company's value, it approached the government and its lenders for a bail-out, but failed to reach a deal, with the Royal Bank of Scotland making it clear it was determined to pull the plug. The jobs of Carillion's 20,000 employees in the UK remain immediately threatened.
For the time being, employees have been instructed to continue working as usual, but it is unclear what will happen to their jobs. Pensions Regulator Executive Director Nicola Parish has said it is also too soon to tell what will happen to Carillion's pensions, but another spokesperson claimed the pensions are protected under the Pension Protection Scheme. The British government provided financial support to Carillion to help win business in the Middle East, most recently in July, at the same time as the company's first profit warning.
In Canada, the company has a stake in several major projects, including:
• Maintenance and support services for military housing at Canadian Forces Base (CFB) Petawawa.
• Contracts at hospitals including ones in North Battleford, Sask., Sault Ste. Marie, Ont., The Stanton Territorial Hospital in N.W.T, The Centre for Addiction and Mental Health in Toronto, The Royal Ottawa Healthcare Group in Ottawa and many more.
• A major facility maintenance contract with Shell at one of its oilsands operations, along with an office building in Calgary.
In Britain, there are big worries for an estimated 30,000 smaller firms which have been working on Carillion projects in the private sector. Many are owed money and are wondering if they will get any of it back. On Monday, the Tory government said that firms working on Carillion's private contracts would be paid for another 48 hours.
However, the Insolvency Service says that the liquidator is talking to Carillion's private sector clients about which services will continue; and that contracts will be ended if the client no longer wants to pay for them.
'No one has been dismissed at this point and staff will continue to be paid for the work they perform,' a spokesperson for the Insolvency Service said. But Andy Bradley, the managing director of Flora-tec, which is owed £800,000 by Carillion for landscaping services, said on Tuesday that he has already had to make 10 employees redundant.
He alleged: 'The government actively encouraged businesses like mine … to get involved in public sector contracts, to make sure the little guy got a slice of the pie. When Carillion started to get into trouble last year we were considering that we would scale back our involvement with them. However … the government continued to give them billion-pound contract after billion-pound contract and that said to me, as a small supplier, that the government had done their due diligence.
'We were following the government lead … only to be given a sucker punch. I had to make 10 people redundant yesterday. That's 10 people with mortgages, car loans, all that stuff. It's an absolute disgrace.'