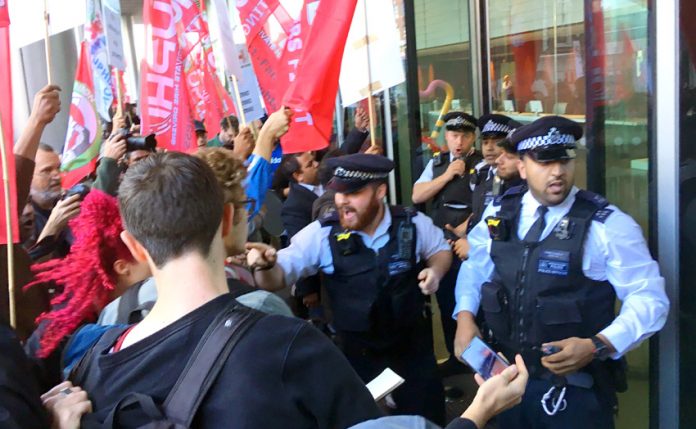 'BRINGING down the Tory government is the key thing,' striking Uber driver Liban Yussuf told News Line at the lunchtime rally outside Uber HQ at Aldgate Tower in east London on Tuesday.
Chanting 'Shame on You Uber', over 150 Uber drivers and supporters taking 24 hour strike action carried placards saying: 'Uber Fair Pay!', 'Uber Driving Us Into Poverty!' and 'Uber End Sackings!'
Fellow striker Habib Rahman said: 'Uber does everything unfair to the drivers. They stop giving drops at any time, they de-activate our mobiles. 'The fare is very low. London is not cheap, but the Uber fare is cheap, it's very hard to survive. They treat the drivers like slaves, nothing else.
'We want a proper increase in fares and no more de-activation. We are private hire drivers – self employed – yet they treat us as slaves. 'They treat us like an employee but we are self employed. We want the right to holiday pay and proper sick pay. 'They do pay some sick pay, but it's very low. All unions should support us.'
Soyful Alom complained: 'They de-activated my app for two or three days. I could not work Friday, Saturday or Sunday. 'I emailed them and called them on the phone as well, but they did not call back. I don't know why they did this, I'm very disappointed.'
Uber striker Saifur Masuf said: 'We want better wages. Petrol prices are rising. Uber increases the fare in the rush hour but we get paid the normal rate.
'Uber keeps putting our money down. We work hard, then you find out the fare was taken off.' Uber drivers were striking across the UK as the company continues to appeal against a court ruling giving them employee rights.
Members of the Independent Workers Union of Great Britain (IWGB) were not using the app for 24 hours from 1pm on Tuesday. Instead, they gathered outside the company's offices in London, Birmingham and Nottingham to demand fair pay and to be treated under the conditions of a 2016 court ruling.
The IWGB called on potential passengers to show solidarity with the striking drivers by not using the app during this period. Uber lost a court battle two years ago when an employment tribunal found against its classification of drivers as independent contractors. The company is continuing to appeal against the ruling.
James Farrar, IWGB's United Private Hire Drivers (UPHD) branch chair said that despite the court ruling entitling Uber workers to the minimum wage and holiday pay Uber's continued appeals have meant that the ruling has not been implemented. UPHD organised yesterday's strike and, speaking during the demonstration outside Uber's London offices, Farrar said: 'What we want is our statutory rights, not just some fiddling around the edges. 'We want Uber to obey the law, give us our statutory rights, to be paid fairly and to have holiday pay.'
The union is currently engaged in legal efforts to secure private hire drivers' rights through the courts, and has cases against Uber, Green Tomato Cars and A2B Cars. Steve McNamara, general secretary of the Licensed Taxi Drivers' Association which has organised mass black-cab protests against Uber in Westminster, said: 'Since it first came on to our streets, Uber's aggressive business model has forced its drivers to work dangerously long hours in order to make ends meet, putting passengers and other road users at risk.'
IWGB President Henry Chango Lopez told News Line at the strike rally: 'There are a lot of Uber drivers here. A lot of drivers as well have switched off their apps until tomorrow in support of the strike. 'Everybody is fed up with the way Uber is treating them. 'It is not just the car drivers, it is Uber Eats as well.
'They are angry at the cuts Uber Eats is trying to introduced. Drivers are fed up, with a third of them being deactivated and with bullying. 'They also want an increase in the fare to £2 per mile and a decrease in commission to 15%. 'We want all the unions to be behind us because this is about workers rights.'
Shane Foley told News Line: 'I have come here from Cardiff today to support the Uber drivers. I work for Uber Eats, I am a professional courier. 'I have come from Cardiff to show my solidarity. I am sick of the exploitation. They are grinding us down.'
Deliveroo driver Adam said: 'I am here to support the Uber drivers.
'The way it is going, management structures are being used to curb labour power and back big capital. 'They are still exploiting the most vulnerable in the workplace. Everybody should take action.'
Uber driver Tanvir Ahmed said: 'They keep playing with our heads, they don"t give us our freedoms – we have to listen to them they say. 'When we are self employed, we should have the right to take what jobs we want, but Uber doesn't let us do that. 'If we don't do enough jobs, our device gets deactivated.'
John McDonnell, the shadow chancellor, said: 'I support this strike for better employment rights and urge others to respect the app picket line.' Stephen Hull, a Birmingham-based driver and union organiser, said: 'There is mass discontent among drivers because the oversupply of vehicles and the way that drivers earn their money is making it almost impossible to make enough to live.'
Hull, who has been driving for Uber for three and a half years, said: 'If I was to rely on Uber, I would be working 12 hours a day, six days a week to be able to make enough to survive.'
Farrar said it had been tough to organise large-scale action because there's no one place where Uber drivers meet. They log onto the app and pick up fares, then log off and go home.
They don't gather at an office or dedicated pickup ranks to speak with other drivers.
But this is at least the third protest or strike against Uber in recent weeks. Hundreds of Uber Eats drivers, who work for Uber's food delivery arm, stopped traffic in east London in September to protest outside the headquarters in Aldgate.
They complained about a change in fee structure, which meant they would earn less for delivering food. A follow-up protest in October saw drivers occupy the lobby of Uber's Aldgate headquarters.
Farrar criticised the Taylor Review of the gig economy, and said London Mayor Sadiq Khan hasn't done enough to support the drivers. 'We won the tribunal against Uber two years ago, but we're no further on and things are getting worse. 'The mayor hasn't helped us, the Taylor Review hasn't helped us, the Department for Transport hasn't helped us. We're reliant on the courts, which take years.'
The drivers want an increase in fares, a reduction in the commission charged by Uber, and an end to 'unfair' deactivations. Deactivations involve an Uber driver being barred from the platform permanently or temporarily for 'poor service' or 'bad conduct'.
According to Farrar, there have been more driver deactivations since Uber won its licence back to operate in London, partly because the company now has to meet strict driver standards.
'It's a real dragnet. Any complaint and you're gone,' he said. 'Our actions are impactful and have forced Uber to respond in all sorts of ways,' he added. 'The trouble is that it is absolutely avoiding its responsibility to workers. 'The sad truth about the business model, for all the tech that Uber is selling, is that it's built on labour exploitation. That's the truth. Uber has to eventually confront that.'