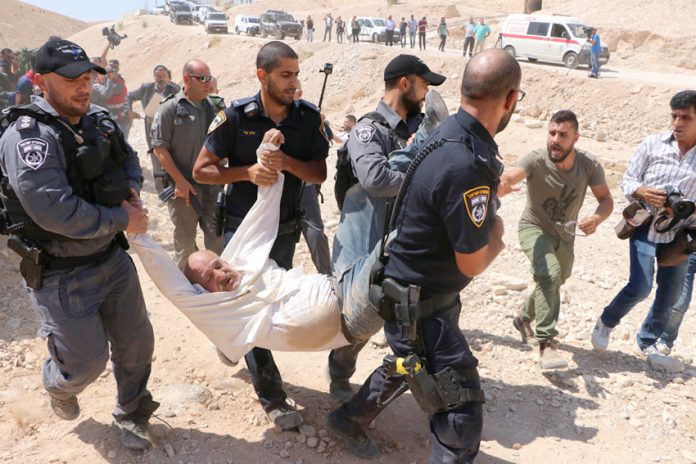 PALESTINE Prime Minister Rami Hamdallah told visiting members of the European Parliament on Monday that Israel should be forced to stop its violations against the Palestinian people and international law.
In a briefing to his guests, Hamdallah said Israel's actions in the occupied territories, particularly at Khan al-Ahmar village east of Jerusalem, aim to end the two-state solution. He said that the international community, particularly the European Union, should pressure Israel to stop its violations and show respect for international law and resolutions.
He also urged international protection for the Palestinian people under Israeli occupation. Zionist settlers from the illegal Nave Daniel settlement, south of Bethlehem, told Palestinian residents of the village of Shoshahleh in the Bethlehem-area town of al-Khader that they intend to open a road that will connect their settlement to the main Jerusalem-Hebron road, a local official said on Monday.
Ahmad Salah, from the anti-wall and anti-settlements committee in al-Khader, said that the head of Navi Danial settlement and other settlers broke into Shoshahleh village 'in a barbaric way' and photographed homes and an old mosque.
When questioned about their reason for coming to the village and taking pictures of the homes, they told the residents that they are going to build a bypass road to the main highway that would go through that part of the village, which means seizing Palestinian land.
A Palestinian family from East Jerusalem decided on Monday to tear down their own home after receiving demolition threats from the Israeli West Jerusalem municipality and warnings that they would have to pay high costs if it was demolished by the municipality.
Ayman Naim Kawasbe said he received the demolition order from the municipality for the house he built in Beit Hanina, north of the city, under the pretext of building without permit. He said he was told that he would end up paying exorbitant fees if the municipality demolished the house and therefore decided to take it apart it himself, which he did after taking out all the furniture.
Palestinians say obtaining a building permit in occupied East Jerusalem is almost impossible, which forces them to build without permit and risk serious consequences.
Israeli forces on Monday detained 18 Palestinians and ransacked many homes in multiple overnight raids across the West Bank, said the Palestine Prisoners Society (PPS) reported.
Israeli forces detained six Palestinians, including a father and his son, during separate raids into Beit Lid town and Shweika, southwest and north of Tulkarem. Meanwhile, forces detained five Palestinians, including a woman, and seized camera recordings during a raid in the northern West Bank city of Nablus.
The woman, the sister of a Palestinian who allegedly killed two Israeli settlers on Sunday and who teaches at Najah University, was reportedly released several hours later. Violent confrontations erupted between local youths and dozens of soldiers who invaded Nablus to make the arrests.
Six others were detained during similar raids in several towns across the central West Bank districts of Ramallah and al-Bireh. During the raid into Safa village, west of Ramallah, Israeli soldiers stormed and searched the family home of human rights activist Hasan Karajeh.
They assaulted Karajeh's brother, Muhammad, hurled insults at other family members and interrogated his wife. Karajeh, 33, has been in detention since September 11th. This is the third time he has been imprisoned. He was released from Israeli prison last year and was previously detained twice, once in 2013 and again in 2016.
Another Palestinian was detained during a pre-dawn raid into Beit Awwa town, west of the southern West Bank city of Hebron. After the release on Sunday of Mahmoud Jabarin, a resident of Umm al-Fahm, an Arab town inside Israel, who spent 30 years in prison for resisting the Israeli occupation, 28 other Palestinians still remain incarcerated in Israeli prisons under sentences of over 25 years, the Palestinian Prisoners' Commission said on Monday.
Among them, 13 are from inside Israel including Karim Younis, the longest serving political prisoner with over 30 years, Maher Younis, Ibrahim Abu Mukh, Rushdi Abu Mukh, Walid Daqqa, Ibrahim Bayadseh, Ahmad Abu Jaber, Bashir Khatib, Samir Sarsawi, Ibrahim Ighbarieh, Mohammad Ighbarieh, Yehys Ighbarieh and Mohammad Jabarin.
The prisoners incarcerated since before the signing of the Oslo agreement in 1993 were supposed to be released as part of a deal between Israel and the Palestinian Authority but Israel has reneged on their release. Dozens of farmers were surprised when they attempted on Monday to reach their land in the Tulkarm area in the north of the West Bank located behind the annexation barrier.
Going in order to harvest their olive crops they found that the Israeli army had shut down the gates in the fence, preventing them from reaching their land. Mayor of Deir al-Ghossoun, Anwar Khalil, said that at least 300 farmers from his village and nearby Attil were prevented by the army from reaching their land to harvest the olive crops and other vegetables.
He said the land, which amounts to 2,500 dunums, is located behind the barrier Israel has built in the West Bank which is deliberately aimed at isolating agricultural land from the villages. The army controls metal gates in the fence and opens and closes them at will to allow farmers to reach their land behind the barrier.
However, farmers need special army-issued permits to access their land.
The army measure against the Tulkarm area villages is believed to be related to an incident in which a Palestinian from the same area shot and killed two Israelis in the illegal settlement of Burkan the previous day. As a result, residents say the action against the farmers is part of a collective punishment policy against the Palestinians in that area.