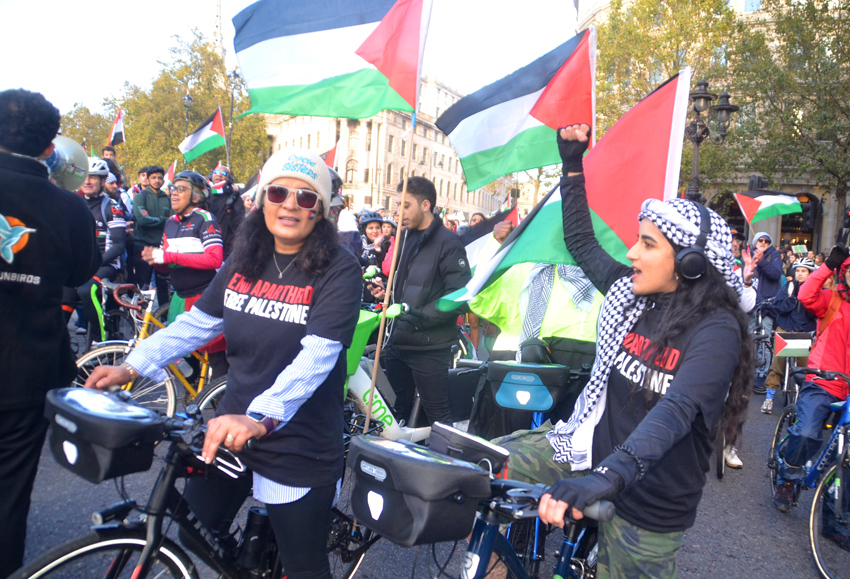 THE 'National Day of Action Ceasefire NOW' organised by the  Palestine Solidarity Campaign (PSC) on Saturday saw powerful rallies in towns and cities across the country.
In central London, Trafalgar Square was packed with tens of thousands of demonstrators waving Palestinian flags and carrying placards.
Amal Samina, a Palestinian woman at the rally, told News Line: 'It's very distressing to see and witness the double standards in the world. The Palestinian conflict has been there for a long time.
'Seventy per cent of Palestinians in Gaza are refugees from the 1948 Nakba and they need to go back to their homeland in historic Palestine. They have been suffering waiting for a solution to their dilemma. We demand the right to return,
'My mum was from Haifa and my dad was from Jaffna and they were both expelled in 1948. Israel has no limits. They would expand all the way to India if they could. They are carrying out ethnic cleansing. This is the new Nakba.'
The chairwoman informed the rally that next Saturday 11th November, there will be a march from Hyde Park to the American Embassy.
She congratulated the attendees for standing in support of the Palestinians and welcomed the support of Jewish groups.
'We are peace lovers. Over 9,000 people have been killed in three weeks and there are more under the rubble. Others have been wiped off the civil registry. This is extermination. It's about obliterating Gaza.
'Gazans' existence is being known by showing their dead bodies. We are told that a ceasefire is not the way, but instead a "humanitarian pause" – so that people can hydrate a little before they are killed. Every minute the politicians don't call for a ceasefire, they are complicit with more deaths.
'The UK uses our taxes to supply weapons to endorse their conditional support of Israel.  We are marching for a ceasefire and the end of genocide and the end of occupation and the colonial system. For the liberation of Palestine.
Contributions were made by two Palestinian authors and playwrights who made reference to the love of theatre and poetry of the Gazan people and the forced closure of the only theatre in Gaza in 2018 with the killing of artists and writers.
Sabrina Masood, an Arab writer, noted that UN resolutions had 'not done anything'.
Shamil Jorda from Friends of Al Aqsa said: 'All I can see from here is beautiful people calling for free Palestine and justice. We are told we are "hate marchers". I do not see that. But from many MPs there is not an ounce of humanity. How many of them call for a ceasefire? But from the British public there is no such problem.'
Ritash Obeida said: 'Gaza has become a graveyard for Palestinian children – one is killed every ten minutes, with nearly 4,000 dead. They have seen sites of terror, and genocide. They can't sleep because of the sound of bombs and rockets. They are deprived of food and water and get cold at night often with scarce shelter.
'500 have lost their identity because they lost contact with their parents. How can a kid live without a family? Children affected by trauma have to be treated on the floor of hospitals, which are still being bombed, as are UNRWA schools. There must be a ceasefire and the Rafah border opened. Save the children.'
Mohammed Abu Julia, a Palestinian chef from Gaza said: 'You are my dearest friends. We have come here to tell world leaders that Gaza deserves to live. How can you not care for children? One beautiful child is killed every 10 minutes. This is a Palestinian holocaust. The neighbourhood where I used to live is no longer recognisable. I wish I could be with my people in Gaza. I would do anything to alleviate their suffering. Will we ever speak to our friends again. I'm not a political person. This madness, killing of civilians, must stop now. Ceasefire now.'
Kika Markham, actress and patron of PSC said: 'I have been campaigning for Palestine for a long time. This can be resolved. They would not allow hospitals in England to be bombed like this. We try to understand the inhumanity that men do. We can't give up now. There is going to be a very big change. A lot of people are going to be very ashamed.'
Comedian Alexei Sayle said: 'The narrative by the media is ever more biased. The Israeli narrative is accepted. The news is pretty much 100% lies. Yet the British people support Palestine. They are always attempting to control the story. In 2014, five hundred kids were killed in Gaza. Then Israel changed the law so that their names cannot be known.
'The children's author, Michael Rosen wrote about this in his poem: "Don't mention the children. The children's names must be hidden. No-one must even know their names. The names of children will spread like wildfire. Don't think of the children, Don't say dead children."'
The names of 50 Palestinian children killed in the last three weeks was read out, followed by a minute's silence.
Ibrahim Hadra, from bereaved families in Gaza, spoke about how hard it is in Gaza when the electricity and communication is cut, saying: 'In the last four weeks there have been thousands of bombardments and air strikes. No place is safe. People are counting the time they may be left to be alive.
'We have to be a voice for the voiceless in Gaza, a place where people are displaced, tortured and killed.
'When we say from the river to the sea, it does not mean the elimination of Israel. It means the right to our land, and life free from struggle and violence where we have our basic rights.
'The only human decision is a ceasefire. I hold the British government responsible for giving the green light to occupation and committing war crimes in front of the whole world, and for rejecting the UN vote for a ceasefire. I hold them responsible for the safety of people in Gaza and my family there.'
The audience was reminded of the many actions for Palestine taking place, including demonstrations at stations, school children and Bristol and Glasgow University students walking out of their classes and lectures. There may be a 'school strike for Palestine' on Friday.
Jeremy Corbyn, former leader of the Labour Party, now an independent MP, said: 'This is a voice for peace and justice for the Palestinian people. The square is completely full today. We're not alone. There are demonstrations all over the world.
'This is a solidarity message of revulsion at the killings and the millions spent on planes, bombs and munitions, at the same time as there are huge shortages of food, water and medicines.
'It has been the decision of the Israeli government to expel Gazans from Gaza – from North to South. Children are dying. Buildings are being destroyed. I fear the population is being expelled to a new Gaza in the Sinai desert.
'We see the inability of our government to vote for a ceasefire. On the question of peace, justice, human rights and international law, they are silent.
'We think of the effects of the Nakba and occupation in creating Palestinian refugees in Lebanon, Jordan and Syria and the diaspora.
'In the West Bank, the settlement policy is that settlers are helped by the IDF, villages are under threat. Israel is evacuating villages. This is a process of organised ethnic cleansing.'
Musara Ibrahim, from the Palestinian Forum, said: 'We are sending an important message to the government of "Not in our name".
'We are at the anniversary of the Balfour Declaration, 106 years ago. This is responsible for the conflict and the source of the land displacement.'
She listed the brutalities and condemned the 'deliberate starving of two million people with the lack of food and water', calling it 'brutal collective punishment, against all values of human rights and a war crime and law crime'.
She continued: 'We reject some of the parties who support occupation, from condemning popular and well organised demonstrations. We reject the removal of freedom of expression.'
'Let the entire world hear us. Our spirit is unbreakable. Stand up for our rights, our homes and our children. Against state sponsored terrorism we will not back down. No justice for Palestinians. No peace for everyone.'
The Vice President of Stop the War Coalition, Andrew Murray said: 'This is a meeting of common humanity. We need no lectures from politicians who have condoned the killings. Braverman should take a great long look in the mirror in relation to refugees being sent to Rwanda.
'Mr Sunak says "Don't defile armistice day."  Armistice means ceasefire. The cenotaph is a memorial to the dead. The best way to honour the dead is to stop the killing.
'Genocide – we hear it from the mouth of Netanyahu's public service minister. She calls to "erase Gaza from the face of the earth".
'We know Netanyahu's government is a government of criminals. The bigger ones are in Downing Street and Washington, without whom Israel could not persecute the Palestinians. They did it to the Iraqis, the Afghans and the Libyans. Imperialism must be defeated.
'The Labour mayor of Burnley has called for Keir Starmer to resign. He spoke for the country. We say we can't be Palestinians just for Saturday afternoon, but also when it comes to the next general election.
'The children of Gaza now have no education and no health services. Ceasefire today! Justice tomorrow!'
Kate Hudson, Secretary of the Campaign for Nuclear Disarmament said: 'British ministers have shown strong support for Israel and voted against a ceasefire. PM Rishi Sunak, Foreign Minister James Cleverly and Minister of Defence (war), Grant Shapps should face charges for war crimes. What is the SAS doing in Gaza?'
The final speaker was Ben Jamal, Director of PSC, who said: 'Half a million marched for Palestine. Israel have killed more than 9,000 people and there are more under the rubble. Over 96% of people call for a ceasefire.
'There is only one argument against ceasefire; slaughter must continue – not enough are being killed. They think Palestinians do not count, and they are inhuman animals.
'There have been over 160 events today across the country including London, Birmingham, Manchester, Liverpool, Edinburgh, Swansea, Aberystwyth and Barnstaple.
'We need to deal with the root causes, not the racist words. It's not only this particular Israeli government that thinks it's OK to kill multiple Palestinians in Jabaliya refugee camp when seeking to destroy one commander.
'It's the whole basis since 1948, which is built on a structure of mass ethnic cleansing. It's apartheid. Israeli Jews have rights. The Palestinians have none. It leads to genocide.
'We demand a ceasefire. The movement must continue till the entire system of apartheid is dismantled. Palestinians are human beings. We are all Palestinians!'