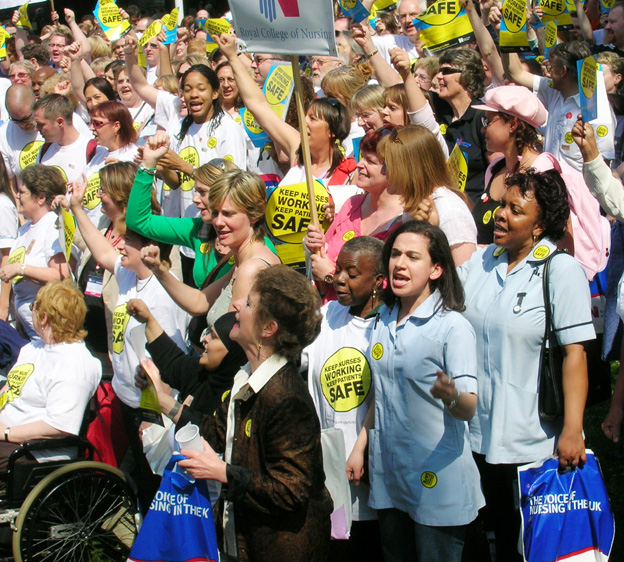 The Royal College of Nursing (RCN) on Tuesday submitted its evidence, highlighting the impact on patient services of Trust actions to manage their budgets, to the House of Commons Health Select Committee looking at NHS deficits.
The RCN evidence estimates that fifteen-thousand jobs are earmarked to be axed in the NHS.
This figure includes deletion of vacant posts, vacancy freezes, voluntary and compulsory redundancies.
The RCN also puts forward a number of recommendations to address this serious issue, and to protect patient services and nursing jobs.
Summary of RCN evidence:
• The NHS cannot afford to lose any more nursing posts.
These posts were created because of patient demands and there is no evidence to show that patient dependency, throughput or occupancy is declining.
• There is a clear link between higher numbers of registered nurses in the workforce and reductions in patient mortality, infections, falls, pressure sores and medication errors.
• The RCN supports the principle of providing care closer to home but is concerned about the decline in the number of district nurses to help provide this care. If there is a genuine fall in the demand for nurses in the acute sector these nurses should be supported to gain the additional skills required to work in the community.
The RCN is calling for:
• The establishment of national benchmark data on the numbers of nursing staff and the grade mix for different specialisms.
• In-patient bed occupancy rate of no more than 85 per cent.
• Nurses working in the acute sector to be helped to gain the additional skills to work in the community sector, with specific funds and support to ease this transition.
• Pilot schemes to be undertaken before new initiatives in the NHS are implemented across the Country.
• Public consultation duties on health services to be strengthened and incentives created for Trusts to carry out such consultation.
• Better labour market information about student nurses along with new pooling arrangements of vacant post, to ensure newly qualified nurses are offered appropriate employment in their area upon qualification.
• PCTs to honour their commitment to jointly fund specialist nursing posts with charities and other organisations.
In its evidence, the RCN states: 'The RCN has been monitoring the impact of Trust deficits for a year and has raised concerns publicly and privately on a number of occasions in order for measures to be taken to minimise the effects for both patients and staff.
'Currently the RCN estimates that 15,000 posts are at risk of being lost to the NHS and there are clear examples on where this is having a detrimental effect on patient services.
'Band 5 posts, into which newly qualified nurses would expect to be appointed, and specialist nursing posts are being targeted.
'Services for older people and those with mental health needs appear particularly vulnerable.'
'The causes of deficits are complex and are associated with a significant number of new policies.
'However there has been a lack of piloting, fully costed implementation and roll out plans for these policies.
'The RCN supports the principle of providing care closer to home however is concerned there has been a decline in the number of district nurses in recent years and that community nurses have an older age profile than acute sector nurses.'
It adds: 'Financial pressures rather than planned service change are the key driver behind proposals in many acute and community Trusts to reorganise or reconfigure services and staff.'
The nurses' union says: 'In the Spring of 2005 the RCN first began to receive reports from nurses in England that some hospitals were restricting the use of Bank and Agency staff because of financial pressures.'
It says the situation built up through the year and despite several warnings to government from the union by the beginning of the RCN annual Congress in April 2006 the RCN issued its update on the number of posts that had been identified to be lost from the service totalling 13,000.
The RCN states: 'The causes of deficits are complex but can broadly be broken down into the following areas:
National Policy Priorities
'The "NHS plan" is significant in understanding the national policy drivers for expenditure and reform. The March 2000 Budget settlement detailed a growth in NHS funds by "one half in cash terms and by one third in real terms in just five years."
'The plan gave broad commitments to overhaul regulation, inspection, performance management, training and development, working practices and clinical care.
'It also stated that the NHS would deliver 7,000 extra beds, the modernisation of over 3,000 GP premises, better hospital food and a modern IT system across the NHS.
'Critically, this massive investment was intended to deliver increases in quality and activity. For example, ending long waits in accident and emergency departments, reducing the maximum waiting time for an outpatient appointment and for inpatient care; implementing national standards for cancer care etc.
The delivery of this additional activity and quality requires substantial investment in staff, specifically, a co-ordinated training and development programme and large increases in the numbers of Doctors and Nurses.
Individual system reforms
'At the same time as attempting to deliver much of the above, a series of other initiatives tackled other system reforms such as funding flows, IT and staff pay.
'The complexity of implementing these system reforms has clearly been underestimated not just in terms of the delivery of project objectives, but also in terms of the unintended consequences each policy has had on the success of the other.
'For example whilst Payment by Results (PbR) may not in the short term be causing deficits, it has none the less shown significant cost variations between Trusts – it would not be correct in our view to attribute these variations solely to local inefficiency or outdated practices.
'In effect, some Trusts now face a loss of income against activity (compounded in many cases by poor demand management and historical patterns of referral outside of their control) as a result of the introduction of PbR.
This is not to say that there should not be reform of NHS finances. It is simply to point out that system reform has impacts beyond implementation costs which appear not to have been appreciated or costed.
Historic challenges
'Across the UK it is inevitable that there will be variation in NHS infrastructure, capacity and capability.
Historical decisions about the location and function of services have an impact on the extent to which some Trusts were able to deliver on national policy priorities or spend money within plan.
'PFI unitary charges and uniquely high living costs are examples of pressures which may have been in place before current financial planning cycles or changes in national spending priorities.
'Some otherwise effectively managed and efficiently operating Trusts will therefore incur persistently large deficits because they are effectively honouring past obligations, planning decisions or demographic trends.
Management & staff capacity
'There are two main challenges. One lies with the existing capacity of an organisation to absorb the increased levels of activity required by the various waiting time initiatives or policy reforms.
'This does not solely refer to the clinical staff required to deliver the care but should also include the Trusts capacity in terms of "backroom" staff to monitor activity, report performance, and manage personnel and finance functions.
'The other issue is the skills inherent in the local management to effectively interpret national policy directives.
'Various Trust and SHA performance reports and Audit Commission Public Interest Reports (PIR) have hinted at the latter point in reporting on local deficits.
Target culture
'Whilst targets have brought about improvements for some aspects of patient care, it would seem that some organisations, in response to deficits, are decommissioning "nonstatutory"/non-contractual services or areas of activity which do not work towards meeting national targets.'
The evidence says: 'Since RCN Congress there have been further significant announcements of posts to be lost, for example in, Nottingham, the Pennines and Oxford.
'At Appendix 1 the RCN attaches its most up to date list of posts to be lost which currently totals over 15,000. . . .'