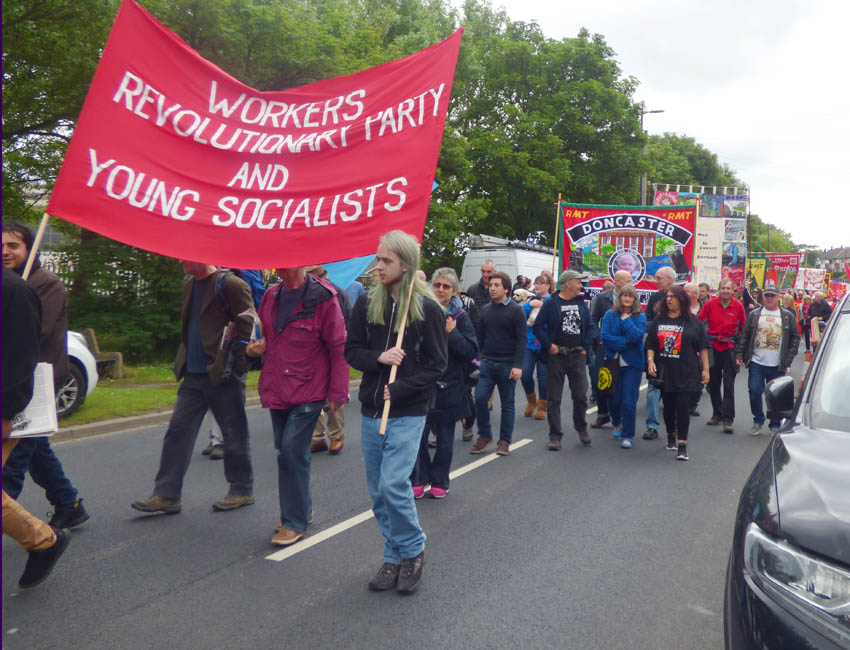 UP TO A thousand workers from both Yorkshire and across the country marched to the 35th Battle of Orgreave memorial rally on Saturday.
They marched from Orgreave Lane in Sheffield across the bridge and past the farmland in which a state-orchestrated police attack was made on striking miners on June 18th 1984.
Those present at the march and rally included RMT Assistant General Secretary Steve Hedley, GMB General Secretary Tim Roache, BAFWU Bakers Union leader Ian Hodgson, NUM General Secretary Chris Kitchen and FBU General Secretary Matt Wrack.
Prior to the speeches the Women's Socialist Choir gave a rendition of their Orgreave song 'Time for Truth, Time for Justice, Time for Peace,' to warm applause.
A spokesperson for the Orgreave Justice Campaign then said: 'Take note, we are not going away! We have been more active than ever in the last year and we had the biggest reception we have ever had at this year's annual Durham Miners Gala.
'We also had a guarantee from Labour Party leader Jeremy Corbyn that a Labour government would hold a workers inquiry into what happened at Orgreave in 1984.
'So the international solidarity that was built up throughout that strike still prevails today. We've spoken at over 100 events and meetings – so don't forget to keep asking us.
'And now we know we'll get an inquiry when we get a Labour government. Jeremy Corbyn told us: "The next Labour government will launch an independent inquiry – because there are so many questions that need to be answered".'
NUM General Secretary Chris Kitchen then told the marchers: 'The NUM will continue to support all members to get compensation for all those that have suffered and still suffer.
'It is obvious that the attack on the strike was politically motivated. But the miners would not have the support they still have now but for the NUM.'
Kitchen then introduced Sheffield Labour councillor Sophie Wilson – the youngest elected Labour councillor in the city, who warned: 'Orgreave was an example of everything that is wrong in this country.
'The police were kettling – the abuse was really excessive. It won't stop until there is an inquiry into it – and until they do they can't say that there was no miscarriage of justice at Orgreave.
'This culture of brutal force clearly didn't start at Orgreave, but it should certainly end after Orgreave. Now this government is showing us that as far as they're concerned we don't matter.
'We're still unequal and we're still not cared about. Look at fracking now – they're saying it will create jobs! The Tories orchestrated the attack on the miners and then what followed.
'The Battle of Orgreave is about more than all the sacrifice – we must hold power to account so that it never happens again.
'As to Grenfell – we cannot let the victims of Grenfell fail to get justice for 35 years like we have here.
'We are united – together we still manage to retain our solidarity.'
Tim Roache, GMB General Secretary, told the rally: 'It's disgraceful that still we have no truth. The GMB is with you.'
Bafwu leader Hodgson added: 'The campaign for justice at Orgreave gets stronger and stronger as time goes on. They think time will diminish it – and yet they are wrong.
'The miners deserve all our support and their fight will be won.'
Assistant General Secretary of the RMT Hedley told the rally: 'The police led a premeditated and preemptive riot. Miners were taken out and held overnight.
'They were allowed to come here – and then met with rows of riot police, and police on horses. Our union RMT and Aslef the train drivers union stood together and I salute the Aslef drivers now who are refusing to cross RMT picket lines. As for those who cross picket lines still today, how dare you stand behind a banner which says: "For the many and not the few?"
'And we support the Hillsborough Stadium victims at Sheffield too – There will be justice!
'It may not be delivered by a Labour government unless they are MPs who really represent us.
'Unless you start organising a socialist society then the bankers will still govern you, the bankers and capitalists who rule us today.'
Hedley went on to stress, addressing those who 'seek to blame immigration for the injustices of capitalism, no immigrant has ever closed down a mine around here. No immigrant has charged down a miner and put him in hospital. Fight for socialism.'
Lee Fowler, representing blacklisted workers, also spoke briefly at the rally. And a message to trade unionists was also read out from film director Ken Loach: 'You all remember the brutal response of the government – and you also remember, for shame, the responses of some of the trade unions.
'The responsibility, however, goes to the top of the government. Bring back all utilities and transport into public ownership.'
FBU General Secretary Wrack told the rally at the close: 'We demand the files so that people really know what happened at Orgreave. They frame you up and bang you up inside. That's the system. Why are undercover police coming to spy on us, on me and other people?
'We demand an inquiry that's rapid and doesn't delay and delay.'
On the Grenfell disaster Wrack stressed in conclusion: 'We call it an atrocity. The fact that 72 people can die in a building with fire doors that don't resist fire appropriately – that's a political decision.
'Nobody's asked any questions of the contractors, the council, the people who provided the cladding.
'We want an inquiry that is democratic and accountable.'
Before the march and rally Hedley, RMT leader, told News Line: 'We are here from the RMT with regional and local councils to protest against the police riot that happened 35 years ago here at Orgreave.
'Still to this day not one police officer has been prosecuted.
'The state set out to smash the miners union which just as today they are trying to destroy the RMT.
'We must learn the lessons of history and not leave any union to fight on their own in struggle.'