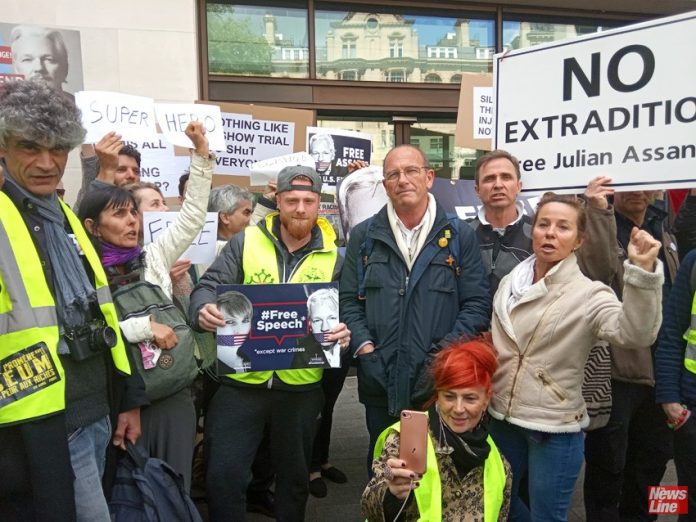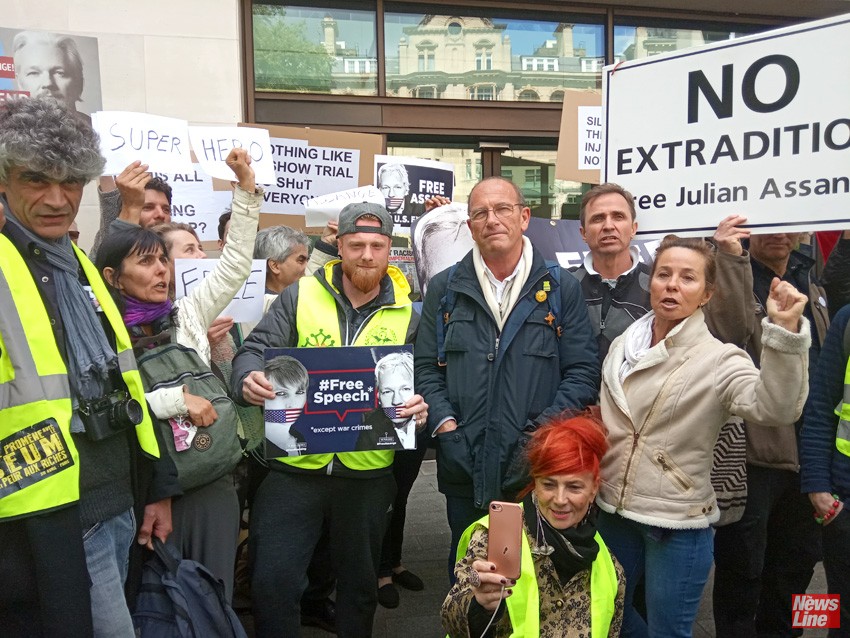 AN EIGHTY-strong coachload of Yellow Vest protesters came over from France to join the demonstration outside Westminster Magistrates Court yesterday morning demanding WikiLeaks founder Julian Assange is freed.
Hundreds gathered outside the court where Assange was appearing by video link from Belmarsh Prison fighting his extradition to the US.
His extradition hearing came a day after he was sentenced to 50 weeks in jail for breaching the Bail Act following his arrest last month.
The US are seeking Assange's extradition to the US after WikiLeaks exposed imperialism's role in wars on Afghanistan and Iraq.
The court heard that the 'extradition process will take many months'. The case was adjourned until 30th May.
Assange told the court: 'I do not wish to surrender myself for extradition for doing journalism that has won many awards and protected many people.'
Outside, the crowds shouted: 'Free, free Assange! There is only one decision! No extradition!'
The Yellow Vests came from as far as Marseille, Toulouse, Brittany and a large contingent from Paris.
Maxime Nicolle, a leader of the 'flyrider Gilets Jaunes' in Paris told News Line: 'We are here to defend freedom of speech and expression and the right to have freedom of information for collective interests.
'We are against the extradition of Julian Assange to the United States. Our government should give him the right to come to France to protect him.
'I don't think Macron will, but if you never try you never win.'
Etienne Chouard, a leading Yellow Vest, arrived at the court early and told News Line: 'Julian Assange is a hero and all journalists should be here to defend him.
'Democracy needs journalists with real information and if you don't have that, you don't have democracy.
'Assange is a threat to those in power.'
Claire Campos has demonstrated against the extradition of Julian Assange outside the Ecuadorian embassy three times every week for the six and a half years of his asylum there.
She said: 'I am extremely upset about the injustice of the British system, their witch-hunting and all their lies and deceit.
'From the beginning, Assange has said it was all about extradition and all along he has been proved 100% right.'
Assange supporter Cheryl Sanchez said: 'Assange is a warrior for free speech, a warrior for doing his public duty by publishing news about the crimes of the state.
'If he loses his right to free speech and is extradited and thrown in a dungeon then we all lose.'
Yellow Vest, Anaud, from Paris said: 'Assange is a great power against the establishment and leads the fight against misinformation and it is important that he is freed.'
Also from Paris, Ines Wertheimer with her placard said: 'Only the struggle pays. We need free speech and a free press and we need to show we can organise for power.'
Fara, who was on the May Day demonstration in Paris told News Line: 'Yesterday was important because the CGT and Yellow Vests marched together, two movements.
'The march started quietly but we were unable to get to our destination because the CRS used water cannon to split the marchers between the CGT and Yellow Vests.'
Californian, Kevin Matlock, came over from Denmark and said: 'I feel the US has been pushing for extradition for a long time.
'Assange has been warning that there was a sealed order for his extradition but nobody believed him.
'Now we find out that order was real, and I'm here to prevent the extradition.'
Alberto, from Colombia said: 'This is the most important case for freedom of speech, and this is the first day of the great battle to prevent Julian Assange's extradition to the US.'