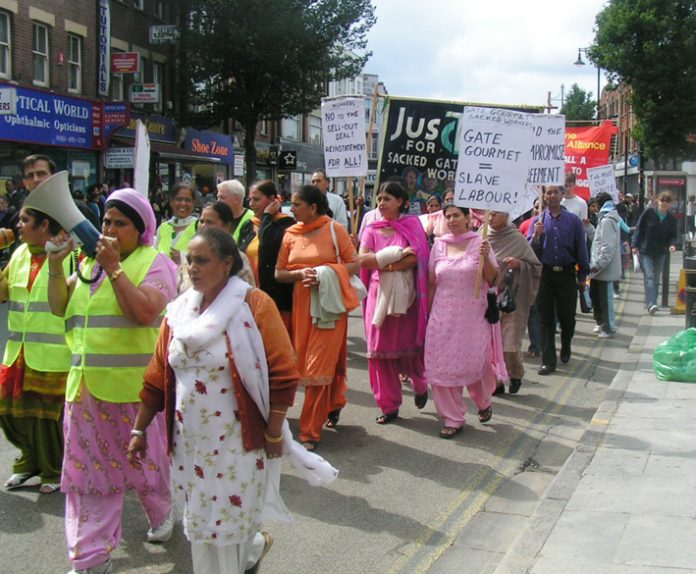 'VICTORY for Gate Gourmet workers!', 'Slavery – no way!' shouted more than 600 locked-out workers and their supporters as they marched through Southall yesterday afternoon.
The Gate Gourmet workers and supporters from trade unions across London, Oxford, and even from Germany and Switzerland, were marking the first anniversary of the dispute in which some 800 workers were 'sacked by megaphone' last August.
The slogans continued all the way to a rally at Southall Community Centre, as crowds of people on the streets showed their support for the workers' year-long struggle.
'Gate Gourmet – down, down!', 'We want our jobs back!', 'Compromise Deal – no way!' (TGWU leader) 'Tony Woodley – traitor!' the locked-out workers continued shouting.
The march was led by two young Indian drummers, followed by the Gate Gourmet workers' banners, as well as contingents and banners from other unions, including Harrow and District Communication Workers Union, the Hillingdon Hospital strike banner, the All Trades Union Alliance and a banner which read 'Support the Class Struggle Against TPG/Gate Gourmet – Greetings from Zurich, Basel'.
There were also NUT, other TGWU, GMB and Amicus members, a large contingent of Young Socialists, and many others there.
At the rally, Parmjit Bains, one of the locked-out workers said: Thankyou for coming on our march. We can't win without you supporting our fight.
'Our company have been playing with us. They have locked us out. Our union leaders have stopped our hardship money since January.
'MPs, community leaders, union leaders don't do anything for us. We are just fighting for ourselves and showing the way to other workers – this is all workers' fight.
'We are celebrating our anniversary today and we invited everybody.
'Our union leaders, they sold us. We are fighting for our rights, respect and dignity and showing our power to all workers and unions.'
Speaking on behalf of the News Line, Sheila Torrance said: 'Well done Gate Gourmet workers! This struggle could have been won over a year ago. It was only the TGWU leadership, that called off the BA workers strike, that stopped it being won.
'It was really the TGWU leadership that let Gate Gourmet off the hook.'
She added: 'The TUC and TGWU leaders agreed a deal with Gate Gourmet bosses, the Compromise Agreement, and put pressure on Gate Gourmet workers to sign it.
'That was the very best you did – you refused to sign the Compromise Agreement. Now it's dead, and it's never coming back. The main thing is to go forward.
'Trade union leaders are changing all the time, and we're going to change them.'
Locked-out Gate Gourmet worker Mohinder Virk told News Line: 'We have struggled for one year. Our message for the working class is: don't accept slavery.
'We are going to win our jobs back and gain reinstatement. It will be a victory for the whole working class.'
Richard Cassier, from Harrow and District CWU, said: 'This is a very important day – one year is a long time to be out of a job, especially so unfairly.'
He said there has been a 'concoction of mis-information' about the locked-out workers' struggle, adding: 'They are concerned because they fear you. It's disgusting your own union can't give you the support you deserve.'
Christian, brought greetings from the Gate Gourmet Dusseldorf Solidarity Group, he said: 'During our strike we got to know our comrades in struggle from London-Heathrow and we visited one another.
'Coming into contact with you showed to us that workers can become much stronger by crossing national boundaries and struggling together. It gave fresh courage to our struggle.'
Other speakers were locked out Gate Gourmet workers Kulwant Sehmi and Lakhinder Saran, Geoff Loftus (CWU), Anna Athow (BMA) and Warish Singh (RMT Earls Court).