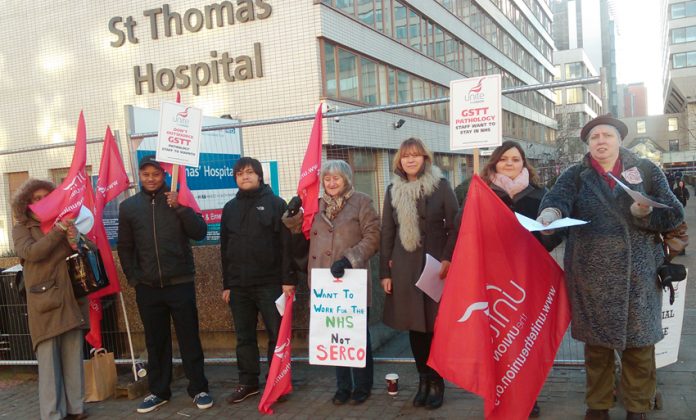 PATHOLOGY staff struck for 24 hours yesterday, at King's, Guy's and St. Thomas' hospitals in a determined struggle against venture capitalist encroachment in the NHS.
Nicola Ajaj said outside King's College Hospital, where pathology staff manned a lively picket line: 'From the 1st of January we have to go over to a new company called Viapath, which is a joint venture company with the trust.
'We don't have any choice in the matter, and we don't feel it's right because we came here to work for the National Health Service, and now we are working for a private company.
'We have to make our point because we are really worried about the future. It's just a slippery slide to full scale privatisation.
'Five years from now, we don't know where we are going to be. At least if you work in the NHS it is quite secure.
'Our working conditions have deteriorated really badly. Staff haven't been replaced, or are being replaced by lower grades. The work load has shot up by 60%. I can't see it getting any better with these private companies.
'We are out on strike as a matter of principal. It's a difficult time to come out on strike because of the holidays but we have to show that we don't agree with it.
'So this strike is just the first step.'
Doctor Liz, Biochemistry at King's said: 'The irony is that I have been working for the NHS for 25 years and I get my long service award in March, but from the first of January I won't be in the NHS anymore.
'I left university to work in the NHS. I had lots of opportunites to work in the private sector, but my mum came from Barbados to work as a nurse and my dad has been a doctor in the NHS from the 1960s, and now we are not in the NHS anymore.
'All of pathology is out on strike today, only the managers are running reception, so it is a strong response, but its the first time for us to be on strike.'
Gail Cartmail, Unite, Assistant General Secretary said: 'I'm not the local official, I work nationally so I don't know the details of this strike.
'I do know that people are being forcibly moved away from NHS terms and conditions of employment onto the private contractors, and it is just a continous degrading of our National Health Service.'
There was a lively picket outside St Thomas' Hospital by Westminster Bridge, shouting 'People not Profts', 'We want to work for the NHS not Serco' and 'We don't want to be privatised'.
Liz Nakoneczna, Unite union rep at St Thomas', said: 'The Trust claim that Viapath is only one third owned by Serco, but the reality is that Serco are managing the operation and our NHS contracts are no longer valid.
'Although some of our terms and conditions will be transferred, after 1st January, those terms and conditions could be changed in a 90-day "consultation".'
At the picket outside the nearby Guy's Hospital, Gareth Page, who has worked in Pathology for 26 years, told News Line: 'The actions of the management at Guy's, St Thomas' and King's College Hospital, in privatising Pathology, shows total disregard for NHS staff. And disregard for staff suggests they don't care about patient care.
'There are 700 workers involved in this privatisation.
'Although the Chief Executive and the Finance Direc tor have previously said that they are opposed to outsourcing, they have already done the Post Room, the Pharmacy services and now Pathology.'