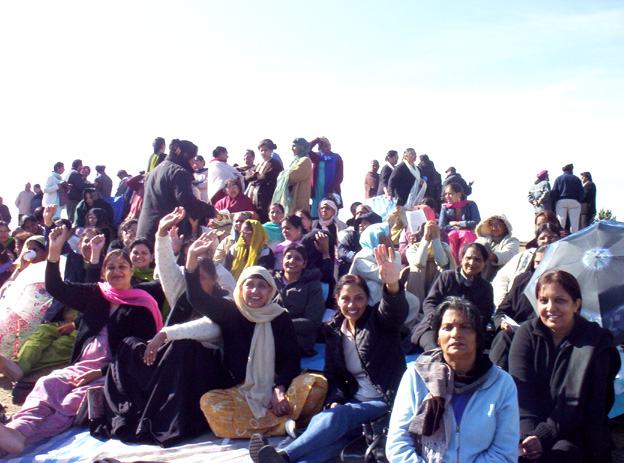 GATE GOURMET strikers were sacked four weeks ago today and were very angry yesterday morning that they have been out so long withtheir union leaders having no plan of action to win reinstatement for them all.
As soon as TGWU full time official Oliver Richardson arrived at the mass picket at Heathrow Airport he was confronted by pickets saying: 'We don't want compensation, we want our jobs back'.
Richardson told the strikers: 'We are seeking support from the United States and Europe.
The biggest demonstration we are going to have will be at the TUC in Brighton next week when they are going to discuss your dispute.
'We will all go to the TUC when we get the date for the debate on your dispute.
'We will take all the ladies up there, the media will be there and you will look great on TV.'
Strikers spoke to News Line.
Gurdip Heer, TGWU Shop Steward for QCW (Catering West), said: 'We need action immediately because this is going on too long.
'The union leaders said it would be settled in two to three weeks, but we have heard nothing about getting our jobs back.'
Mrs Virk said: 'We are very strong. We have rejected the offer. What can they do to us? We are standing firm and not giving an inch.
'We are determined to get our jobs back. We don't want compensation, we want our jobs back.
'We should be going to Downing Street and knocking on Blair's door and telling him what are you doing to this country? They are sacking people everywhere!'
TGWU shop steward Inder told News Line yesterday afternoon: 'The message is: stick together for reinstatement and forward to victory.'
Referring to the 'compensation' offer to sell the jobs made by Gate Gourmet, with the support of TUC General Secretary Brendan Barber and TGWU civil aviation officer Brendan Gold, the deadline for which is tomorrow, Inder continued: 'Whatever happens on Thursday, we are standing firm.
'We have massive support, both inside the TGWU and outside from every other union.
'We are all going to the TUC in Brighton next week and we want real support – action not just words.
'The TUC is stronger than Siegel, Gate Gourmet or any other boss.
'This is a national issue and it has to make sure that we achieve total victory.'