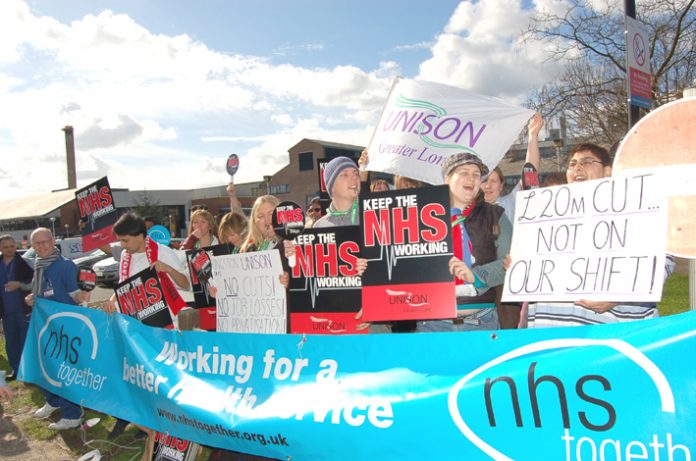 'I send this message to Gordon Brown. We are prepared to fight. We are prepared to strike. And we are going to win,' General Secretary Dave Prentis told delegates on the final day of the UNISON Annual Conference in Brighton yesterday.
He said this after delegates had, on Thursday morning, referred back the standing orders committee's refusal to allow resolutions to be heard that called for co-ordinated industrial action across the public sector against Brown's pay freeze.
A composite emergency resolution from the National Executive Committee and Manchester Community and Mental Health Branch was put forward yesterday morning.
Earlier in the week, UNISON local government conference decided to start a widespread consultation with council workers over strike action.
Yesterday the conference officially moved to co-ordinate its council and health workers in a joint action and to team up with other trade unions for maximum impact.
Delegates representing 1.3 million health and public sector workers heard Prentis pledging to co-ordinate strike action with other public sector trade unions.
Moving an emergency motion calling for co-ordinated action, UNISON National Executive Council Member Jane Carolan said: 'I'm sure Cherie Blair doesn't have to wait for the Co-op Divvy cheque to come in before buying the kids school clothes, or decide whether to pay the electricity or the gas bill.
Many of our members do.
'We are trying to provide twenty first century public services and we deserve twenty first century pay.'
Prentis said: 'Public sector workers in the police, councils and health services are sick of being treated like second class citizens.
'This pittance two per cent pay offer, well below rising living costs, is effectively a pay cut and kicks them in the teeth.'
UNISON is the UK's biggest public sector union and represents some 460,000 health workers and 850,000 local council workers.
Meanwhile, 30 workers in London and Sheffield for the Department of Trade and Industry (DTI) began receiving compulsory redundancy notices yesterday, the Public and Commercial Service Union (PCS) reported.
The DTI compulsory redundancies are part of the government's drive to cut 80,000 civil service jobs and follow 10 previous compulsory redundancies in the DTI and at least 19 in the Department for Environment, Food and Rural Affairs (Defra).
Commenting, Mark Serwotka, PCS General Secretary, said: 'These compulsory redundancy notices are totally unnecessary and avoidable.
'The size of the civil service makes it hard to believe that there aren't any suitable vacancies which these people could be redeployed to.
'We are determined to ensure that all those at risk who want to continue their Civil Service careers are found jobs and not made redundant and we will be seeking an urgent meeting with the Secretary of State.
'These redundancies come at a time when the union is consulting its members over the escalation of its national dispute and highlighting the need for the government and civil service management to give assurances on job security and reach a negotiated settlement over jobs, pay and privatisation.'