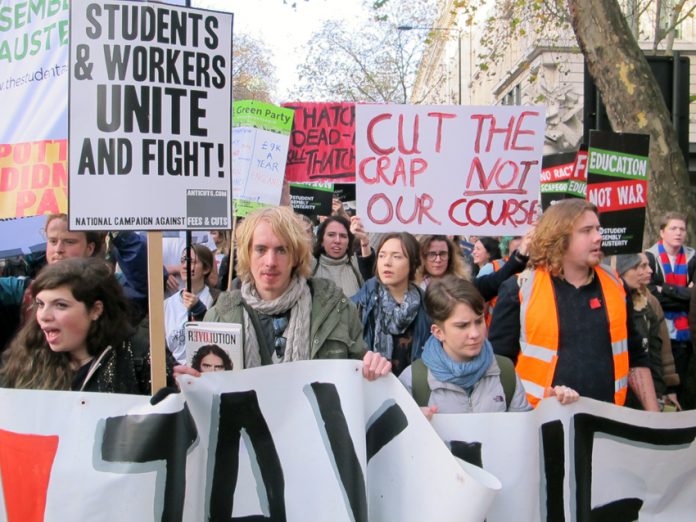 STUDENTS demanding the abolition of tuition fees, who had occupied Senate House at the University of Warwick on Wednesday afternoon, were sprayed in the face with CS gas by police and then threatened with a Taser.
The 25 students, who were part of Warwick Free Education group, said they were 'punched, pushed on to the floor, dragged, grabbed by the throat and rammed into a wall and kneed in the face' by police.
Three students were arrested during the protest. Police are now investigating the claim that officers used 'disproportionate force'.
West Midlands Police confirmed that a Taser was drawn 'as a warning', but 'was not fired', while they admitted that CS gas was used when it was felt a group of students 'were advancing on officers'.
The violence against the students at the Coventry campus was verified as sociology student Craig McVey caught the incident on camera.
Warwick Students Union said that, based on the video footage, 'we absolutely believe that disproportionate force was used against protesters'.
It said: 'On Wednesday afternoon, a group were demonstrating for Free Education and entered the lobby of Senate House.
'The police arrived and an altercation took place, the full facts of which we are still in the process of establishing. Three people were arrested.
'From the footage we have seen of this incident, we absolutely believe that disproportionate force was used against protesters. We stand in solidarity with the Warwick students who were unnecessarily harmed in this action.'
West Midlands Police said: 'We expect the highest standards from all officers, and if any officer is found to have fallen below these standards in any way, they will be thoroughly investigated.'