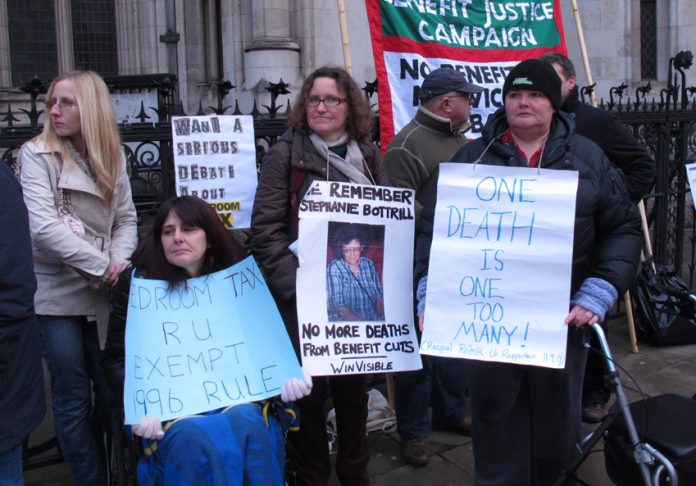 THE Tory government's flagship Bedroom Tax was delivered a 'massive blow' yesterday when Court of Appeal judges declared it to be 'discriminatory'.
The judges' ruling followed a legal challenge by a domestic violence victim and the family of a disabled teenager. One appeal – brought by a woman identified only as 'A' – concerned the effect of the policy on women living in properties adapted because of risks to their lives. Her home was equipped with a panic room.
The second appeal – brought by Paul and Susan Rutherford and their 15-year-old grandson Warren – focused on the impact of the policy on disabled children needing overnight care. 'A' and the Rutherfords both claimed that the policy discriminated against them unlawfully.
Lord Chief Justice Lord Thomas, Lord Justice Tomlinson and Lord Justice Vos, sitting in the Court of Appeal, allowed both appeals, on the grounds that the 'admitted discrimination' in each case 'has not been justified by the Secretary of State'.
Under the Bedroom Tax, introduced in April 2013, households deemed by their local authorities to have too much living space receive reduced benefit payments. Disability Rights UK Policy and Development Officer, Philip Connolly, said: 'Disability Rights UK are delighted with the decision for both the family and the others affected by this decision.
'We hope that the Government decides not to appeal the decision. The Government had announced its intention to do this. 'Disabled children, who need overnight care should not be driven into poverty or be forced to rely on the insecurity of "discretionary" housing payments because of the bedroom tax.
'Approximately 70% of families affected by the bedroom tax have a disabled child. We will be writing to the Government to ask them to desist from appealing the case and instead demand they enshrine this decision in legislation.'
Owen Smith MP, Labour's Shadow Work and Pensions Secretary, said: 'This victory in the Court of Appeal is a massive blow to the Tories' Bedroom Tax. It provides a glimmer of hope for the hundreds of thousands of people who have been hit by this cruel policy.
'Labour has long argued that the Bedroom Tax is deeply unfair and discriminatory, which is why we have campaigned so hard against it. Surely the time has now come for the Tories to discover a conscience, listen to the courts as well as the public, and scrap the hated Bedroom Tax.'