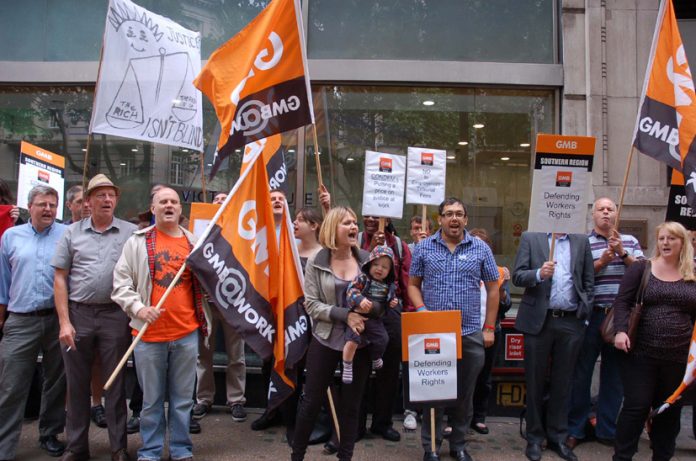 WHAT the government is doing is depriving ordinary people of their legal rights,' GMB member Ake Achi told News Line yesterday.
He was speaking on a lively demonstration outside the Victory House, the Central London Employment Tribunals building in Kingsway, central London, called against the Coalition's introduction of upfront £1,200 fees for a sacked or victimised worker to come to court.
'It gives the employers the opportunity to sack people,' Achi continued.
The new laws will force employees to pay £1,200 upfront fees if they want to pursue a sexual harassment or race discrimination complaint against an employer.
Employees will also have to pay fees for all other employment tribunal claims such as unfair dismissal, discrimination or non-payment of the minimum wage.
Other measures introduced yesterday include 'settlement agreements' that make it easier and cheaper for an employer to get rid of someone.
Speaking on yesterday's demonstration, Rob Macey, GMB legal officer, told News Line: 'A worker who has just been sacked and has no money coming in will have to find over £200 to lodge a claim and nearly £1,000 to go to a full hearing.
'The GMB sees this as a move by the government to attack working people and deny them access to justice.
'This is the latest in a long line of changes to employment law such as increasing the period for which you have been employed before you can bring a case from one year to two.
'There are also significant cuts to the ability to claim legal aid in all areas.
'The GMB will continue to fight and campaign against these changes and we commit to paying the Tribunal fees on behalf of our members.
'It has never been a more important time to be a member of a trade union than it is now.'
Greenwich GMB branch secretary Pete Murphy said: 'I'm concerned about ordinary workers who can't afford the fees and are denied justice. It's a disgraceful change in the law.'
TUC General Secretary Frances O'Grady said yesterday: 'Today is a great day for Britain's worst bosses.
'By charging up-front fees for harassment and abuse claims, the government is making it easier for employers to get away with the most appalling behaviour.
'These reforms are part of a wider campaign to get rid of workers' basic rights at work. Its only achievement will be to price vulnerable people out of justice.'