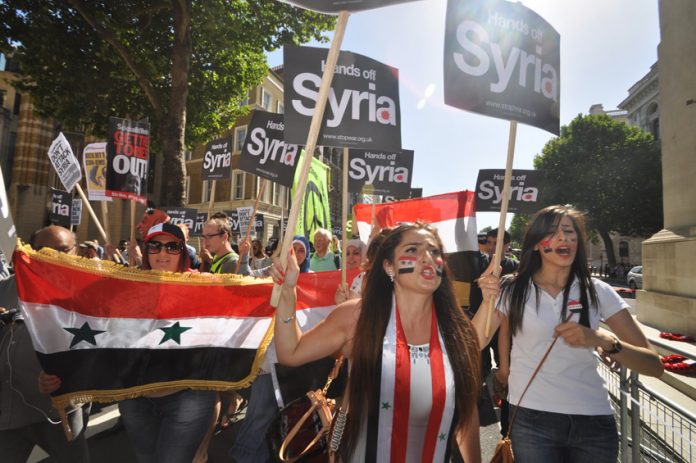 THE TORY Cabinet was in an emergency session yesterday evening with PM May meeting resistance from fellow Tory cabinet members over joining France and giving full support to Trump's projected strike on Syria.
There was resistance from cabinet members to May's plan to shut Parliament out of the decision making and for the cabinet to make the decision on its own.
Earlier, Germany stated it will not join any military strikes against the Syrian government, with Chancellor Angela Merkel saying: 'Germany will not take part in possible military action. There have not been any decisions yet, I want to stress that.
'But we support everything that is being done to show that the use of chemical weapons is not acceptable.' Germany, however, expects to be consulted before any Western allies conduct an attack on Syria, as partners must be united on the matter, Foreign Minister Heiko Maas said.
A YouGov poll asked the British public whether they would support a military attack on Syria.
Only 22% said that they would. Earlier in the day Ken Clarke, former Tory chancellor, said parliament should be recalled this weekend if the cabinet backs military intervention in Syria.
He said: 'In a modern parliamentary democracy, you've got to have parliamentary approval before it acts, if you have a planned policy decision to launch a military attack.' Clarke said he would back targeted strikes but only after a debate in parliament.
He said: 'If the cabinet decides it is going to take part in military action, I think we could meet on Saturday. You don't just wave aside accountability to parliament because it is inconvenient. Saturday or Sunday you could sit.'
Labour leader Jeremy Corbyn said: 'Parliament must be consulted on this. Surely the lessons of Iraq, the lessons that came there from the Chilcott Report, have got to be learnt; there has to be a proper process of consultation. We elect Parliament, we elect Members of Parliament, they should have a voice in this. The cabinet on its own should not be making this decision. The dangers of bombing now could escalate the conflict beyond belief. Just imagine the scenario if an American missile shoots down a Russian plane or vice versa. Where do we go from there?'
Meanwhile, after the Syrian army liberated Douma, Syrian President Bashar al-Assad warned: 'With every victory achieved on the field, the voices of some Western states are raised and actions are intensified in an attempt by them to change the course of events. These voices and any possible action will contribute nothing but an increase in instability in the region, threatening international peace and security.'
Dave Wiltshire, Secretary of the All Trade Union Alliance told News Line: 'UK workers through their trade unions must now take action to stop this imperialist war before it spreads throughout the Middle East and throughout the world. The May government must be removed by a general strike and replaced by a workers government that will support Syria, support the Palestinian state and withdraw all British military forces from the Middle East.'
• The international chemical weapons watchdog has confirmed the UK chemical weapons lab Porton Down's analysis of the type of nerve agent used in the poisoning of double agent Sergei Skripal and his daughter Yulia. The Organisation for the Prohibition of Chemical Weapons did not name the nerve agent as Novichok.
British scientists at the Porton Down defence research laboratory insisted that they have not established that the nerve agent used to poison Sergei and Yulia Skripal was made in Russia.
Gary Aitkenhead, the chief executive of the government's Defence Science and Technology Laboratory (DSTL), said that the source could not be identified.