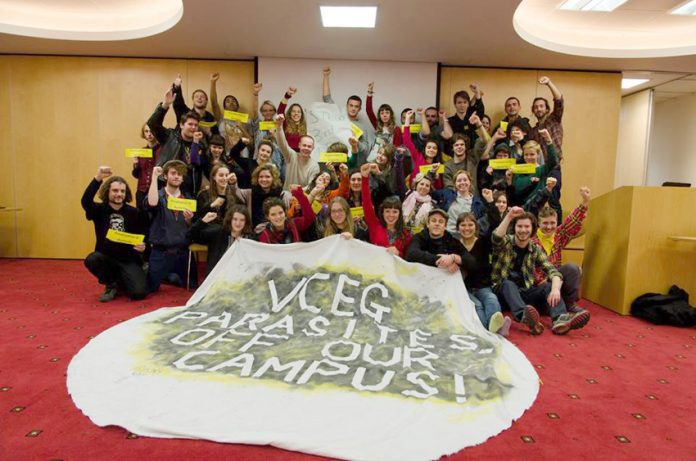 IN THE early hours of yesterday morning, Birmingham students were forcibly evicted from their week-long occupation of their university.
In a defiant statement they said their 'demands now stand stronger than ever amongst students and staff'.
They had occupied the university Senate Chamber since last Wednesday in protest at rising tuition fees, the selling off of student debt to private debt collectors and the pay and conditions of university staff.
Hattie Craig, Birmingham's Vice-President of Education at the Guild of Students, told News Line yesterday: 'This is by no means over. This Tuesday the UCU go on strike, so we are going to be holding solidarity demonstrations with them, and a student strike.
'Sussex have gone back into occupation and other universities are discussing occupations to coincide with the lecturers' strike on Tuesday – we hope it will spread like wildfire.
'Students and lecturers are working towards the same aims, our education is heavily dependent on their working conditions and pay, and ultimately we are not going to be students forever; one day we will be workers and we will want decent pay and conditions.
'The lecturers and university staff have always been incredibly supportive of our struggles, like the fight against fee levels.
'The selling off of the student loan debt affects graduates as well as students, so it will affect the younger lecturers and staff directly.
'Universities should be public institutions. Encroaching privatisation and marketisation is undermining this and affecting our abilities to act for the public good and for democracy.'
The occupiers at Birmingham said in a statement:
'Security, police and bailiffs entered the occupation at 7.00am, by taking down the barricade on the main staircase with heavy cutting tools.
'The students inside retreated to the senate chamber, linked arms and blocked the doors. Bailiffs attacked and forced their way through the students linking arms, eventually moving into the occupation.'
The statement added: 'A support demonstration and strike day of action has been called in solidarity with the planned UCU strike.
'Join us on the UCU pickets and for a rally for 2.00pm, meet at the clocktower.'
The university of Sussex students who have re-occupied Bramber House are also planning a students strike to coincide with the lecturers UCU strike on Tuesday December 3rd.
They have occupied as part of their on-going struggle against the privatisation of their university.