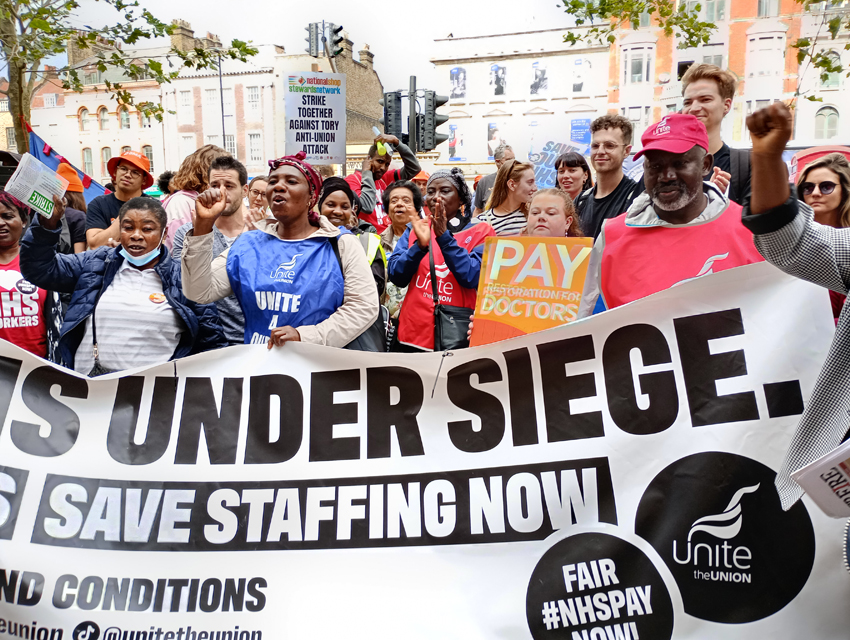 STRIKING consultants and junior doctors held mass pickets outside hospitals around the country yesterday in a show of strength in defence of the NHS against vicious Tory government attacks.
Yesterday was the first day that both junior doctors and consultants have taken strike action together, defiantly rebuffing Tuesday's announcement by Tory Health Secretary Barclay that he was mobilising the forces of the state against their union the British Medical Association (BMA).
Barclay announced on Tuesday that he is launching the new Strikes (Minimum Service Levels) Act 2023 against the BMA, under which members can be sacked for striking and the union can be fined £1 million.
There was an extremely well-attended picket of over 100 strikers outside the Royal London Hospital in Whitechapel yesterday.
The picket was joined by refuse workers from Tower Hamlets who joined them in a march around the hospital.
The Royal London picket included Unite members who are on strike for the whole week who stood and marched alongside the consultants who were on the second day of their action and junior doctors who are striking until Saturday morning.
Many were wearing orange BMA hats and waving their fists and placards to the cars, trucks and buses which hooted in support as they passed.
Junior doctor Pawassal Riaz told News Line: 'Junior doctors should not be paid less than their contemporaries of 15 years ago.
'The picket lines here today are across the whole workforce. The government is refusing to negotiate and things are only going to get worse. The Tory government has to go.' (full report in tomorrow's News Line).
On the picket line at UCH opposite Euston in central London, Dr Khaki, senior registrar, said: 'I think we want to have free health care for everyone at the point of use.
'As things deteriorate, for health staff, trying to deliver care, there'll be a point at which we'll not be able to deliver that.
'We'll have doctors and nurses worrying about how much money they'll at the end of the month and when you're stressed, you're not able to give of your best. I think  a general strike is a very sensible step to take because health is a very important issue and having a good health service is important for working class people.
On the picket line at Charing Cross Hospital in Hammersmith, west London, BMA member Brian Alexander told News Line: 'The reason why we are striking is to highlight the de-funding of the NHS which is affecting patient care on a daily basis. It's well within the government's grasp to correct this and invest in the nation's health.
'I started my training here at Charing Cross Hospital 25 years ago. I never imagined that I'd be striking over pay and conditions. I am keen to see a resolution and the fact that the Tory government and the media are saying that the doctors are greedy is not true.'
Nurses came out to join their doctor colleagues on the picket line at the Whittington Hospital in north London, saying: 'It's about time to have a general strike to kick the government out!'
Junior doctor Joe Simpson told News Line: 'We're back on strike because the government has not addressed our concerns about our work in the health service or the pay of our colleagues.
'There is continued degradation of NHS services to the point of not being able to give patients the standard of care that they deserve.'